Phipps Conservatory Event Donates Nearly 1,500 Pounds of Food to Help Those in Need
For Immediate Release: Tues., Aug. 27
Contact: Joe Reed | Associate Director of Marketing and Communications
412/622-6915, ext. 3805 | jreed@phipps.conservatory.org
Phipps Conservatory Event Donates Nearly 1,500 Pounds of Food to Help Those in Need
Sunday's Tomato and Garlic Day provided large donation to Greater Pittsburgh Community Food Bank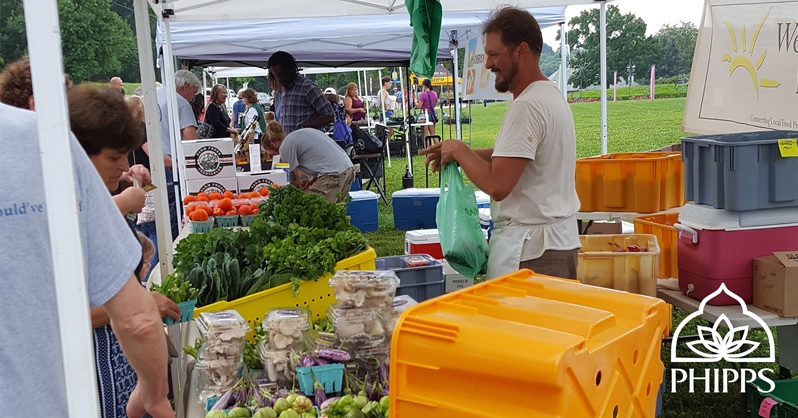 Pittsburgh, PA — Phipps Conservatory and Botanical Gardens' annual Tomato and Garlic Day event drew a large crowd on Sun., Aug. 25, resulting in a significant donation of fresh produce to the Greater Pittsburgh Community Food Bank. Now in its 15th year, guests enjoyed the festivities while giving back to the community. Those who donated fresh produce received free admission to the conservatory for the day, with almost 1,500 pounds of food collected and donated to the Food Bank by the end of the event. Donated items to help those in need included kale, corn, carrots, beets, onions, garlic, zucchini, apples and more.
Additional features of the day included a festive outdoor market with a variety of local and organic goods, plus pot-a-plant children's activities, samples of Doug Oster's signature Ultimate Garlic Lovers' Soup, gardening advice from Dr. Phipps and more.
Adding to the celebration, Phipps offered special culinary class opportunities in its state-of-the-art Botany Hall Kitchen. This year's engaging classes provided a behind-the-scenes look on the journey from garden to table at Café Phipps, demoed a delicious made-from-scratch tomato and garlic sauce and taught new salsa-making tips, all centered on fresh, flavorful foods.
For more information about future events at Phipps, visit phipps.conservatory.org.
###
About Phipps: Founded in 1893, Phipps Conservatory and Botanical Gardens in Pittsburgh, PA is a globally recognized green leader with a mission to inspire and educate all with the beauty and importance of plants; to advance sustainability and promote human and environmental well-being through action and research; and to celebrate its historic glasshouse. Encompassing 15 acres including a historic 14-room glasshouse, 23 distinct indoor and outdoor gardens and industry-leading sustainable architecture and operations, Phipps attracts nearly half a million visitors annually from around the world. Learn more at phipps.conservatory.org.