Phipps Conservatory Provides First Look at Plans for Holiday Magic! Winter Flower Show
For Immediate Release: Thurs., Aug. 15
Contact: Julie LaBar | Director of Marketing and Communications
412/622-6915, ext. 3801 | jlabar@phipps.conservatory.org
Phipps Conservatory Provides First Look at Plans for Holiday Magic! Winter Flower Show and Light Garden, Pittsburgh's Premiere Holiday Attraction
New show theme, pre-sale dates and special promotion announced for treasured holiday tradition.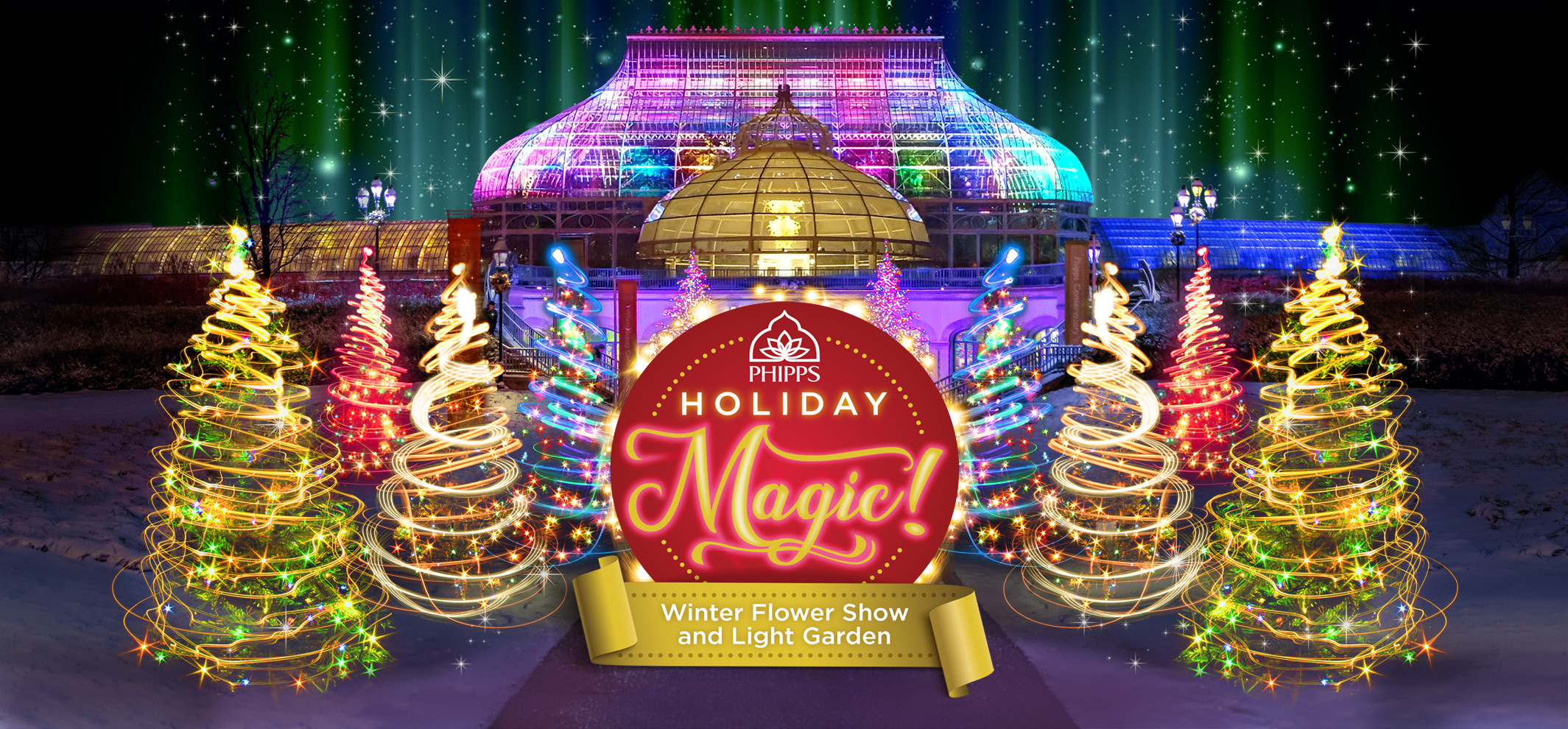 Pittsburgh, PA. – Behind the scenes, Phipps Conservatory and Botanical Gardens' horticulturists, volunteers and staff are at work preparing for this year's popular Holiday Magic! Winter Flower Show and Light Garden, dedicated to providing the biggest, best family holiday experience in the show's history. To provide a preview of all that awaits this holiday season, Phipps reveals the show's new theme with top highlights and key planning dates, in addition to Holiday Giveaway promotion for National Nonprofit Day, thanking the community for their continued long-standing support.
With both indoor and outdoor holiday displays encompassing over ten acres of gardens and lights at Pittsburgh's stunning Victorian glasshouse, there will be more to explore this holiday season at Phipps. The debut of this year's Festival of Trees theme makes holiday trees the centerpiece of Phipps' winter wonderland, as Phipps is filled with an abundance of living trees, festive tree-shaped props and colorful lights that capture all of the magic, beauty and splendor of the holidays.
Guests will delight in the magical new indoor and outdoor displays planned for this year's show that they won't see anywhere else! Visitors can snap a photo in front of Phipps' Floating Forest with sparkling and shimmering trees floating on water, wander through the Frozen Forest with charming topiary reindeer, see a spirited carousel and enjoy a wide variety of specially-themed decorated trees amidst colorful poinsettias and festive flora. Visitors can also stroll outside to be surrounded by millions of captivating holiday lights, all included with admission. Wander through the mesmerizing Tunnel of Lights, see magical lit prism towers and don't miss the showstopping Rainbow Glow Tree — an exclusive new tree-shaped display that towers over 8 feet tall with more than 150 colorful, glowing limbs — plus many more holiday surprises.
Phipps is planning a new level of fun for all ages this holiday season, including new Garden Railroad miniature train display, expanded Family Fun Days, interactive Find the Snowflakes scavenger hunt, Santa Visits, kids Discovery activities, crafts and games and Magic Meets Music live musical entertainment. Guests can also enjoy picture-perfect photo opportunities throughout the conservatory, one of the most Instagrammable places in Pittsburgh.
Save the dates for this year's blockbuster holiday show at Phipps:
Phipps' Member Pre-Sale: Starts Mon., Sept. 23. Phipps members receive first choice access to timed tickets through Sun., Sept. 29
General Public Pre-Sale: Begins Mon., Sept. 30. Timed tickets are required for entry to Holiday Magic! and will be available for purchase at www.phipps.conservatory.org/HolidayMagic
Show Dates: Fri., Nov. 29 – Sun., Jan. 12, open daily 9:30 a.m. – 11 p.m. and 5 – 11 p.m. for Winter Light Garden. Phipps will be closed at 5 p.m. Dec. 24 and all day Dec. 25
In celebration of #NationalNonprofitDay on Sat., Aug. 17, Phipps will give away ten pairs of tickets to experience Holiday Magic! Winter Flower Show and Light Garden, honoring the support its generous donors, members and guests have provided to Phipps. For 126 years, Phipps Conservatory, a 501(c)(3) nonprofit organization, has been a treasured family tradition and trusted source of seasonal entertainment in the Pittsburgh community. Sat., Aug. 17 – Wed. Aug. 21, 2019, enter for your chance to win in Phipps' Holiday Giveaway at www.phipps.conservatory.org/HolidayMagic. Ten winners will be selected at random after the sweepstakes ends. No purchase necessary. Some restrictions apply. For complete rules, visit www.phipps.conservatory.org/HolidayMagic. See what people are saying about Holiday Magic! and get an insider view on more of what's ahead at Phipps this holiday season at www.phipps.conservatory.org/HolidayMagic.
###
About Phipps: Founded in 1893, Phipps Conservatory and Botanical Gardens in Pittsburgh, PA is a globally recognized green leader with a mission to inspire and educate all with the beauty and importance of plants; to advance sustainability and promote human and environmental well-being through action and research; and to celebrate its historic glasshouse. Encompassing 15 acres including a historic 14-room glasshouse, 23 distinct indoor and outdoor gardens and industry-leading sustainable architecture and operations, Phipps attracts nearly half a million visitors annually from around the world.
Learn more at phipps.conservatory.org