Phipps Conservatory Shares Top Tips to Grow a Greener Garden in 2019
For Immediate Release: Fri., Jan. 4
Contact: Julie LaBar | Director of Marketing and Communications
412/638-6008 ǀ jlabar@phipps.conservatory.org
Phipps Conservatory Shares Top Tips to Grow a Greener Garden in 2019
Network of sustainable landcare accredited professionals, classes, programs and tools are available to provide additional gardening expertise and guidance throughout the year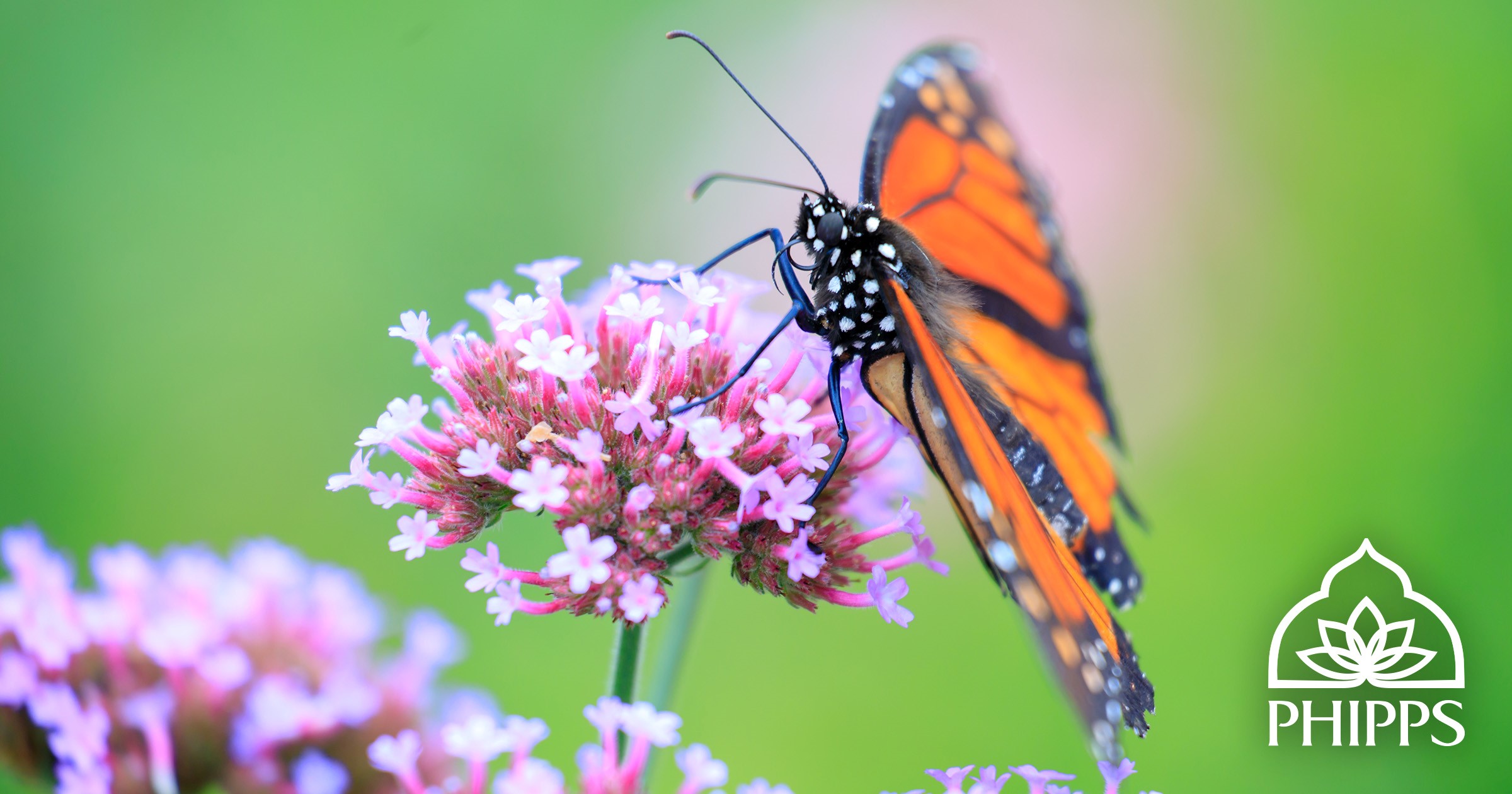 Pittsburgh, PA — Kicking off the New Year, Phipps Conservatory and Botanical Gardens provides top tips for gardening more sustainably and announces a full roster of 2019 sustainable landcare resources to support better, greener gardening.
Unlike traditional lawn care methods, which react to problems in the landscape, sustainable landcare cultivates healthy soil and plants, preventing problems from taking place. Sustainable practices also provide peace of mind, knowing your yard is chemical free, healthy for your family and welcoming to nature.
Top Sustainable Landcare Tips for Homeowners:
Observe your yard. Learn the sun and shade patterns, topography, water flow and microclimates of your space to better understand how to maintain and care for each distinct area.
Choose the perfect plants. Read plant labels and choose plants that are suitable for your unique conditions. Select pest and disease resistant varieties.
Feed the soil. Add compost and mulch around plants; these are natural fertilizers. Keeping the ground covered reduces watering and weed pressure, plus, adds nutrients to the soil. For more details, get a soil test and talk to a professional.
Recycle waste. Buy or build a compost bin for your yard scraps and kitchen waste. Use finished compost in your garden. Stop buying soil and chemical fertilizers.
Attract and protect wildlife. Your garden is a small ecosystem. Native plants attract birds, bees and butterflies. Beneficial insects are natural pest control.
Use less water. Only water when necessary and never more than 1 inch per week, including rain.
Capture rainwater. Collect rainwater in a rain barrel or direct water to a rain garden to reduce water running off of your property.
Mow less. Keep your grass 3 – 4 inches tall to shade out weed seeds and leave your clippings to feed the soil with nutrients and reduce watering needs.
Add diversity to your lawn. Add white clover, trefoil and native grasses to your seed mix for increased drought tolerance.
Reduce your lawn. Reduce the size of your lawn by planting a vegetable garden, flowers or wildlife habitat.
Phipps has expanded its sustainable landcare resources to help the public garden more sustainably in 2019. With spring planning soon underway, now is the time to look ahead at your lawn and landcare goals — and Phipps is here to help!
Consult with a Phipps Sustainable Landcare Accredited Professional. Phipps provides a network of accredited professionals available to work with you in developing, enhancing and maintaining yards or landscapes that are not only beautiful, but healthy for people, pets and the environment. Each accredited professional has extensive sustainable landcare training and demonstrated expertise in specialty fields, including landscape architecture, soil ecology, garden design and lawn maintenance. To contact one of Phipps Sustainable Landcare Accredited Professionals, visit phipps.conservatory.org/landcare.

Landscape and lawn care professionals who are interested in becoming an Phipps Sustainable Landcare Accredited Professionals are invited to enroll in Phipps' Sustainable Landcare Accreditation Workshop Feb. 12 – 15 at Phipps Garden Center. To learn more and register, click here.

Enroll in a class or program at Phipps. From sustainable horticulture classes to a spring garden planning series, Phipps' Adult Education program offers a variety of enriching hands-on courses. Select classes begin as early as Jan. 14. All instructors are experts in their fields and provide a friendly learning environment. For a full list of class offerings, course descriptions and dates, visit phipps.conservatory.org.

Access Phipps' Greener Gardening tools. Phipps provides a collection of free online resources to learn from the pros. From seeding and vegetable harvesting to raking and frost protection, our experts have you covered year-round, including Smart Seed Shopping, Top 10 Sustainable Plants, Month-by-Month Gardening Tips, How-To Videos and The Eco-Friendly Pest Management Guide, available here.

Start the New Year right with a resolution that will benefit you, your family and the environment. To learn more about Phipps' commitment to green innovation at the Conservatory, at home, in the region and for the world, visit phipps.conservatory.org/green-innovation.
###
About Phipps: Founded in 1893, Phipps Conservatory and Botanical Gardens in Pittsburgh, Pa. is a green leader among public gardens with a mission to inspire and educate all with the beauty and importance of plants; to advance sustainability and promote human and environmental well-being through action and research; and to celebrate its historic glasshouse. Learn more: phipps.conservatory.org.
Photos © Paul g. Wiegman, Phil Johnson II