Phipps Conservatory's Big Green Block Party Event Celebrates Sustainability in Pittsburgh
For Immediate Release: Fri., April 5
Contact: Julie LaBar | Director of Marketing and Communications
412/622-6915, ext. 3801 ǀ jlabar@phipps.conservatory.org

Phipps Conservatory's Big Green Block Party Event Celebrates Sustainability Leadership and Innovation in the Pittsburgh Community
Fun, festive event marks the grand opening of Phipps' Exhibit Staging Center, setting the stage for one of the largest sustainability celebrations in Pittsburgh's history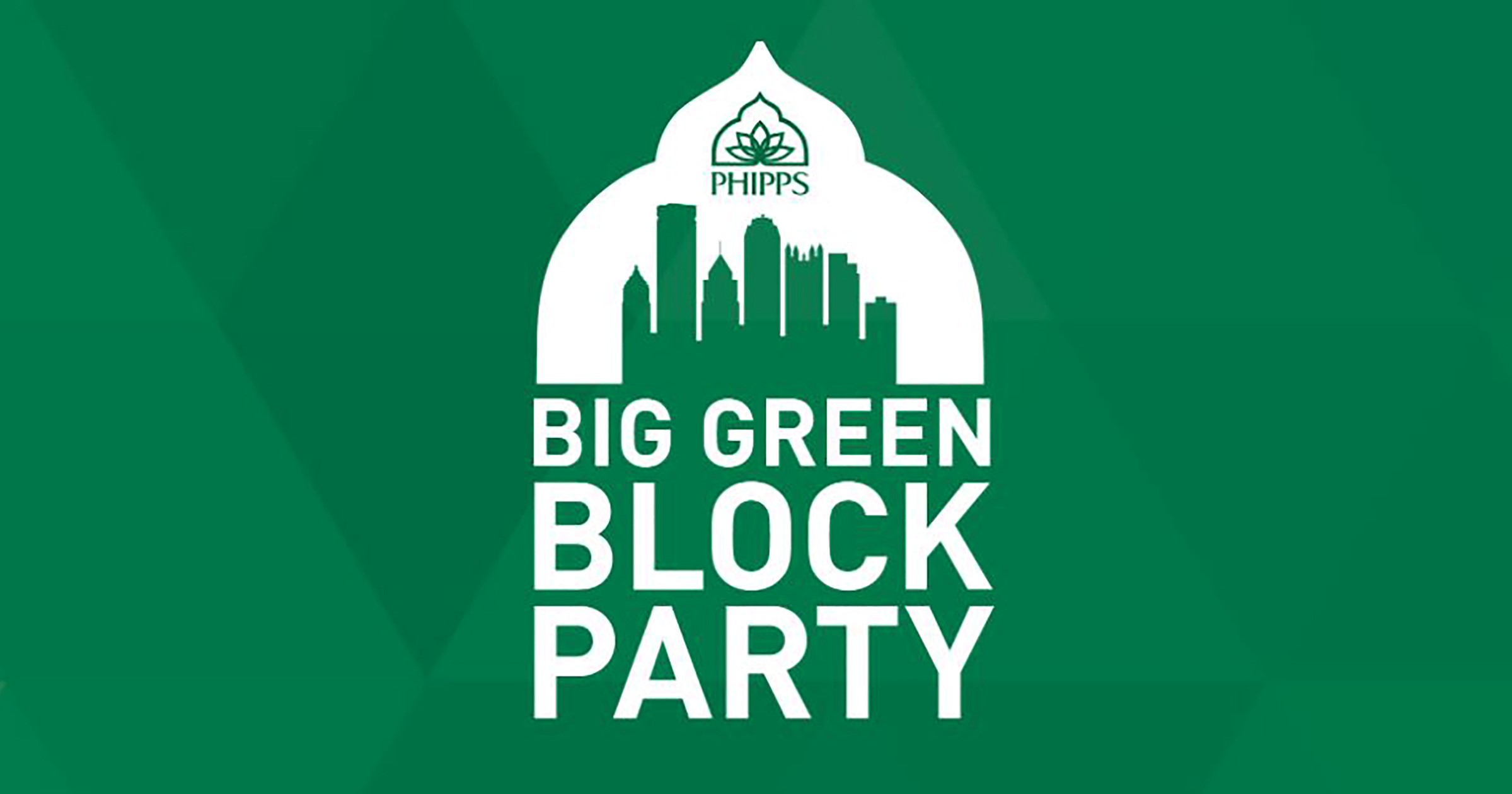 Pittsburgh, PA — Phipps Conservatory and Botanical Gardens invites the public to toast Pittsburgh's bright green future at the Big Green Block Party on Thurs., May 16. Celebrate the best of everything sustainable Pittsburgh has to offer at this memorable evening of outdoor revelry while eating, drinking, enjoying live entertainment and exploring Phipps' Living Campus, including the newest addition: The Exhibit Staging Center (ESC). Attendees will be among the first to step inside this state-of-the-art facility, which was masterfully rehabilitated from a dilapidated public works garage into a building of groundbreaking sustainability.
Mouth-watering vegan and vegetarian dishes available throughout the evening will show how eating sustainably can be delectably delicious. Guests will be amazed at what chefs have prepared for this special celebration, including a wide sampling of signature dishes and drinks from Café Phipps, CoreLife Eatery, honeygrow, Millie's Homemade Ice Cream, The Pittsburgh Juice Company, Kingfly Spirits, Wigle Whiskey and more. Additionally, guests will enjoy live entertainment by musician and recording artist Gregg Welty while strolling the boardwalk along Phipps' Turtle Lagoon and enjoying panoramic views of downtown Oakland.
The grand opening of the ESC marks the debut of Phipps' Living Campus, a first-of-its-kind nexus of net-zero energy projects that will now include new (Center for Sustainable Landscapes), modular (Nature Lab) and renovation (ESC) projects all on a single site. Maintenance staff and grounds crew, a group whose well-being is often overlooked, will be the primary occupants of the ESC building. Guests will get a unique, behind-the-scenes look at the Conservatory's flower show exhibit construction process as they watch props being built in real time. The facility is designed to generate all of the energy that it uses in a year and capture and manage all storm water that falls onsite. It is expected to achieve LEED Platinum, WELL Platinum and Living Building Challenge certifications. With additional features including a yoga studio and fitness center, Phipps' ESC will set the standard for retrofitted buildings, debuting as one of the greenest structures of its kind.

Phipps' Big Green Block Party takes a fresh, forward look at the cutting edge of sustainability happening in Pittsburgh. Don't miss this one-of-a-kind evening of excitement, celebrating ecological leadership, responsible innovation and sustainability with style at one of the biggest botanical bashes in the 'Burgh. Event proceeds benefit Phipps' programs and activities.
What: Big Green Block Party

When: Thurs., May 16; 7:30 – 10:30 p.m.

Where: Phipps Conservatory and Botanical Gardens - One Schenley Park

Cost: Tickets are $85 which includes all food and drink; Phipps Members receive a $10 discount

RSVP: Reserve tickets at phipps.conservatory.org or by contacting Phipps at 412/651-5281 or rsvp@phipps.conservatory.org.

Complimentary valet parking will be available.
For more information, visit phipps.conservatory.org/blockparty.
###
About Phipps: Founded in 1893, Phipps Conservatory and Botanical Gardens in Pittsburgh, PA is a globally recognized green leader with a mission to inspire and educate all with the beauty and importance of plants; to advance sustainability and promote human and environmental well-being through action and research; and to celebrate its historic glasshouse. Encompassing 15 acres including a historic 14-room glasshouse, 23 distinct indoor and outdoor gardens and industry-leading sustainable architecture and operations, Phipps attracts nearly half a million visitors annually from around the world. Learn more at phipps.conservatory.org.