Phipps Conservatory's Holiday Events and Activities Offer Tons of Family Fun
For Immediate Release: Tues., Dec. 18
Contact: Julie LaBar | Director of Marketing and Communications
412/638-6008 ǀ jlabar@phipps.conservatory.org
Phipps Conservatory's Holiday Events and Activities Offer Tons of Family Fun
From Holiday Magic: Let It Glow! to Santa Visits and New Year's Eve Family Celebration, families will enjoy holiday celebrations at Pittsburgh's glasshouse gem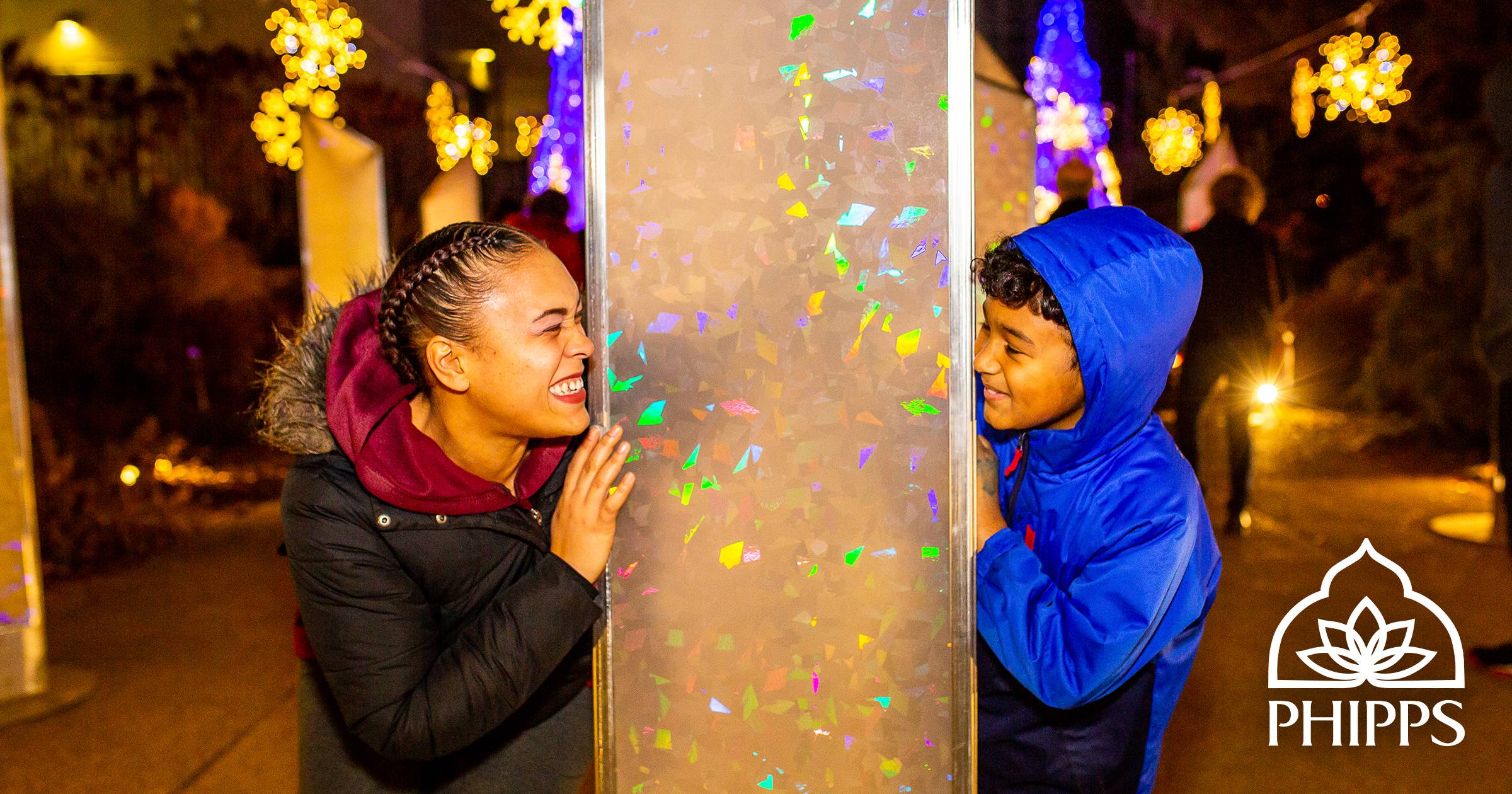 Pittsburgh, PA — Phipps Conservatory and Botanical Gardens invites families to experience the magic of the holidays through an array of fun, interactive events, programs and activities designed especially for kids.
Phipps' Holiday Magic: Let It Glow! is one of Pittsburgh's most popular family traditions — and no one loves it more than the little ones! Kids will enjoy the colorful indoor and outdoor light displays, towering 22-foot fir tree and whimsical accents, including a giant gingerbread house, adorable topiary penguins, larger-than-life gifts and holiday nutcrackers. To make the visit even more memorable, wear Phipps' new limited-edition Holiday Hologram Glasses to reveal festive snowflakes while looking at Phipps' sparkling LED light displays. Phipps' youngest guests can pick up a make-your-own-greeting-card activity sheet and play "Find the Flakes" on a family-friendly scavenger hunt to find five snowflakes hidden throughout the Conservatory. Holiday Magic: Let It Glow! runs through Sun., Jan. 6.
Kids will also delight in Phipps' Garden Railroad: Memories in Motion, taking them on a locomotive journey through 125 years at Phipps with fun features at every stop. Watch as miniature trains chug through landscapes of live, tiny plants, showing scenes of Phipps and its Schenley Park surroundings in 1893 and 2018, and engage with each push-button station to bring these displays to life. This exhibit is free with admission.
Come to Phipps for a photo op with the man in the big red suit during Santa Visits! Share a special memory and capture this year's holiday family photo, free with admission. Santa will be visiting Phipps on Dec. 18 – 23 from 11 a.m. to 2 p.m. daily.
Phipps' Family Fun Days feature a variety of engaging activities during winter break. Kids will enjoy crafts, plant potting and more, held Dec. 26 – 30 from 11 a.m. – 2 p.m. daily, free with admission.
Phipps' New Year's Eve Family Celebration allows the whole family to ring in 2019 with an early countdown at 8:45 p.m., plus New Year's Eve-themed crafts, games and activities from 6 – 9 p.m., all free with admission.
Kick off the new year with winter camps for kids. New camps this season include Icy Explorations, Winter Landscape Art and more for little learners ages 2 – 4. Each one-hour session includes stories, interactive lessons and a healthy snack along with fun themed activities. Additionally, Kids' Night Out: Cooking Classes are now available for ages 4 – 10, held in Phipps' new state-of-the-art Botany Hall Kitchen. For more information or to register, visit phipps.conservatory.org/camps.
Phipps' general admission is $17.95 for adults, $16.95 for seniors and students, and $11.95 for children (ages 2 – 18). Daily hours for Winter Flower Show are 9:30 a.m. – 11 p.m. and 5 – 11 p.m. for Winter Light Garden. Phipps closes at 5 p.m. on Mon., Dec. 24 and reopens at 9:30 a.m. on Wed., Dec. 26. Reserve timed tickets to confirm your visit date and entry time at phipps.conservatory.org/tickets.
###
About Phipps: Founded in 1893, Phipps Conservatory and Botanical Gardens in Pittsburgh, PA is a green leader among public gardens with a mission to inspire and educate all with the beauty and importance of plants; to advance sustainability and promote human and environmental well-being through action and research; and to celebrate its historic glasshouse. Phipps commemorates its 125th anniversary throughout 2018, celebrating its historic past, vibrant present and exciting future ahead — including inspiring seasonal flower shows, community events, public programs and groundbreaking green innovation. Learn more at phipps.conservatory.org.
Photos © Rachel Lovas, Paul g. Wiegman