Phipps Conservatory's Holiday Magic: Let It Glow! Timed Tickets Now on Sale
For Immediate Release: Mon., Nov. 12
Contact: Julie LaBar | Director of Marketing and Communications
412/638-6008 ǀ jlabar@phipps.conservatory.org
Phipps Conservatory's Holiday Magic: Let It Glow! Timed Tickets Now on Sale
Make plans to experience Pittsburgh's must-see holiday spectacular — bigger, brighter and more breathtaking than ever!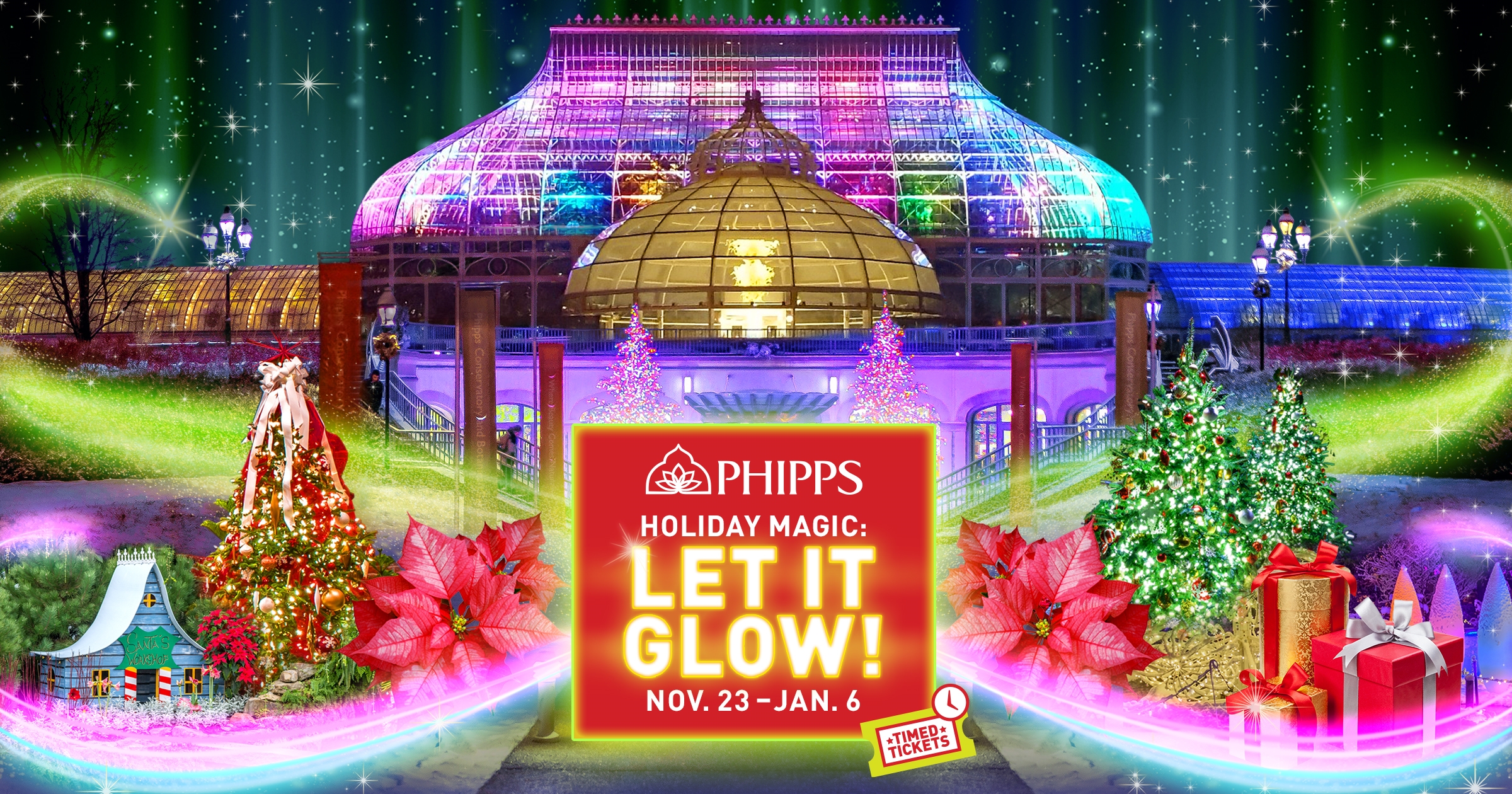 Pittsburgh, PA — Beginning today, timed tickets are on sale at phipps.conservatory.org to experience Phipps Conservatory and Botanical Gardens' Holiday Magic: Let It Glow! opening on Fri., Nov. 23. A favorite Pittsburgh holiday tradition, the season isn't complete without a visit to Phipps' Winter Flower Show and Light Garden, and this year's show will be the biggest and brightest yet!
Timed tickets allow guests to conveniently book their visit date and time of arrival, available online at phipps.conservatory.org/tickets. Each timed ticket provides access to the entire Conservatory, including Winter Flower Show, Winter Light Garden and Garden Railroad. Once guests enter Phipps to experience Holiday Magic: Let It Glow!, they may stay as long as Phipps is open. With the show's widespread appeal, timed tickets are required in advance for all days of the show.
With dazzling holiday displays, a newly renovated and illuminated Palm Court, and fun surprises at every turn, Phipps' Holiday Magic: Let It Glow! truly captures the magic of the holidays, making memories that will last a lifetime. This year's show will include a remarkable display of holiday trees, including a majestic 22-foot Fraser fir glowing brilliantly over the Victoria Room's reflecting pond. Plus, enjoy Phipps' signature floral delights, including amaryllis, orchids and thousands of poinsettias, as well as exquisitely detailed props, with one amazing new display after another. Plus, in Phipps' Outdoor and Discovery Gardens, the Winter Light Garden will sparkle with luminous orbs, trees, fountains, a tunnel of lights and all-new ice tower prisms resembling frosted windowpanes that are sure to mesmerize visitors.
Guests will also have the opportunity to see the show in a whole new light with limited-edition Holiday Hologram Glasses that use the amazing science of holographic diffraction to reveal festive snowflakes while looking at Phipps' sparkling LED light displays, an added delight for all ages.
Phipps' Garden Railroad: Memories in Motion is also on display, taking guests on a treasured locomotive journey through the years at Phipps, with fun, interactive features at every stop. Plus, all new this year, Tropical Forest Cuba exhibit will be accentuated with 250 feet of pink globe lights, illuminated trees and pendant lights — giving the exhibit a vibrant glow of its own!
Make plans today to see Holiday Magic: Let It Glow, delighting your senses and kindling the spirit of the season, at phipps.conservatory.org. The show runs Fri., Nov. 23 through Sun., Jan. 6 with timed tickets required in advance for all guests. Admission is $17.95 for adults, $16.95 for seniors and students, and $11.95 for children (ages 2 – 18). Members and kids under 2 enter free. Daily hours for Winter Flower Show are 9:30 a.m. – 11 p.m. and 5 – 11 p.m. for Winter Light Garden. Phipps closes at 5 p.m. on Mon., Dec. 24 and reopens at 9:30 a.m. on Wed., Dec. 26.
Learn more about Holiday Magic: Let It Glow! and all of the holiday festivities planned at Phipps throughout the holiday season, including Santa Visits, Live Performance Nights, Holiday Dinner, Members Shopping Event, Gifts and Greens Market, Family Fun Days and New Year's Eve Family Celebration, at phipps.conservatory.org.
Members of the press can receive show photos, get a show tour or schedule an interview by contacting Julie LaBar, director of marketing and communications at jlabar@phipps.conservatory.org or 412/638-6008.
###
About Phipps: Founded in 1893, Phipps Conservatory and Botanical Gardens in Pittsburgh, PA is a green leader among public gardens with a mission to inspire and educate all with the beauty and importance of plants; to advance sustainability and promote human and environmental well-being through action and research; and to celebrate its historic glasshouse. Phipps commemorates its 125th anniversary throughout 2018, celebrating its historic past, vibrant present and exciting future ahead — including inspiring seasonal flower shows, community events, public programs and groundbreaking green innovation. Learn more at phipps.conservatory.org.