Phipps Conservatory's Orchid and Bonsai Show: A Splash of Brilliance Opens Sat., Jan. 23
For Immediate Release: Mon., Jan. 18
Contact: Joe Reed | Director of Marketing and Communications
412-622-6915, ext. 3801 | jreed@phipps.conservatory.org

Phipps Conservatory's Orchid and Bonsai Show: A Splash of Brilliance Opens Sat., Jan. 23
Gorgeous Displays Showcase All-Star Specimens from Two of Phipps' Finest Collections in All New Show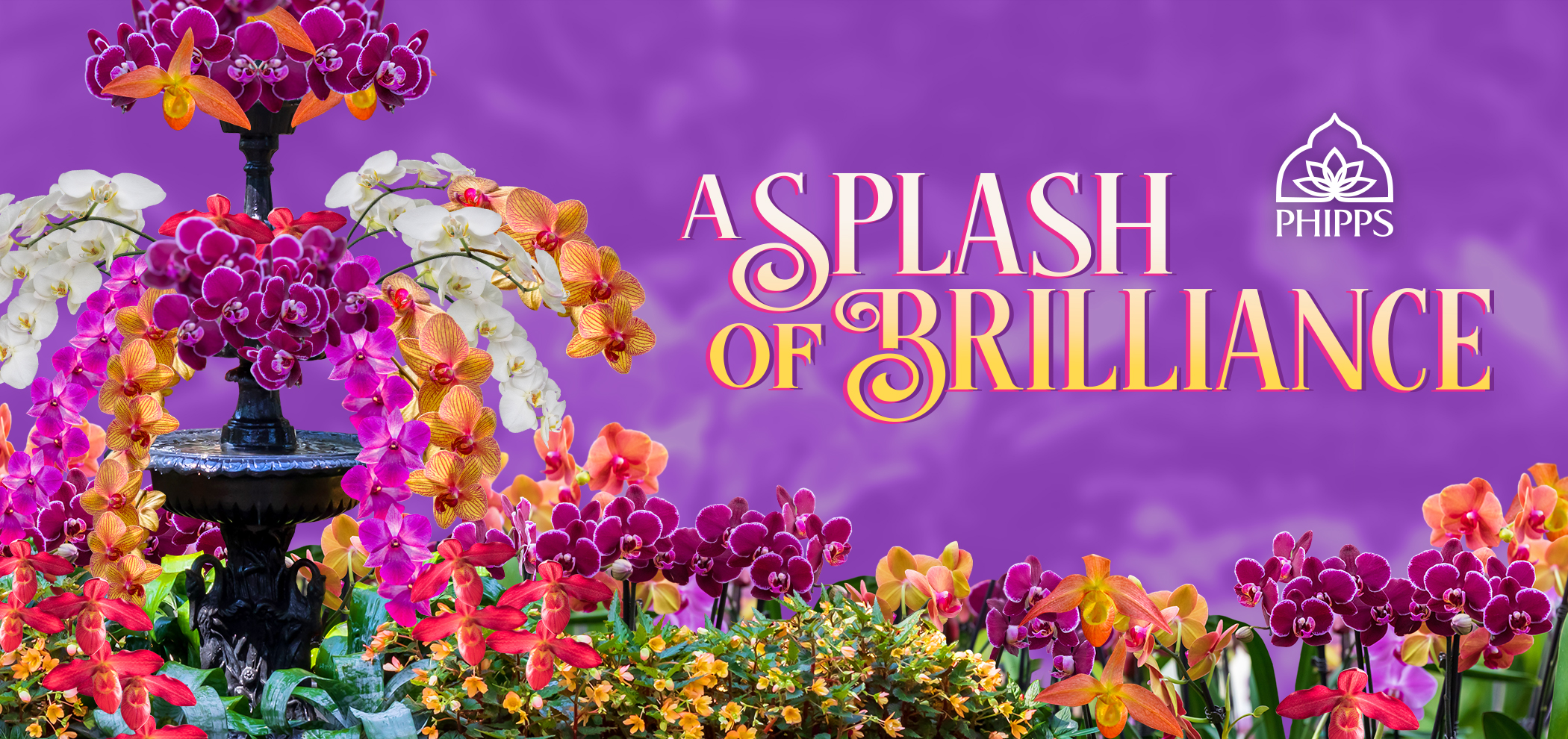 Pittsburgh, PA – Starting Sat., Jan. 23, Phipps Conservatory and Botanical Gardens' Orchid and Tropical Bonsai Show: A Splash of Brilliance will help guests wash away the winter blues with a journey through immersive, vibrant displays. There's no better escape from cold days than a stroll through Phipps' verdant glasshouse, and a Splash of Brilliance provides color, warmth, safety and wellness when they are needed most.

Exhibit features include a tiered fountain cascading with orchids and dripping with Spanish moss, orchids planted in ring baskets and hanging baskets overhead, a serene soundtrack provided by various water features, orchids arranged in six- and nine-foot fountain-shaped towers, a bamboo shishi-odoshi deer scarer fountain and, of course, a magnificent display of some of Phipps' finest tropical bonsai specimens, showcasing a wide variety of species and pruning techniques.

Guests will also enjoy the whimsical displays of Garden Railroad: Rails and Trails. This delightful exhibit entertains guests with the sights and sounds of the miniature Phipps Biophilia Park. Featuring a pontoon boat cruising along a lake, an audience enjoying a concert at a band shell and all-new touchless interactive features, this exhibit is sure to bring joy to guests of all ages.

Orchid and Tropical Bonsai Show: A Splash of Brilliance runs from Jan. 23 – Feb. 28. Hours are 9:30 a.m. – 8 p.m. daily. Timed tickets must be reserved in advance and are available for visits through Jan. 31 now, with additional dates opening on a weekly basis. For more information and to reserve tickets, visit phipps.conservatory.org/Tickets.

This show was designed by Kevin Haughey, Jordyn Melino and Katie Schuller.

###

About Phipps: Founded in 1893, Phipps Conservatory and Botanical Gardens in Pittsburgh, PA is a globally recognized green leader with a mission to inspire and educate all with the beauty and importance of plants; to advance sustainability and promote human and environmental well-being through action and research; and to celebrate its historic glasshouse. Encompassing 15 acres including a historic 14-room glasshouse, 23 distinct indoor and outdoor gardens and industry-leading sustainable architecture and operations, Phipps attracts more than half a million visitors annually from around the world. Learn more at phipps.conservatory.org.

Watch TEDx: What We Can Learn From an Old Glasshouse: A look at the evolving way we connect people to nature at Phipps, demonstrate how human and environmental health are inextricably connected, and show that to age gracefully, we must continually reinvent ourselves to evolve with the rest of the world.