Phipps Conservatory's Popular Bulb Sales Events Provide Additional Reasons to Visit
For Immediate Release: Tues., March 26
Contact: Julie LaBar | Director of Marketing and Communications
412/638-6008 ǀ jlabar@phipps.conservatory.org

Phipps Conservatory's Popular Bulb Sales Events Provide Additional Reasons to Visit Spring Flower Show: Gardens of the Rainbow
Purchase show-stopping blooms for your home garden at annual spring show tradition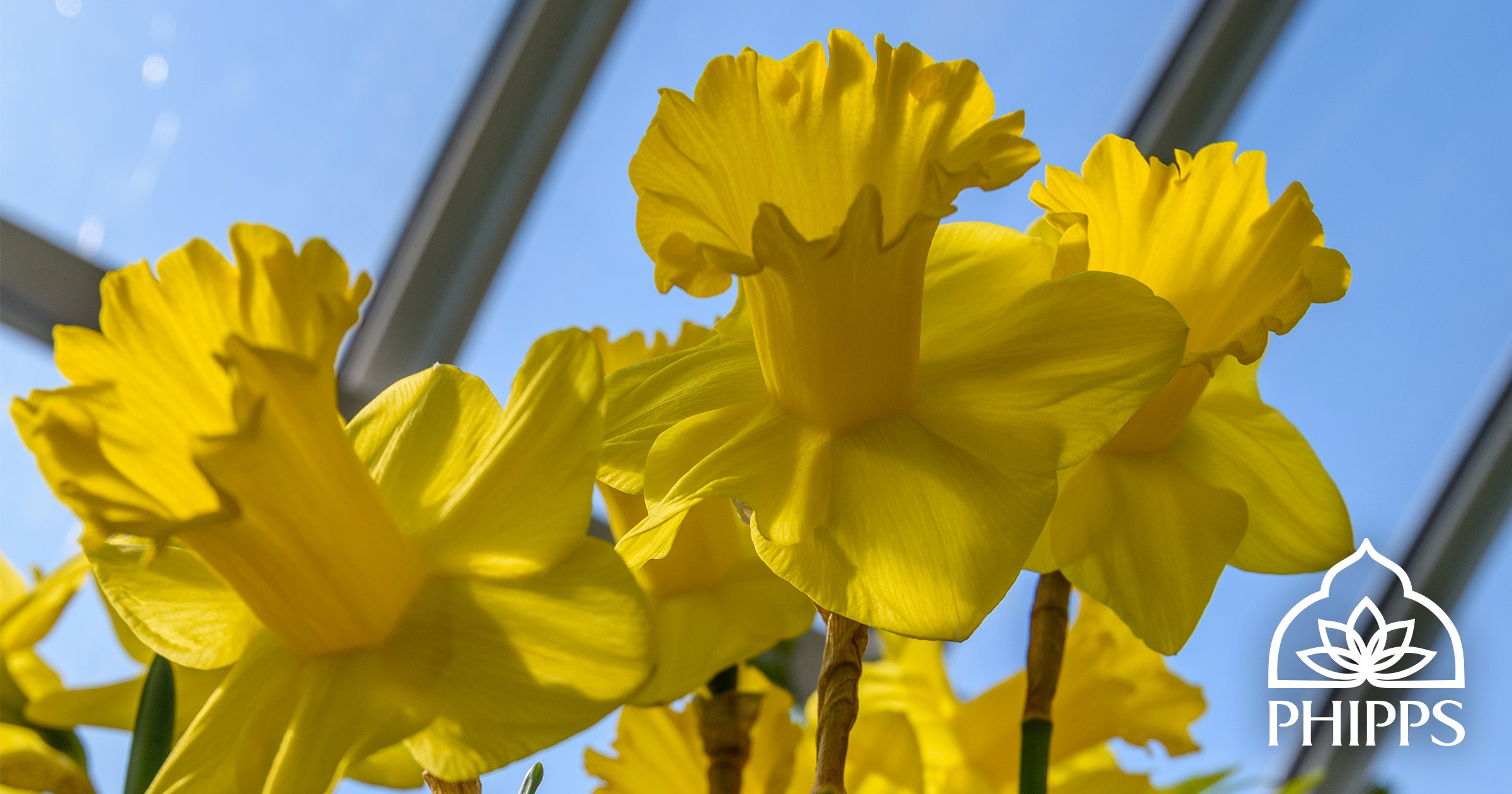 Pittsburgh, PA — Phipps Conservatory and Botanical Gardens invites the public to take Gardens of the Rainbow beauty home during Phipps' popular Used Bulb Sales, making Spring Flower Show memories last for seasons to come. This popular spring show event will take place Saturdays, March 30, April 20 and 27 from 9:30 – 11:30 a.m in Phipps' Outdoor Garden, while supplies last.
Phipps' horticulturists and volunteers check and replace bulb displays throughout Spring Show: Gardens of the Rainbow, ensuring the show remains beautiful and inspiring now through its grand finale on Sun., April 21. Each bulb is replaced two to four times throughout the show, with over 60,000 total bulbs on display. As blooms are changed out, they are offered for public sale to share the beauty of Phipps with the community.
For $5, guests can purchase two 6-inch pots of bulbs at Phipps' Used Bulb Sales, including daffodils, hyacinths and lilies. Phipps' orchids are also available while supplies last. Spring blooms are available for purchase on a first-come, first-served basis, so please arrive early for the best selection. Quantity and variety are based on the blooms displayed in Spring Flower Show: Gardens of the Rainbow and will vary. Bags will be provided, but guests are encouraged to help Phipps conserve resources by bringing their own. If there is inclement weather, the sale will be moved to Phipps' Production Greenhouses. Phipps' staff and volunteers will be available to discuss planting instructions and answer any questions.
Phipps' Gardens of the Rainbow is a must-see show worth experiencing and taking home! In this year's show, guests will enter a spectacular kaleidoscope of color to experience nature's spring blooms in one of the most beautiful, dazzling celebrations of the season. Adorned with captivating prisms, eye-catching topiaries and interactive experiences for all ages, Phipps' Spring Flower Show is bursting with color, surrounding guests with all of the warmth and brilliance of the spring season. This year's all-new show is filled with tens of thousands of spring blooms in vibrant floral hues, including tulips, hydrangeas, lilies, amaryllis, hyacinth, daffodils and snapdragons. From warm oranges and yellows to cool blues and show-stopping silvers, breathtaking rainbow-inspired displays creatively capture the full, brilliant spectrum of spring. The show is open for a limited time only, running now through Sun., April 21.
Don't miss the opportunity to experience Phipps' Gardens of the Rainbow, then purchase spring show bulbs to brighten up your home garden with the beauty of Phipps. Used Bulb Sales are free to attend. For more information, visit phipps.conservatory.org.
###
About Phipps: Founded in 1893, Phipps Conservatory and Botanical Gardens in Pittsburgh, PA is a globally recognized green leader with a mission to inspire and educate all with the beauty and importance of plants; to advance sustainability and promote human and environmental well-being through action and research; and to celebrate its historic glasshouse. Encompassing 15 acres including a historic 14-room glasshouse, 23 distinct indoor and outdoor gardens and industry-leading sustainable architecture and operations, Phipps attracts nearly half a million visitors annually from around the world. Learn more at phipps.conservatory.org.