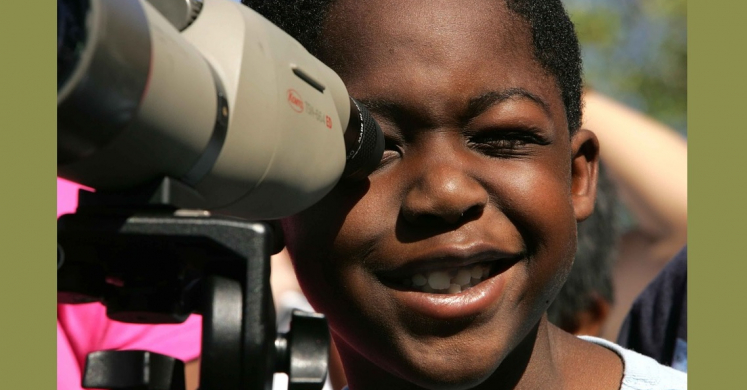 #bioPGH Blog: Black Birders Week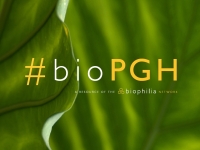 A resource of Biophilia: Pittsburgh, #bioPGH is a weekly blog and social media series that aims to encourage both children and adults to reconnect with nature and enjoy what each of our distinctive seasons has to offer.
I am a bird nerd. I have attended Audubon Christmas Bird Counts for over a decade now. My husband and I have attended Kate St. John's birding walks, gone on owl prowls, and often walk by ourselves in local country parks like Boyce or North Park and quiz ourselves on the bird calls we hear. While outside, though, we have rarely given a thought to what someone might think if they see us wandering around with binoculars, even at dusk or in the dark. That lack of concern is not true for everyone, though.
If you follow natural history pages and topics on social media, in the last few days you have probably come across sparks of celebration and belonging – Black Birders Week. Organized by a group of Black naturalists and birders on Twitter, Black Birders Week is a social media movement to celebrate and highlight the Black experience in the outdoors. The initiative arose as a response to a recent incident of racism in Central Park, and it has spread to become a global expression of acceptance and inclusion in the outdoors.
For a long time now, people of color in the US have not felt safe or welcomed into green spaces. A variety of organizations and coalitions around the country are working to address this (Outdoor Afro, Youth Outside, The Black Outdoors, Camber Outdoors, Diversify Outdoors, to name a few); but the social media movement this week is a step towards breaking the stereotypes of connecting to nature while Black or Brown, as well as serving as a vital reminder to us all that the outdoors are a space for everyone.
In honor of this movement, instead of focusing on a particular aspect of Western Pennsylvania biodiversity this week on the blog, we want to highlight the stories of #BlackBirdersWeek from Twitter. Let's enjoy the beautiful images of nature, process the challenging stories, do our own work to combat racist stereotypes and embrace the fact that nature is for everyone.
#BlackBirdersWeek IS HERE!!!!!!!!!

DAY 1:

If you are a Black nature enthusiast, we want to see you!! Share your pics using the hashtag #BlackInNature! #RepresentationMatters, and I know that from firsthand experience! So, here I am, #BlackAFinSTEM, hip-deep in the marsh! �� pic.twitter.com/ixD7zKvGTG

— Corina Newsome (@hood_naturalist) May 31, 2020
One of the reasons #BlackBirdersWeek is so important, is representation. Seeing yourself in the adults who are blazing trails for future generations. My son loves nature. I look forward to watching that love blossom through the years. #BlackInNature pic.twitter.com/3Nc32rwEYS

— Jason Ward (@JasonWardNY) May 31, 2020
I grew up thinking I'd never spend a night outdoors. Now I speculate when I will get out into the field again. I've seen wonders and been places I never dreamed of and I'm grateful. For the past two years I have been #BlackInNature. Happy #BlackBirdersWeek ! pic.twitter.com/DhIJ4gVfLb

— Mushtaaq (@nichenature) May 31, 2020
From young, I fostered a deep and abiding love for the natural world.

Exploring landscapes; appreciating the beauty of all life through my parents.

Now, I research how #rewilding our land with keystone species can help wildlife to thrive#BlackInNature #BlackandSTEM #beavers pic.twitter.com/Hj4g4JEb3S

— Kye Davies (@wildearthnotes) June 1, 2020
I owe my love of nature to my ancestors: from my 3x great-grandpa who bought our family's land after Emancipation, to my grandmother who star-gazed and gardened with me on that same land. She also taught me mark recapture! #BlackInNature @BlackAFinSTEM pic.twitter.com/koxIUvSqXf

— Melissa E. Kemp (@melisabetta) May 31, 2020
This week is #BlackBirdersWeek ! It is an opportunity for us to showcase blk joy in nature, black birders, and blk scientists! First, an introduction. I'm a Texas high school biology teacher holding a special interest in birds and environmental justice! #BlackInNature pic.twitter.com/JS28l0wnlT

— Ms. Abdullah (@msabdullahbio) May 31, 2020
#BlackBirdersWeek Starting my #BlackInNature tweets with some old field pics of the past from when I was doing wildlife research in Kansas. This was around the time that I really knew that I wanted to be an ecologist, as well as when I was first introduced to birding! pic.twitter.com/4uwb7rW0Gy

— Armand Cann (@devonian_one) May 31, 2020
In February 2020 I lead my first group trip of black and brown women to explore @VisitAsheville and embrace nature. It was the honor of my life to see the joy it bought them. I'm #BlackInNature #BlackBirdersWeek pic.twitter.com/CaWCIrE9Au

— Outdoorsy Diva (@Outdoorsy_Diva) May 31, 2020
Me, while sharing my passion about birds with 3 kids in #Principe Island, West Africa. While on a break from my @imperialcollege MSc thesis fieldwork, related to the response of São Tomé's #birds to agricultural intensification #BlackBirdersWeek #BlackInNature #BlackBirdersEurope pic.twitter.com/uk1rs2vh1J

— Ricardo Rocha (@RicardoNature) May 31, 2020
#BlackInNature I grew up never seeing anyone who looked like me in my classes, in my textbooks or working in my field. It's part of the reason why after studying marine biology I started working on wildlife documentaries. Nature is for everyone. Inspire the change you want to see pic.twitter.com/fNTc0ZeQCH

— Inka Cresswell (@InkaCresswell) June 1, 2020
For all of you who don't know me by my name I'm Alexi G

I've been in the zoo field for +6 years. In the time I've had the opportunity to work directly with fewer than five other black individuals.

I want to change that #BlackInNature pic.twitter.com/fGQCaz2lF7

— David AttenBruh (@AlHendiify) May 31, 2020
Seeing this Reddish Egret (Egretta rufescens) so far from the coastline is kind of uncommon. Having the chance to capture this cool sighting, during the golden hour and in one of my fav places is something I cherish deeply.#BlackInNature #PostABird #Hispaniolana pic.twitter.com/xeapq2vzmW

— pattorresp (@pattorresp1) June 2, 2020
I'm late to this party, but it is ��! A kid from L.A. followed his #BlackInNature and puppy dreams to being a @uwtacoma Prof in urban eco-evo. What's better: as a father, I get to share my love of nature with the little loves of my life. @BlackAFinSTEM #BlackAFinSTEM pic.twitter.com/fuLrNZWLcX

— Christopher Schell (@cschell_canids) June 2, 2020
When I was 11 yrs old the parent of a white schoolmate said to me "Blacks don't swim or go camping because you can't afford to."
I had my mom enroll me in swim classes at the Chicago "Y" and joined @4H. I have proved them wrong. #BlackBirdersWeek #BlackinNature @BlackAFinSTEM pic.twitter.com/jGHeuj9Gfk

— Tamar Evangelestia-Dougherty (@evangelestia) May 31, 2020
Kicking off #BlackBirdersWeek by celebrating #BlackInNature ! The outdoors belong to everyone. pic.twitter.com/zB9gFNWIkk

— Amber Wendler (@AmberWendler) May 31, 2020
Cover, public domain; Header, Wikimedia Commons user Tony Hisgetta CC-BY-2.0