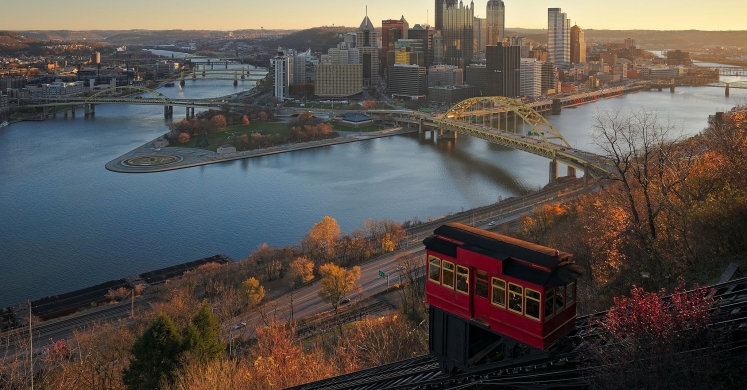 #bioPGH Blog: Living in a Biophilic City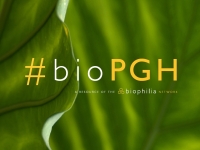 A resource of Biophilia: Pittsburgh, #bioPGH is a weekly blog and social media series that aims to encourage both children and adults to reconnect with nature and enjoy what each of our distinctive seasons has to offer. From the best times to plant seasonal flora and enjoy their peak blooms, to astronomical events and creatures to keep an eye and ear out for, Phipps will keep you in the know with what's going on in our environment!
In September, Mayor Peduto came to Phipps Conservatory to make the exciting announcement that the City of Pittsburgh was joining the global network of Biophilic Cities—an initiative dedicated to strengthening urban ties to nature and highlighting the emotional and physical wellness benefits of connecting with the outdoors. Along with this commitment to nature, the Biophilic Cities network also brings commitment to conservation — something Pittsburgh has already made great strides toward. As biophilic city residents, how can we get more involved in nature and conservation in the city?
1. Reduce, Reuse, Recycle — Pittsburgh's Department of Public Works picks up 45 – 60 tons of recyclable materials per recycling day within the city. We can make their job more efficient by closely adhering to instructions of the city's webpage about what can and cannot be recycled. Also, it's important to note that reducing the amount of trash and recyclables to begin with and reusing items like plastic containers will truly have the biggest impact on energy.
2. Volunteering — If you have a little bit of free time and a willing spirit, you can make a huge contribution by volunteering. Not only do non-profits institutions (like Phipps) rely on a fantastic crew of volunteers, but many of our favorite nature spot in the city are only possible through the efforts of volunteers. For example, the trails along our riverfronts have to be maintained by groups of dedicated individuals. Adrienne Buka of Friends of the Riverfront organization notes: "We work with over 1,800 volunteers annually to maintain the Three Rivers Heritage Trail Networks." Similarly, Urban EcoStewards are volunteers who donate their time to the Pittsburgh Parks Conservancy, Nine Mile Run Watershed Association, Tree Pittsburgh and Allegheny Land Trust. So if you love the outdoors, education and meeting people, volunteering could be a great choice for you!
3. Citizen Science — If you're ready to take advantage of the inquiry opportunities that a Biophilic City has to offer, you might be interested in citizen science efforts. All around the city, different institutions regularly enlist the general public to help collect data for different projects. One of the most notable is the annual Christmas Bird Count by the Audubon Society of Western Pennsylvania. Part of a national effort, Christmas Bird Counts are the longest-running citizen science projects in the U.S., and they always need volunteers for the counting days—even if you don't know your local birds. (Check the local chapter website for more information.) Or, if your schedule is already a bit tight, check out apps such as iNaturalist that unite a huge community of nature enthusiasts across the world who document and ID various organisms in their day to day lives. The collection data can then be used for biodiversity studies!
4. Just Enjoy the Outdoors — Maybe the best part of being a citizen in a Biophilic City is to just be in the outdoors. To pause. To breathe. To enjoy.
Connecting to the Outdoors Tip: Pittsburgh has a wonderful variety of city and county parks that are fun and beautiful no matter what the season. Make sure you get out there, even for a simple walk!
Continue the Conversation: Share your nature discoveries with our community by posting to Twitter and Instagram with hashtag #bioPGH, and R.S.V.P. to attend our next Biophilia: Pittsburgh meeting.
Resources
Biophilic Cities
City of Pittsburgh — Department of Public Works, Residential Recycling
Urban EcoStewards
Tree and forest effect on air quality and human health in the United States
Friends of the Riverfront
Audubon Society Christmas Bird Count
iNaturalist App
Select photos © Wikimedia Users: Dllu CC-BY-SA-4.0, HoboJones CC-BY-SA-4.0