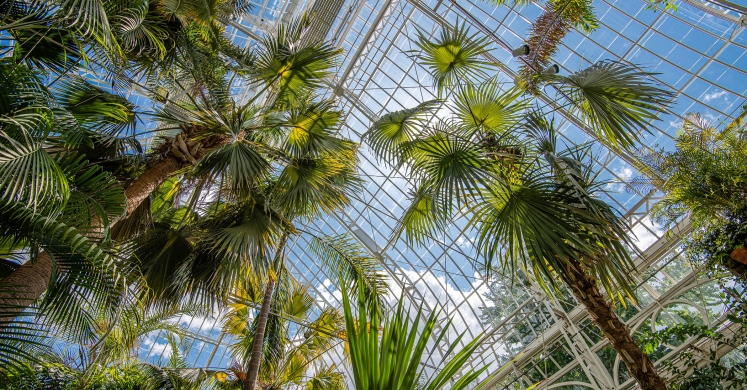 This Week at Phipps: Aug. 19 — 25
There's always something new to see and do at Phipps! This weekly blog post provides a run-down of the latest happenings so you can plan your visit. Events listed below require no advance registration unless noted otherwise.
Open Daily:
Mon., Aug. 19:
Make-a-Craft Mondays | 10:30 a.m. – noon
Children are invited to engage in nature-inspired arts-and-crafts projects using recyclable materials.
Native Plant Walking Tour | 6:30 - 8:30 p.m.
Take a walk around the Center for Sustainable Landscapes Environs to tour our native plant selection, focusing on potential additions to your own garden. Learn how to attract pollinators, add visual interest, choose optimal planting conditions and maintain your garden. Plus, briefly learn about green roof structure and planting challenges. Your tour will be led by Phipps' Curator of Horticulture, Julianna Razryadov..
Tues., Aug. 20:
Wed., Aug. 21:
Member Double Discount Days | 9:30 a.m. - 5:30 p.m.
Cardholding members can visit The Shop at Phipps on these two dates to get double discounts on select Phipps memorabilia and other very exciting gifts.
Story Time Wednesdays | 10:30 a.m. and 1 p.m.
Kids will love listening to our storytellers weave tales about gardens, fruits, vegetables, animals and other fun topics.
Create a Backyard Water Garden | 6:30 - 8:30 p.m. | R.S.V.P. required
Water gardens provide tranquility and beauty to the homeowner and can serve as a valuable resource for wildlife. Learn the essentials for appropriate siting, installation, planting and maintenance. Landscape and Garden Design elective.
Thurs., Aug. 22:
Fri., Aug. 23:
Pot-a-Plant Fridays | 10:30 a.m. – noon
Kids can pot their own plant to care for at home.

Friday Extended Hours | Open until 10 p.m.
Enjoy the gardens by twilight — it's the perfect way to wind down the week!
Sat., Aug. 24:
Gorgeous Greens in Watercolor | 9:30 a.m. - 4 p.m. | R.S.V.P. required
Plants often have a wide variety of beautiful greens and it can be challenging to represent these different colors accurately. Learn how to assess the differences in the greens of plants by observing their subtle variations in hue, value and intensity. Practice painting different greens through a series of watercolor mixing exercises and then apply this information to an illustration of a single leaf or of multiple specimens. Botanical Art and Illustration Certificate elective.
Nature Lab Open Hours | 11 a.m. – 3 p.m.
The revolutionary Nature Lab at Phipps is now open for you to discover.
Essential Oils | 1– 3 p.m.
Discover the uses and benefits of essential oils with Deb Bosco.
Sun., Aug. 25:
Photos © Paul g. Wiegman