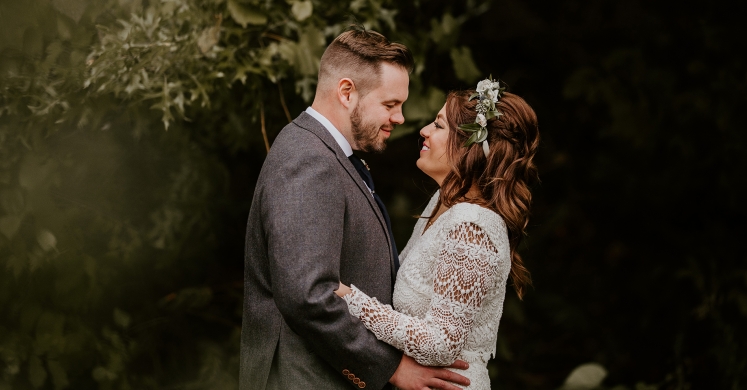 Weddings Under Glass: Christina and Michael
Weddings Under Glass is a monthly blog series where we highlight the stories of couples who chose to begin their happily ever after in the lush backdrop of Phipps, named one of the best outdoor garden wedding venues by Elle and Harper's Bazaar.
Christina and Michael first met in 2014 at a work holiday party where mutual friends saw an instant connection between the two. Though Michael claims that it was love at first sight when he met Christina, the couple would be friends and work colleagues for a long time before their romance officially blossomed, which they both agree was for the best. They were lucky to become best friends first, which has helped them persevere through life's obstacles side-by-side.
Michael proposed to Christina while they were away on a weekend trip to Portland, Maine in October of 2017. New England and all it has to offer — from lobster rolls to fall foliage — is one of their favorite regions to visit, so Maine made for the perfect getaway. On the Saturday of their trip, Christina and Michael visited scenic Cape Elizabeth to stroll Fort Williams Park and take in the sights of Portland Harbor. When Christina went ahead of Michael to get a better view of the harbor, Michael asked her to wait because he had something stuck in his shoe. When she turned around to check on him, he was down on one knee. She, of course, said yes, and the pair spent the rest of their picture perfect day together enjoying the autumn weather and beautiful sights.
The couple chose Phipps as their wedding venue because of their mutual love of nature and the outdoors. They didn't want a typical "cookie-cutter" reception and Phipps provided the perfect blend of elegant, bohemian and free-spirited vibes. Most of all, they knew Phipps also had delicious, locally sourced and sustainable food that would please their values and their tastebuds! As soon as Christina and Michael toured the conservatory and saw the fountain in the Outdoor Garden surrounded by flowers, they knew Phipps was the perfect setting to say "I do."
Christina and Michael's wedding took place in the Outdoor Garden on October 20, 2018. The couple strived for a straightforward ceremony — a celebration of their marriage. They wanted to keep the wedding an intimate affair, as if they were having Sunday dinner with their loved ones. They embraced the natural elegance of the venue by using a color palette of mostly earthy tones. Christina particularly loved the flower crowns that she and the flower girl wore.
The couple's favorite part of getting married at Phipps was how simply beautiful it was, providing the exact setting they hoped for as they were introduced to their loved ones as husband and wife. Christina and Michael were especially impressed with the huge weight that was taken off of their shoulders by Phipps' event staff, who took care of everything big and small so that Christina and Michael could be focused on the beautiful day.
Their honeymoon took place in Lake Como, Italy, where they spent a week indulging in everything Italy has to offer.
Now back in PA, Michael and Christina live in Morningside with their cat, Niles. Michael works in oil and gas all while getting his MBA at University of Pittsburgh, and Christina is a corporate attorney. When they aren't hard at work, they both love exploring the ever expanding food and local beer scene in Pittsburgh.
Would you like to plan your special day at Phipps? Contact our events team by email or by calling 412/315-0685.
Vendors:
Photographer: A Graceful Fawn Photography
Makeup Artist: Kiss and Makeup
Flowers: The Farmer's Daughter
Bride's Dress: Luna Boutique
Groom's Suit: Surmesur Custom Menswear
Cake: Prantl's