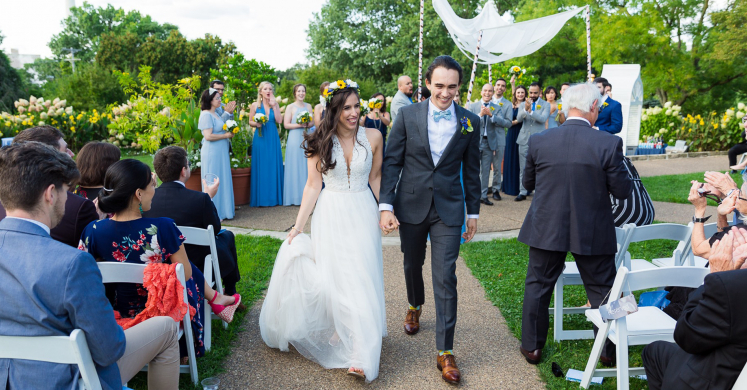 Weddings Under Glass: Sarah and Ricardo
Weddings Under Glass is a monthly blog series where we highlight the stories of couples who chose to begin their happily ever after in the lush backdrop of Phipps, named one of the best outdoor garden wedding venues by Elle and Harper's Bazaar.
Many children spend hours dreaming up their perfect wedding. They play dress-up, pick their wedding colors and imagine who will be standing at the end of the aisle from them when they grow up. For Sarah, getting married at Phipps had been a dream of hers since the fifth grade, and her dream became reality in August of 2019 when she married her best friend in the Outdoor Garden at Phipps Conservatory.
Sarah and Ricardo met while attending the same graduate program at Johns Hopkins University. On the day of their first exam, Sarah noticed a cute boy walking into the lecture hall. I hope he sits by me, she thought to herself. When Ricardo inevitably sat down next to the cute girl he'd seen around school, he thought to himself, Don't say anything stupid.
Sarah worked up the courage to speak first. "I'm really nervous about this exam."
"Don't worry, the worst thing that will happen is that you'll fail the test and then the class and then you'll have to drop out of the program and you'll have wasted $60,000." Nailed it.
Ricardo proposed at the Baltimore Botanic Garden after telling Sarah that they were going there to meet some friends. Of course, no one would arrive. As they wandered into a room with a small waterfall, Ricardo told Sarah to pose with her hands over her eyes. They had been taking pictures throughout their tour and Sarah didn't think anything of this seemingly innocent gesture. But when she closed her eyes, she heard the opening chords of "Your Song" by Elton John start to play. When she opened them, there was Ricardo, standing in front of her with a ring in his hand.
The wedding was a beautiful affair. Bright shades of blue and yellow surrounded the couple while they celebrated their love in front of family and friends. They decided to lean into their environment by choosing natural flowers and flowing bridesmaid dresses, with Sarah even donning a flower crown to achieve the "bohemian-flower-princess-wood-nymph" look of her dreams. Their favorite detail was their unique cake topper, custom-made by Rachel Simmons at Bella Christie's. A duck groom and penguin bride sat atop their cake, chosen for their special significance to the couple — "patito" (little duck) and "pingüinita" (little penguin), are their pet names for each other.
Sarah and Ricardo held both their ceremony and reception in the Outdoor Garden. "We really wanted our wedding to feel like a fun, whimsical, outdoor garden party. We knew we wanted to get married outside surrounded by nature and then dance the night away under the stars. We didn't want anything feeling too fancy or stuffy or regal, because that's just not us."
The lovebirds spent their honeymoon in Barbados. While there, they snorkeled with sea turtles, paddle boarded, explored the island and stuffed themselves full of delicious food and strawberry margaritas. Currently, they are living in Baltimore enjoying their "post-wedding bliss" and preparing to purchase their first home together as a married couple.
Would you like to plan your special day at Phipps? Please contact our events team by email or by calling 412-315-0685.
Vendors:
DJ: Loyalty Entertainment: DJ Loyal
Photographer: Stefani Ciotti Photography
Flowers: Posies By Patti
Cake: Bella Christie's
Makeup and Hair: Wanderlust Beauty Studio