Movie Night — Five Seasons: The Gardens of Piet Oudolf
Fri., April 5; 7:15 – 8:45 p.m.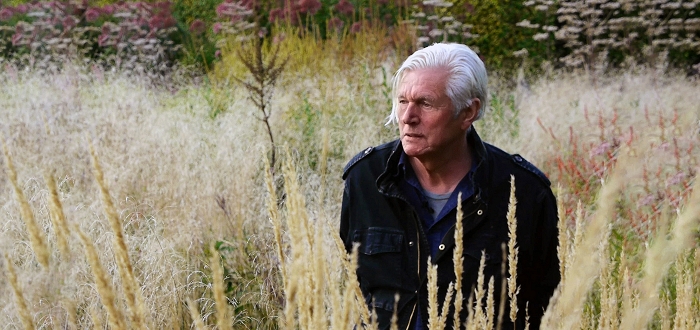 Get a big-screen look at the work of the world's premiere landscape designers.
Fri., April 5 from 7:15 – 8:45 p.m., join us in Botany Hall Auditorium for a screening of Five Seasons: The Gardens of Piet Oudolf, an immersive and meditative documentary that reveals how the revolutionary landscape designer Piet Oudolf upends our conventional notions of nature, public space and ultimately, beauty itself.
After completing a feature documentary on New York's High Line, award-winning filmmaker Thomas Piper met the inspirational designer and plantsman, Piet Oudolf, and the idea for a new project was born. The documentary immerses viewers in Oudolf's work and takes us inside his creative process, from his beautifully abstract sketches, to theories on beauty, to the ecological implications of his ideas.Intimate discussions take place through all fours seasons in Piet's own gardens at Hummelo, and on visits to his signature public works in New York, Chicago, and the Netherlands, as well as to the far-flung locations that inspire his genius, including desert wildflowers in West Texas and post-industrial forests in Pennsylvania. As a narrative thread, the film also follows Oudolf as he designs and installs a major new garden at Hauser & Wirth Somerset, a gallery and arts center in Southwest England, a garden he considers his best work yet. Piet Oudolf has radically redefined what gardens can be. As Rick Darke, the famous botanist, says to Piet in the film, "your work teaches us to see what what we have been unable to see." Through poetic cinematography and unique access, Five Seasons will reveal all that Piet sees, and celebrate all that we as viewers have been unable to see.
Watch the Trailer
Please note that this special screening is presented separate from Phipps' monthly Environmental Film Series; tickets are required to attend the screening and are $12 for members and $14 for nonmembers.
More Events You'll Enjoy
Mon., May 13; 9:30 a.m. – 5 p.m.

For one day only, enjoy half-priced admission to Phipps in honor of National Public Gardens Week, an annual celebration of the nation's public gardens.

Fri., May 3; 6 – 9:30 p.m. at Phipps Garden Center

Eat, drink and bid on unique plants and accessories at our 35th annual auction to benefit Phipps education programs.

Sun., May 12 (Mother's Day); 11:30 a.m. – 1 p.m. or 2 – 3:30 p.m.

THIS EVENT IS SOLD OUT. This Mother's Day, join us to indulge in some of the freshest local, sustainable and seasonal flavors in the 'Burgh.