Sun., Aug. 26; 11 a.m. – 4 p.m.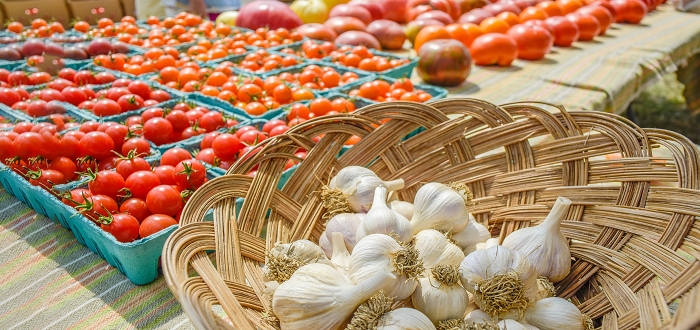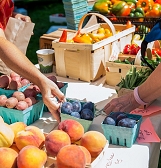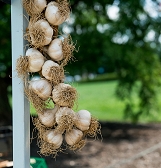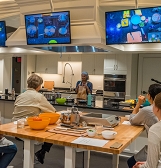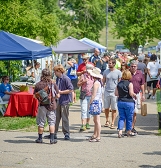 Celebrate two of summer's most bountiful crops and support an important cause at this summer celebration.
Visit Phipps to celebrate the delicious, fresh and healthy foods of the summer season at our 14th annual Tomato and Garlic Day!
Join us on our front lawn to shop for fresh fruits, vegetables and specialty goods from area vendors. Plus, make a donation of fresh produce to the Greater Pittsburgh Community Food Bank to receive free Conservatory admission.
Savor the flavor of summer with our festive outdoor market focused on local and organic goods, featuring:
Olive oils, pastas, breads, garlic, jarred items and vinegars
Seasonal fruits and vegetables
Bath and body products
Ceramics
Succulents and other garden goodies
and much more!
Tomato and Garlic Day's outdoor market is free to attend.
---
Culinary Classes in Botany Hall Kitchen
Adding to this special summer celebration of delicious, healthy foods, culinary classes will be held throughout the day in our new Botany Hall Kitchen. Join the fun by signing up for one of the following classes: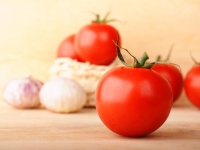 Tasty Tomato and Garlic Gnocchi
11 a.m. – noon
Ages 8 – 12
$20 members | $25 nonmembers per person
Botany Hall Kitchen
The journey from garden to table is one of our strongest connections to the natural world — and delicious, homegrown produce can really transform family eating habits. As they prepare a dish with fresh tomatoes and spinach, kids will discover the sustainable features of Café Phipps and our Edible Garden; sample and learn the food cycle path, including how compost from food waste becomes new soil for growing more veggies; discover the role of sustainable citizenship in environmental preservation; and learn the anatomy and pollination methods of the tomato plant.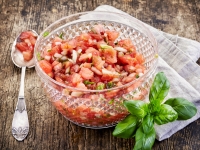 Fresh Salsa and Sopes
1 – 2:30 p.m.
Ages 6 – Adult
Adult and children over 12: $35 members | $40 nonmembers per person
Children 12 and under: $20 members | $25 nonmembers per person
Botany Hall Kitchen
Vegetables are a key component of delicious and healthy recipes — and eating healthy can be lots of fun when the whole family gets involved! Our Let's Move Pittsburgh team will demonstrate how to make fresh green and red salsa using different types of tomatoes and tomatillos, as well as how to make bean-stuffed sopes. During the demo, they'll also share helpful tips on how to incorporate vegetables into family meals and show fun ways to divide cooking tasks among all family members. Join the fun!
Children must be accompanied by an adult. No more than one child under 12 per adult is permitted. Adult-only families are welcome. A maximum of five members of a family may attend this session.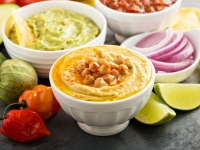 Dazzling Summer Spreads with Chef James Kauffmann
3 – 4 p.m.
Ages: Adult
$15 members | $20 nonmembers per person
Botany Hall Kitchen
Take full advantage of summer's bounty and liven up your next get-together by learning to make three dazzling and delicious summer spreads. With tomato season in full swing, learn to make cherry tomato chutney, as well as an avocado chutney which is great both summer and winter. Also learn to make cannellini garlic hummus, an easy crowd pleaser. All recipes are vegan and gluten free.
Cooking classes must be reserved in advance. Please call 412/441-4442, ext. 3925 with any questions.
---
Support the Greater Pittsburgh Community Food Bank and Receive Free Admission
By donating a bag of fresh produce for the Greater Pittsburgh Community Food Bank — which can be purchased on-site or brought from home — festival-goers can receive free Phipps admission to see our Summer Flower Show: Gardens of Sound and Motion and Butterfly Forest from 11 a.m. – 4 p.m. This offer applies on Sun., Aug. 26 only. Last year's event collected more than 1,600 pounds of food from more than 470 guests, making a huge difference in the lives of local families. When considering your donation, please keep the following tips in mind:
Fresh, local produce makes the best gift, and the Food Bank is pleased to accept donations from your own garden or from local farmers.
Donations of produce that is hardy and travels well (carrots, peppers and zucchini are a few examples) are especially helpful.
More Events You'll Enjoy
Mondays, Wednesdays, Thursdays and Fridays, Plus Additional Days As Available

Join us for one of our weekly scheduled Discovery Programs to engage our youngest visitors with the wonders of the natural world. All programs are free with admission and require no advance registration.

Now Open

Experience the natural beauty and culture of Cuba, one of the most biodiverse Caribbean island nations on Earth, in our immersive new Tropical Forest exhibit.