Eco-Friendly Fashionistas
Explore our Eco-Friendly Fashionistas virtual summer camps for ages 9 – 13 and let us unleash your child's imagination in fun, interactive ways. This two-part series walks students through the process of sketching and creating garments, with a focus on sustainable production. Upon registration, attendees will receive a link to participate in the virtual session. To learn even more, please call 412-441-4442, ext. 3925.
AGES 9 – 13
Aug. 11 – 12 | 1:30 – 2:30 p.m.
$30 MEMBERS | $60 NONMEMBERS (PRICE IS FOR ENTIRE SERIES)
Interested in a class that's already sold out? Email us to be placed on our waiting list.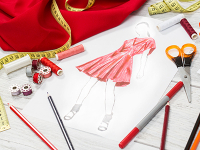 Color, Design and Fashion
Aug. 11 | 1:30 – 2:30 p.m.
Explore color theory and how it relates to fashion design choices. Use watercolor and pressed leaves to bring blank, two-dimensional line drawings of various garments to life. Plus, discuss the importance of brainstorming and experimenting when implementing a project, explore different ways to sketch ideas and learn how fashion illustrations (like the ones you will be making) are used commonly in the garment and costume industry to bring ideas into reality.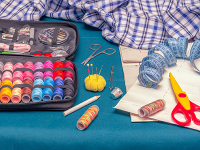 Sustainable Fashion
Aug. 12 | 1:30 – 2:30 p.m.
Create your very own garment out of recycled materials. Using the concepts from the first class, sketch a design and try to replicate it on a three-dimensional model. Learn about the importance of ethical material use and the benefits of sustainable making techniques. Plus, explore options for sourcing materials and upcycling as you test ideas in a way that takes you one step closer to a final product.