Phipps Sustainable Garden Awards
Know a neighbor or friend with a beautiful, organically managed garden? Nominate their garden (or yours) for a Phipps Sustainable Garden Award!
Sponsored By

To inspire Western Pennsylvania residents to design and maintain gardens that are both environmentally friendly and beautiful, we have developed the Phipps Sustainable Garden Awards program that highlights residential gardens and their gardeners that exemplify the principles of sustainable landcare.
Sustainable gardens can look very different from one another, so nominations may be made in one of five categories listed below; however, all garden nominations must, at a minimum, be managed organically and be free of invasive plants. Winners will have their garden professionally photographed and will be featured at our Native Plant and Sustainability Conference this fall.
Nomination Categories
Native Plantings and Wildlife Gardens – gardens featuring native plants that provide habitat for wildlife
Gardens that Manage Rainwater – gardens that feature rain gardens, rain barrels, swales, etc.
Micro-Gardens – container gardens, vertical gardens, gardens that make the best of very small spaces
Abundant Edible Gardens – gardens that feature annual and perennial edibles, vegetables, fruits, nuts and herbs.
Gardens for Personal Retreat – gardens that have seating, birdbaths, garden art, and other distinctive items that create a garden refuge.
Submission Guidelines and Information
We are NOW accepting submissions, so get yours in soon! Final date for submissions is Tues., July 12. The Sustainable Garden Awards are open to residential gardens. Gardens should represent the climate and conditions of our area; participants should reside in and their projects should be located in Allegheny, Westmoreland, Armstrong, Beaver or Butler County.
A panel of judges, including Phipps staff, Master Gardeners, instructors and local horticultural figures will choose one sustainable garden for each category. We will announce all of the Sustainable Garden Award winners at the Native Plant and Sustainability Conference this fall. Each gardener selected will receive free admission to attend the conference.
Please retain an original copy of your complete entry for your records; we will not return materials. One photo from each entry will be shared in our Sustainable Garden Gallery, and we may share your garden images in other contexts online and in our promotional materials. In addition, we may send a professional photographer to capture images of your garden by the end of August. Gardens must be accessible to review committee and photographer. Click here for a preview of the nomination questions.
Tips for Making a Good Entry
Take your photos on a slightly cloudy day or in the morning or evening.
Show us the whole garden or garden bed — don't send close-ups of flowers.
Limit your photos to the very best ones and send only ten. These can be from previous years to help tell the story of the garden overall.
Learn from Sustainable Landcare Program Coordinator Juliette Olshock on how to make a good entry with the video below:
Questions? Contact Sustainable Landcare Program Coordinator Juliette Olshock at jolshock@phipps.conservatory.org.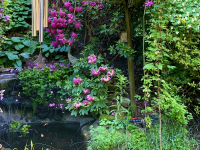 Sustainable Garden Gallery
From abundant edibles to lavish personal oases, explore our gallery of the award winning gardens of Phipps' Sustainable Garden Awards.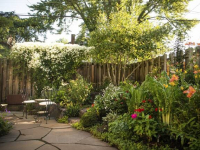 View the 2021 Sustainable Garden Award Winners
Learn more about the winning gardens in our second annual Sustainable Garden Awards.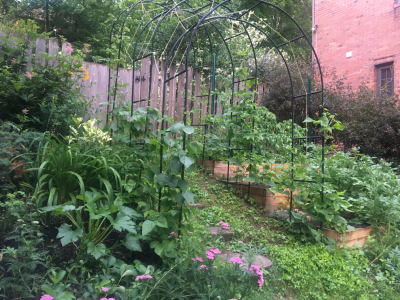 View the 2020 Sustainable Garden Award Winners
Learn more about the five gardens that took top honors in our first-ever Sustainable Garden Awards.