The Love of Life
Will W. Adams, Ph.D. | Associate Professor of Psychology, Duquesne University
Watch This Presentation:
---
"We have a glorious world and a world that's also wounded, and wounding." In his presentation entitled "The Love of Life," ecopsychologist and Associate Professor of Psychology at Duquesne University Dr. Will Adams examined the connection between nature and humankind, designating earth as "the great therapist" and urging for the reconnection of body, spirit and the environment.
"If we find a way to release into our experience, then we open into eternity, outside of time potentially. It may sound a little ambitious, but I'm going to try, instead of sharing information, to share some experiences that may foster a bit of transformation." Dr. Adams reasons we can find meaning through these shared experiences by slowing down and examining them in closer detail. "Look around, and notice the quality of your perceptions. How does your body feel, how does the room feel, how do other people appear to you?"
Dr. Adams offered an opportunity for the audience to re-examine this consciousness through an eating meditation with grapes. "There was a grapevine rooted in the earth, and that grapevine drew up the minerals and the nutrients of the earth to form the vine and the branches and the leaf and the grape, drawing up the body of the earth." But it does not end here. Every aspect of nature is carried on through the mechanisms of our body. "That grapevine was nourished by the rains that fell and were absorbed and sent through the vine to the fruit. The waters of the earth are becoming your body and your heart. And that's not all of course. Those leaves, the grape leaves, absorbed the radiance of the sun and transmuted the sunlight into that grape."
"Every time we eat, in a certain way the whole earth is coming together to sustain your existence and help you flourish. So if we can remember that with each bite or with each breath or each encounter, then we live differently." By engaging in even small moments of reflection, Dr. Adams believes we can find our fulfillment in our environment.
"Nature is everywhere. It is an existential condition of who and what we are. We just have to wake up to it and then out of that wakefulness, live with understanding, compassion, love and justice."
---
Additional Resources: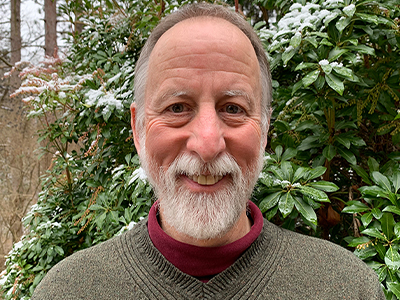 About the Speaker
Will W. Adams completed a B.S. at the University of North Carolina-Chapel Hill, an M.A. in psychology at West Georgia College and a Ph.D. in clinical psychology at Duquesne University. He previously trained and worked as a clinical fellow in psychology at McLean Hospital (Harvard Medical School). Dr. Adams serves as an associate professor of psychology at Duquesne University and as a psychotherapist, ecopsychologist and meditation teacher in private practice. His special interests include ecopsychology, contemplative/meditative/mystical spirituality and psychotherapy. His training includes over 30 years of study and practice with esteemed meditation teachers, both Buddhist and Christian. Dr. Adams' work has appeared in numerous psychology journals, including: The Humanistic Psychologist, Journal of Humanistic Psychology, Journal of Transpersonal Psychology, ReVision, Journal of Phenomenological Psychology, British Gestalt Journal, Existential Analysis and Psychoanalysis and Contemporary Thought. He serves on the editorial board of The Humanistic Psychologist and Journal of Humanistic Psychology. He is currently completing a book on ecopsychology by way of phenomenological psychology, Zen Buddhism and Christian mysticism. Beyond his professional work, Dr. Adams is blessed with a wonderful wife, daughter, son, dog and friends, as well as a home in the woods that abounds with winged, four-legged, leafing and otherwise wildly marvelous neighbors.