The Fate of Endocrine Disruptors in Consumer Products
Matthew DeNardo, Ph.D. | Postdoctoral Research Associate, Carnegie Mellon University
Watch This Presentation:
---
Postdoctoral research fellow Matthew DeNardo, Ph.D., gave an overview of the contamination of people, breast milk, foods, and environmental waters by bisphenol A (BPA), an endocrine-disrupting chemical that has been incorporated into a dizzying array of consumer products. In addition to the contamination of human fluids and tissues, this mass deployment of BPA has led to contamination of landfill leachate and paper recycling process solutions. The first contribute to contamination of ground and surface waters. The last results in contamination of recycled cellulose fiber, a renewable feedstock from which numerous contaminated cardboard products are generated.
Dr. DeNardo concluded the presentation by introducing symposium guests to a technology that has been demonstrated to remove >99% of BPA from laboratory waters under conditions that simulate landfill leachate and paper recycling process solutions. The BPA removal technology was developed through research that was carried out over a decade under the direction Terrence Collins, Ph.D., at Carnegie Mellon University's Institute for Green Science. The technology provides a method for both environmental protection and decontamination of the paper cycle, and employs TAML catalysts, which were also developed in the Institute for Green Science at Carnegie Mellon University to remove micropollutants from agricultural, industrial and municipal wastewaters. Dr. DeNardo co-invented newest generation of these catalysts while completing his doctorate in chemistry at CMU.
"I'm very proud to announce that we are launching a company to bring these to the world and we are very interested in commercializing these processes," Dr. DeNardo said.
BPA contamination is far reaching, with concentrations found in water, soil, wildlife and even the human body — scientific literature documents global contamination, which has been occurring for a significant span of time and includes the detection of very high concentrations.
In all, 15 billion pounds of BPA — with the chemical makeup of two bisphenols joined by an acetone molecule — is produced annually.
Much like assembling a complex cake, Dr. DeNardo explained, various "ingredients" can be added to BPA to create more complex compounds. Approximately 60 percent of the produced BPA is turned into BPA polycarbonate, which is used to make CDs, DVDs and other plastic products (Conseil, 2015). About 35 percent of the produced BPA is converted to bisphenol A diglycidyl ether (BADGE), which is used to make the epoxy resins that are incorporated into numerous products including the linings of canned goods (Bhandari, 2015).
The chemical makes its way through the hydrosphere in effluents generated during the production, use and disposal phases. Eventually the BPA-contaminated water reaches wastewater treatment plants, where activated sludge treatment only removes about 82 percent of the concentration. The remainder is discharged into waterways. About 2 percent of the BPA removed by the activated sludge is retained in the sludge. This contaminated, dried sludge is often spread on crop fields as fertilizer, which can lead to contamination of soils and produce.
Contamination of environmental waters with BPA can result in negative effects on fish health. Laboratory studies have shown exposure of young and adult fish to the concentrations of BPA that have been found in the environment to result in alteration of gene expression, accelerated development, testis-ova and stimulation of vitellogenin production in males — the detection of vitellogenin in males is considered to be biomarker for exposure to estrogenic compounds — among several other effects.
The human exposure routes include the ingestion of contaminated food and absorption through the skin. Between 38 and 67 percent of all canned goods are lined with BPA, and this BPA has been found in the solid and liquid contents of these cans (Cox, 2017).
"It's safe to say that if you're buying a canned good, there's a better chance that there's bisphenol A in it than not," Dr. DeNardo said.
One study showed that an hour after a lactating mother, who had an initial concentration of BPA of 6.2 micrograms per liter in her breast milk drank a canned coffee beverage containing 37.4 micrograms of BPA, her breast milk concentrations of BPA rose to 30 micrograms per liter (Tateoka, 2014). Consequently, removing BPA from the plastics of baby bottles does not mean that the breast milk in the bottle will be BPA-free.
High concentrations of BPA have also been detected in other human fluids and tissues, and these detections have been documented in the scientific literature.
"These are similar to the concentrations detected in surface waters. So considering the human body, human fluids, you could say that it's reached ubiquity in all waters on the planet," Dr. DeNardo said.
The National Institute of Environmental Health Science has concluded that there is sufficient evidence to be confident of human effects on the male reproductive tract arising from adult exposures, and on the brain and metabolism of both males and females arising from developmental exposures. The National Toxicology Program and the U.S. Food and Drug Administration have jointly expressed concern for effects on the brain, behavior, and male prostate gland arising from fetus, infant and child exposures.
BPA also adulterates waste and recycling streams worldwide. Disposal of consumer products leads to BPA-contaminated landfill leachate. The recycling of thermal receipt paper, which contains BPA, is just one example of how BPA enters the recycling stream. Consequently, about 50 percent of the worldwide source for paper and board production is estimated to be contaminated with BPA (Liao, 2011; Gehring, 2014; Nordstron, 2013).
"There's a ton of literature available," Dr. DeNardo said. "And so we ask ourselves, what is the solution to something like this? I think the best-case scenario would be to quit making it."
---
Additional Resources:
"A Multidisciplinary Investigation of the Technical and Environmental Performances of TAML/Peroxide Elimination of Bisphenol A Compounds from Water." Y. Onundi, B. Drake, R. Malecky, M. DeNardo, M. Mills, S. Kundu, A. Ryabov, E. Beach, C. Horwitz, M. Simonich, L. Truong, R. Tanguay, L. Wright, N. Singhal, T. Collins. Green Chemistry (2017)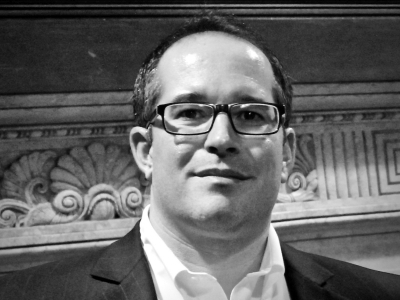 About the Speaker
Matt is Postdoctoral Researcher at the Institute for Green Science, which is centered at Carnegie Mellon University (CMU). His work focuses on the development and commercialization of NewTAML catalysts, which are extensively safety tested, stable, safely shipped, red, crystalline, iron salts that, when combined with hydrogen peroxide, create "fire in water" to burn targets at room temperature and near-neutral pH. NewTAMLs remove micropollutants from agricultural, industrial and municipal wastewaters.
Matt co-invented NewTAMLs while completing his doctorate in chemistry at CMU, before which he earned a bachelor of science in chemistry with a certificate in biology at the University of Pittsburgh.