Artist Ashley Cecil Highlights Our Bonds to the Botanical World in New Exhibition
For Immediate Release: Fri., Jan. 11
Contact: Julie LaBar | Director of Marketing and Communications
412/638-6008 ǀ jlabar@phipps.conservatory.org
Artist Ashley Cecil Highlights Our Bonds to the Botanical World in New Exhibition at Phipps Conservatory
Interactive mural, special promotion and gallery reception provide additional ways to connect with the artist's inspiring work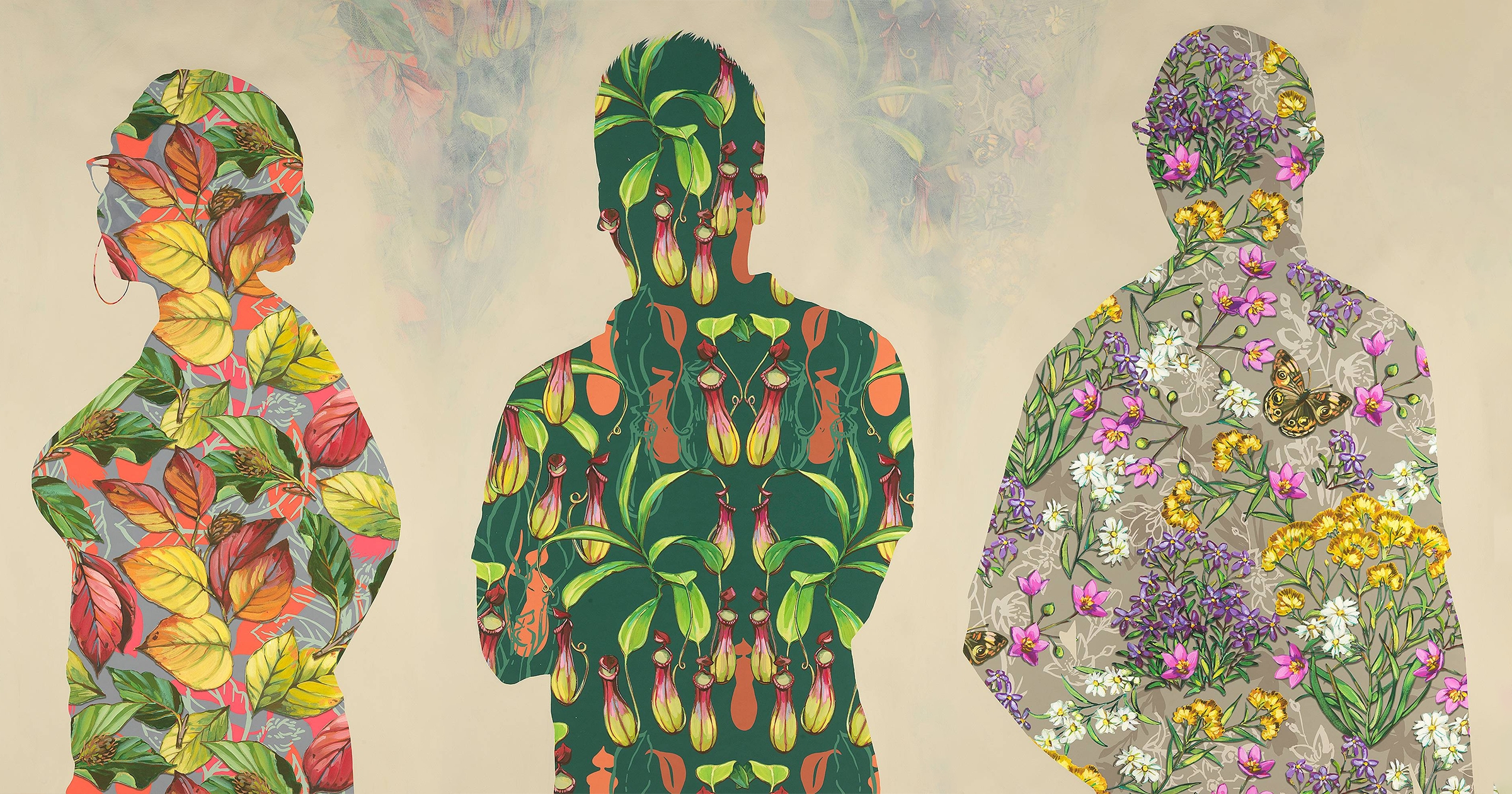 Pittsburgh, PA — Phipps Conservatory and Botanical Gardens showcases the works of acclaimed Pittsburgh artist Ashley Cecil in a new exhibition titled "Deeping Roots: Our Growing Connections to the Botanical World," opening today.

Plants may go unnoticed despite the essential roles they play in the lives of all humans, from food to clothing and shelter. Ashley Cecil's thought-provoking series explores these deep human-botanical bonds, some familiar and some unexpected. These "plant profiles" are the result of Ashley Cecil's residency at Phipps during which the painter and textile designer spent months with Phipps staff exploring the ways plants connect with and enhance human well-being. The most profound examples became the subjects of Ashley's vibrant paintings, which she translated into her signature patterns. Each pattern is overlaid with the silhouette of someone in the region whose work embodies that connection.

Guests can also participate in "It's ORGANic," an interactive mural exhibit by Ashley Cecil opening today. The large scale mural illustrates the many ways in which human organs relate to plants and demonstrates the connections we have to the natural world. Kids and adults alike will enjoy coloring in a portion of the mural during their visit, located in the Center for Sustainable Landscapes Green Gallery.

Additionally, to celebrate Ashley Cecil's new exhibit, fans can enter the Deepening Roots Sweepstakes beginning Monday for a chance to win signed prints of the artist's inspiring artwork, a handmade scarf printed with the artist's botanical pattern and admission passes to Phipps. Enter at phipps.conservatory.org/deepeningroots. Winners will be selected at random among eligible entries received Jan. 14 – March 4, 2019.

Mark your calendar to meet Ashley Cecil as she shares her personal inspirations and insights during a special artist talk at the Biophilia: Pittsburgh meeting at Café Phipps on Thurs., March 7 at 6 p.m. Attendance is free. Reservations are required in advance as space is limited — register at phipps.conservatory.org/biophilia. Following the meeting, all are welcome to attend the closing reception for the exhibit, which will take place from 7 – 9 p.m. in Phipps' Welcome Center.

"Deepening Roots: Our Growing Connections to the Botanical World" will be on display in Phipps' Welcome Center Gallery from Jan. 11 – March 17. To purchase products from the artist's signature line or get information about purchasing her original artwork, visit The Shop at Phipps.
###
About Ashley Cecil: Artist Ashley Cecil specializes in paintings and sculptural works of flora and fauna that illustrate connections between the natural world and its human inhabitants. Her work includes collaborations close to home with several beloved Pittsburgh institutions such as the Carnegie Museum of Natural History, as well as far-flung adventures to biological oases like the Amazonian rainforest. The aim of her artwork is to endear you to nature by making scientists' understanding of it relatable to our everyday lives.
About Phipps: Founded in 1893, Phipps Conservatory and Botanical Gardens in Pittsburgh, Pa. is a green leader among public gardens with a mission to inspire and educate all with the beauty and importance of plants; to advance sustainability and promote human and environmental well-being through action and research; and to celebrate its historic glasshouse. Learn more: phipps.conservatory.org.