Engagement Season is in Full Bloom at Phipps Conservatory
For Immediate Release: Tues., Dec. 19
Contact: Julie LaBar | Director of Marketing and Communications
412/622-6915, ext. 3801 ǀ jlabar@phipps.conservatory.org

Engagement Season is in Full Bloom at Phipps Conservatory
With eco-friendly weddings on trend, as more couples turn to Phipps for their special day, Phipps provides new green tips and savings to celebrate.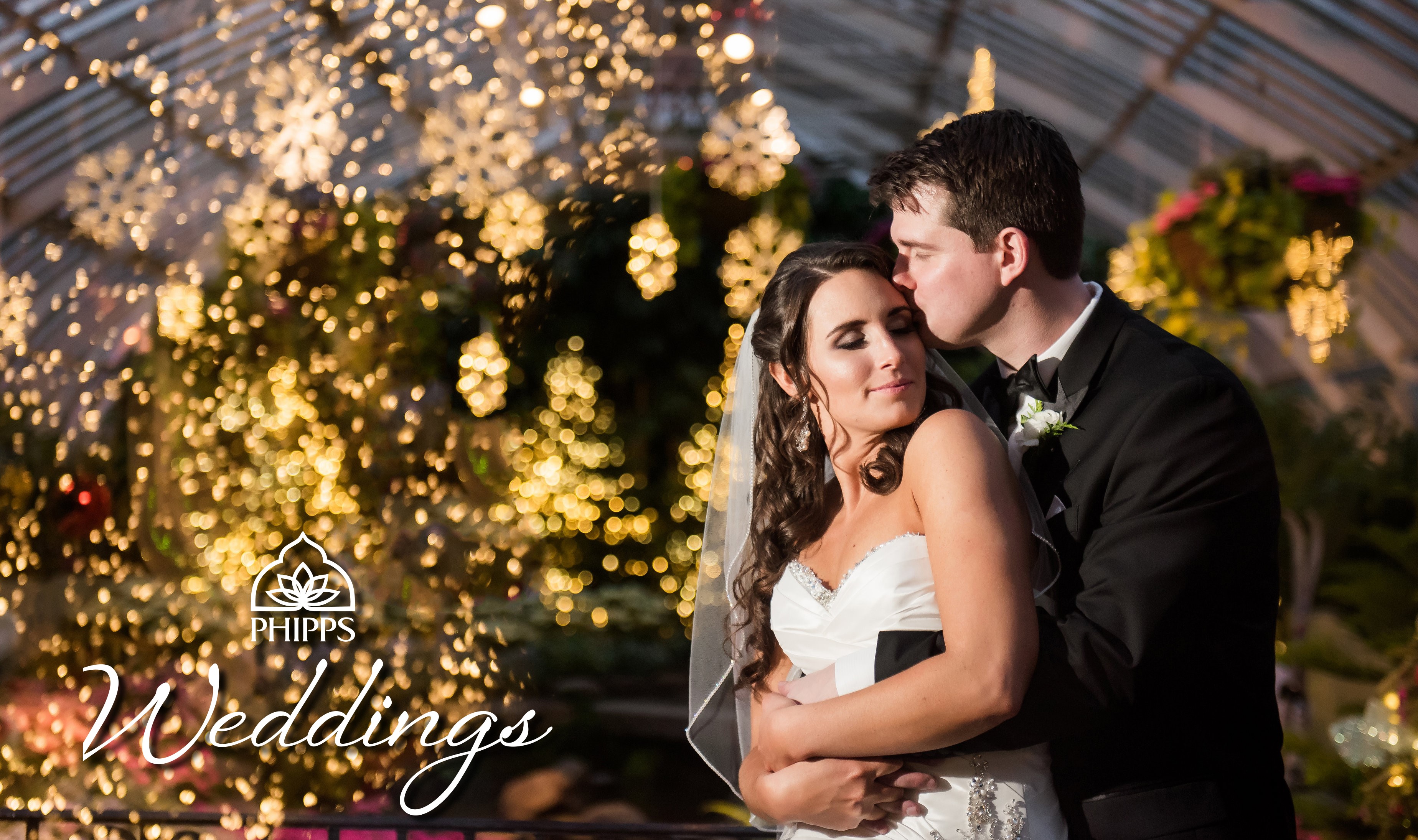 Pittsburgh, Pa. — Phipps Conservatory and Botanical Gardens is a place where treasured memories are made — including some of the most special moments of all. Phipps hosts hundreds of wedding ceremonies, receptions, proposals, engagement photo shoots, bridal showers and rehearsal dinners every year. Chosen for its abundant natural beauty, unforgettable spaces and eco-friendly options, Phipps has been named the Best Garden Wedding Venue in the World by Elle UK and Harper's Bazaar.
Engagement season is in full swing over the holidays — according to WeddingWire, one third of engagements happen between Thanksgiving and New Year's Day — and couples are seeking out a special place to say "I do." From the scenic Special Events Hall offering beautiful panoramic views to the intimate Broderie Room transporting guests to a classic French garden, Phipps' variety of unique spaces offer the perfect celebration venue, personalized for each occasion.
Phipps is committed to sustainability in all that they do — including wedding celebrations. From food to linens and everything in between, Phipps is here to help make your special day green without sacrificing comfort or convenience.
5 Tips to "Go Green" for Your Celebration:
Shop Fresh and Local. Use locally- and sustainably-grown flowers, and choose locally-grown, organic menu items. Phipps' catering offers a wide variety of fresh, healthy meals created with local, organic, sustainably-produced and seasonal ingredients.
Go Paperless. Use e-vites rather than mailed paper invitations for the engagement party, bridal shower, bachelor(ette) parties and save-the-dates. Websites like Paperless Post create high-end online invitations that incorporate your wedding colors, styles and theme, and can offer tracking tools to easily manage your R.S.V.P.s while saving trees.
Eat Your Veggies. Consider offering more meatless options. Growing plants produces far less greenhouse gases and uses less land than raising livestock. You don't have to sacrifice flavor to embrace meatless options! A few examples of the vegetarian options Phipps' catering offers include Japanese garnet organic sweet potatoes and ginger tartlets with plum sauce, Moroccan spiced chickpea cakes with cranberry apricot chutney, and brioche rounds with goat cheese mousse, seasonal melon and fresh mint — delicious food that is good for you and the planet.
Dispose of Disposables. Cut back on waste by opting for reusable items. Phipps uses glasses rather than paper or plastic cups, and partners with Lendable Linens for tablecloths and linen napkins. Not only do these items reduce waste — they also look classier!
Get Real. Rather than throwing confetti or glitter, or releasing helium balloons — all of which can be harmful to wildlife — throw real flower petals when the newly married couple makes their debut.
While you go green, you can also save some green! Celebrating engagement season, Phipps is offering 20% off space rental fees for Special Events Hall, Tropical Forest Conservatory and the East Wing of the Conservatory for events occurring on Saturdays, February 17 – April 14, 2018 for a limited time. For a list of available dates and additional details, visit phipps.conservatory.org.
Imagine your dream wedding at Phipps! View a photo gallery of wedding celebrations at Phipps, read romantic anecdotes of couples who have tied the knot at Phipps, and connect with us on Facebook, Instagram and Pinterest.
Ready to dream? Contact our team! Call 412/315-0685, email eventsales@phipps.conservatory.org or text or live chat with a member of the Phipps Weddings events team to schedule a tour today.
###
About Phipps: Founded in 1893, Phipps Conservatory and Botanical Gardens in Pittsburgh, Pa. is a green leader among public gardens with a mission to inspire and educate all with the beauty and importance of plants; to advance sustainability and promote human and environmental well-being through action and research; and to celebrate its historic glasshouse. Learn more: phipps.conservatory.org.
| Twitter ǀ Facebook ǀ YouTube ǀ
Photos © Leeann Marie Photography, Joe Appel Photography