From Spectacular Spring Blooms to Delightful Butterflies, There's Always Something New at Phipps
For Immediate Release: Wed., April 17
Contact: Julie LaBar | Director of Marketing and Communications
412/622-6915, ext. 3801 ǀ jlabar@phipps.conservatory.org

From Spectacular Spring Blooms to Delightful Butterflies, There's Always Something New at Phipps Conservatory
Don't miss the last chance to experience the acclaimed Spring Flower Show: Gardens of the Rainbow, the debut of Butterfly Forest and more.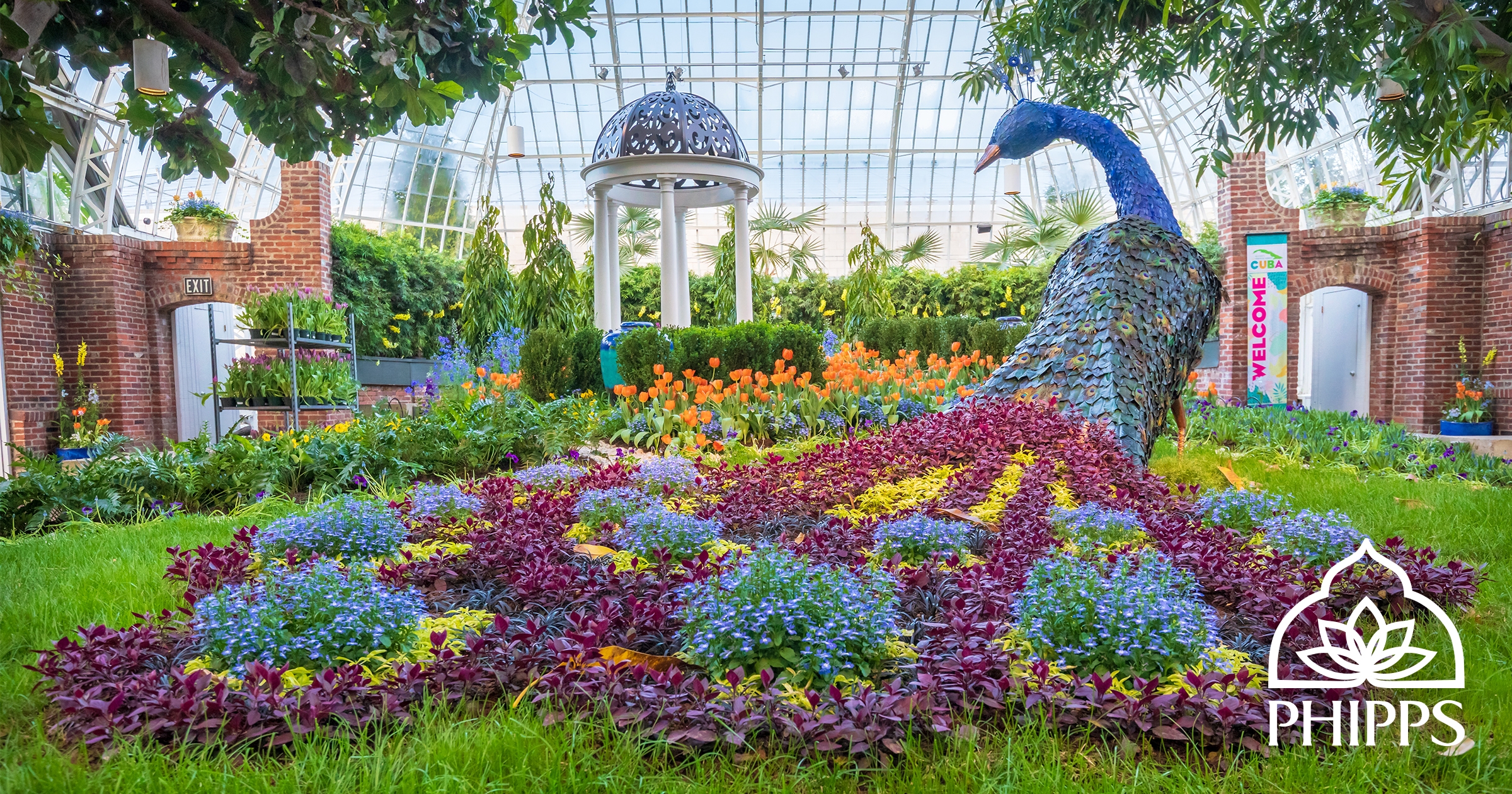 Pittsburgh, PA — A perfect destination for families making holiday, spring break and vacation plans, Phipps Conservatory and Botanical Gardens provides three exciting new reasons to visit:
Don't miss the last chance to marvel at Gardens of the Rainbow, Phipps' spectacular showcase of chromatic wonder that ends this Sun., April 21. From the show-stopping 9-foot-tall topiary peacock and winding rainbow road of spring floral favorites including lilies, tulips and hydrangeas to the rare sight of Himalayan blue poppies, this vibrant show is full of fun rainbow-inspired surprises at every turn. In Gardens of the Rainbow, the brilliant spectrum of spring comes to life in a kaleidoscope of color, providing a dazzling grand finale with the most inspiring displays of the season. Additionally, Phipps will have a special 'Find the Egg' treasure hunt activity throughout the day on Fri., April 19 through Sun., April 21 with colored eggs hidden in each glasshouse room for all ages to spot.

Phipps' treasured Butterfly Forest opens to the public on Sat., April 20, enchanting visitors while showcasing the delicate life cycle of some of nature's most important pollinators and their favorite aromatic blooms. Guests can stroll along a winding forest path over a bridge, past ponds and through a tunnel to find butterflies taking flight, seeing these ornate winged creatures' natural behaviors up close. Visitors will marvel as colorful butterflies break free of their chrysalises to soar and glide among beautiful blooms, delighting in the wide array of butterfly species including black swallowtail, buckeye, giant swallowtail, great southern white, Julia longwing, red admiral, queen, tiger swallowtail and zebra longwing. Stand still and butterflies may even land on you! Entry to this popular seasonal exhibit is free with admission.
Take home a piece of the must-see Spring Flower Show at Phipps' final Used Bulb Sale events, occurring Sat., April 20 and Sat., April 27 from 9:30 – 11:30 a.m. in Phipps' Outdoor Garden, while supplies last. Phipps invites the public to take Gardens of the Rainbow beauty home during Used Bulb Sales, making Spring Flower Show memories last for seasons to come. Phipps' horticulturists and volunteers check and replace bulb displays throughout the show, replacing each two to four times, with over 60,000 total bulbs on display. As blooms are changed out, they are offered for public sale to share the beauty of Phipps with the community. For $5, guests can purchase two 6-inch pots of bulbs at Phipps' Used Bulb Sales, including daffodils, hyacinths and lilies. Phipps' orchids are also available while supplies last. Spring blooms are available for purchase on a first-come, first-served basis, so please arrive early for the best selection. Don't miss the opportunity to experience Phipps' Gardens of the Rainbow, then purchase spring show bulbs to brighten up your home garden with the beauty of Phipps. Used Bulb Sales are free to attend.

Phipps is open for regular business hours this weekend, including Sunday, with valet parking available:
Fri., April 19 | 9:30 a.m. – 10 p.m.
Sat., April 20 | 9:30 a.m. – 5 p.m.
Sun., April 21 | 9:30 a.m. – 5 p.m.

Admission is $17.95 for adults, $16.95 for seniors and students, and $11.95 for children 2 – 18. Members and kids under 2 enter free. For more information, visit phipps.conservatory.org.
###
About Phipps: Founded in 1893, Phipps Conservatory and Botanical Gardens in Pittsburgh, PA is a globally recognized green leader with a mission to inspire and educate all with the beauty and importance of plants; to advance sustainability and promote human and environmental well-being through action and research; and to celebrate its historic glasshouse. Encompassing 15 acres including a historic 14-room glasshouse, 23 distinct indoor and outdoor gardens and industry-leading sustainable architecture and operations, Phipps attracts nearly half a million visitors annually from around the world. Learn more at phipps.conservatory.org.
Photos © Paul g. Wiegman, Phil Johnson II