Phipps Announces Holiday Magic! Winter Flower Show and Light Garden Ticket Presale
For Immediate Release: Mon., Sept. 23, 2019
Contact: Joe Reed | Director of Marketing and Communications
412/622-6915, ext. 3801 | jreed@phipps.conservatory.org
Phipps Announces Holiday Magic! Winter Flower Show and Light Garden Ticket Presale
Guests can purchase tickets to blockbuster holiday show starting Mon., Sept. 30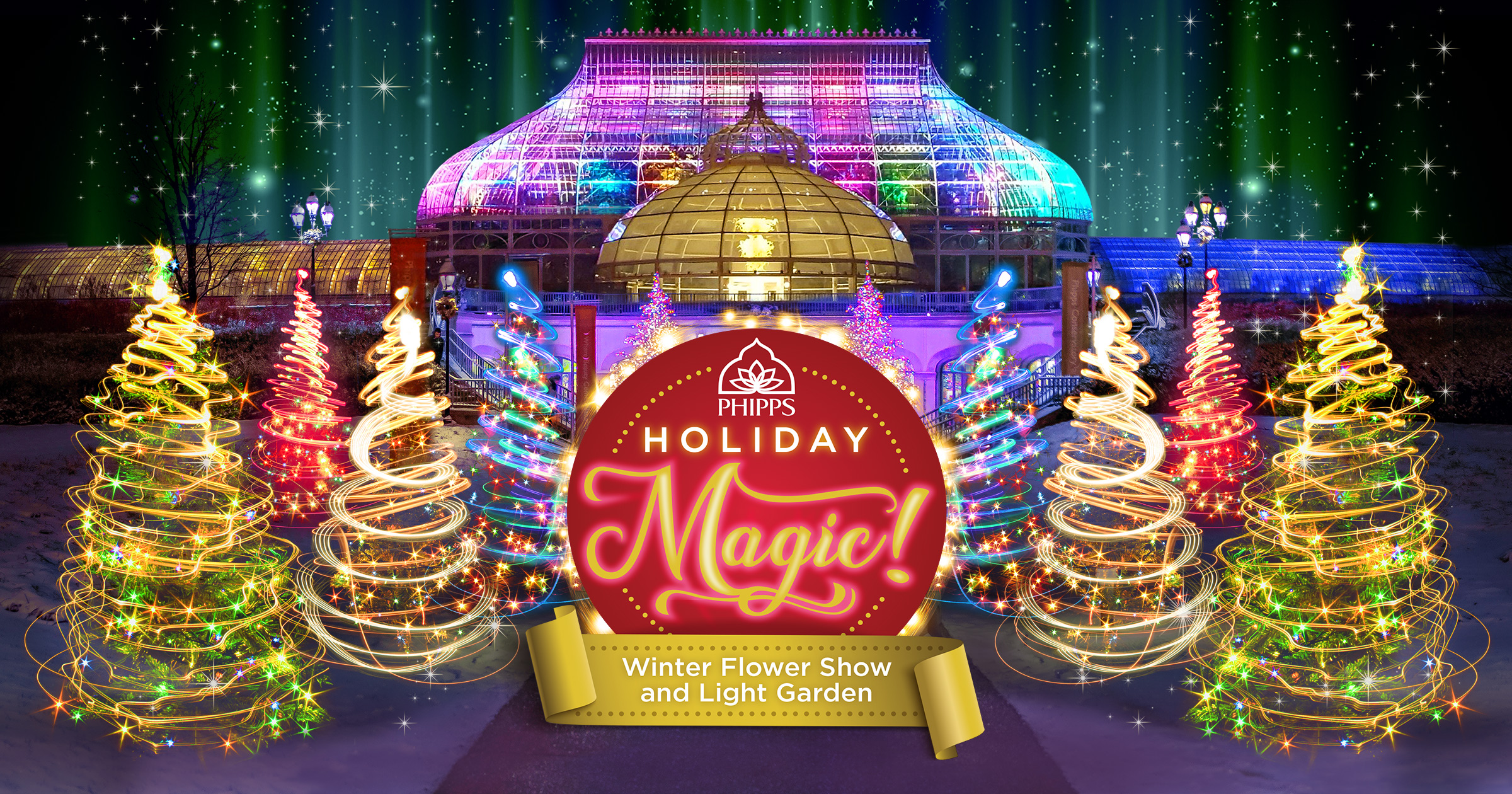 Pittsburgh, PA — The most magical time of the year is just around the corner, and soon guests will be able to purchase their tickets in advance to Phipps Conservatory and Botanical Gardens' blockbuster holiday experience: Holiday Magic! Winter Flower Show and Light Garden. The ticket pre-sale opens to the public on Mon., Sept. 30 at 11 a.m.
Guests can purchase pre-sale tickets at phipps.conservatory.org/Tickets beginning Mon., Sept. 30 at 11 a.m. Timed tickets are required for all guests. Sign up to be notified when tickets go on sale by visiting phipps.conservatory.org/HolidayMagic.
This year's show brings more indoor and outdoor splendor than ever before, and — with an exciting Festival of Trees theme — makes holiday trees the centerpiece of Phipps' winter wonderland. Guests can snap a photo in front of a floating forest of sparkling trees reflecting over water, explore a frozen forest with charming topiary reindeer, wander through a tunnel of lights and much more. Enjoy gorgeous indoor displays, incredible outdoor sights, family activities, photo opportunities, delicious food and drink, live music and more holiday fun, all in Phipps' glowing Victorian glasshouse and 10 acres of illuminated outdoor gardens.
Timed tickets are required for all guests, and reservations must be made in advance. Holiday Magic! Winter Flower Show and Light Garden runs from Nov. 29 – Jan. 12. Hours for Winter Flower Show are 9:30 a.m. – 11 p.m. and 5 – 11 p.m. for Winter Light Garden daily. Phipps will close at 5 p.m. on Dec. 24 and remain closed all day on Dec. 25.
###
About Phipps: Founded in 1893, Phipps Conservatory and Botanical Gardens in Pittsburgh, PA is a globally recognized green leader with a mission to inspire and educate all with the beauty and importance of plants; to advance sustainability and promote human and environmental well-being through action and research; and to celebrate its historic glasshouse. Encompassing 15 acres including a historic 14-room glasshouse, 23 distinct indoor and outdoor gardens and industry-leading sustainable architecture and operations, Phipps attracts nearly half a million visitors annually from around the world. Learn more at phipps.conservatory.org.