Phipps Conservatory Announces Lineup of Family Friendly Holiday Events
For Immediate Release: Wed., Dec. 11
Contact: Joe Reed | Director of Marketing and Communications
412-622-6915, ext. 3801 | jreed@phipps.conservatory.org
Phipps Conservatory Announces Lineup of Family Friendly Holiday Events
Celebrate the holidays with the whole family at Phipps' fun, free-with-admission activities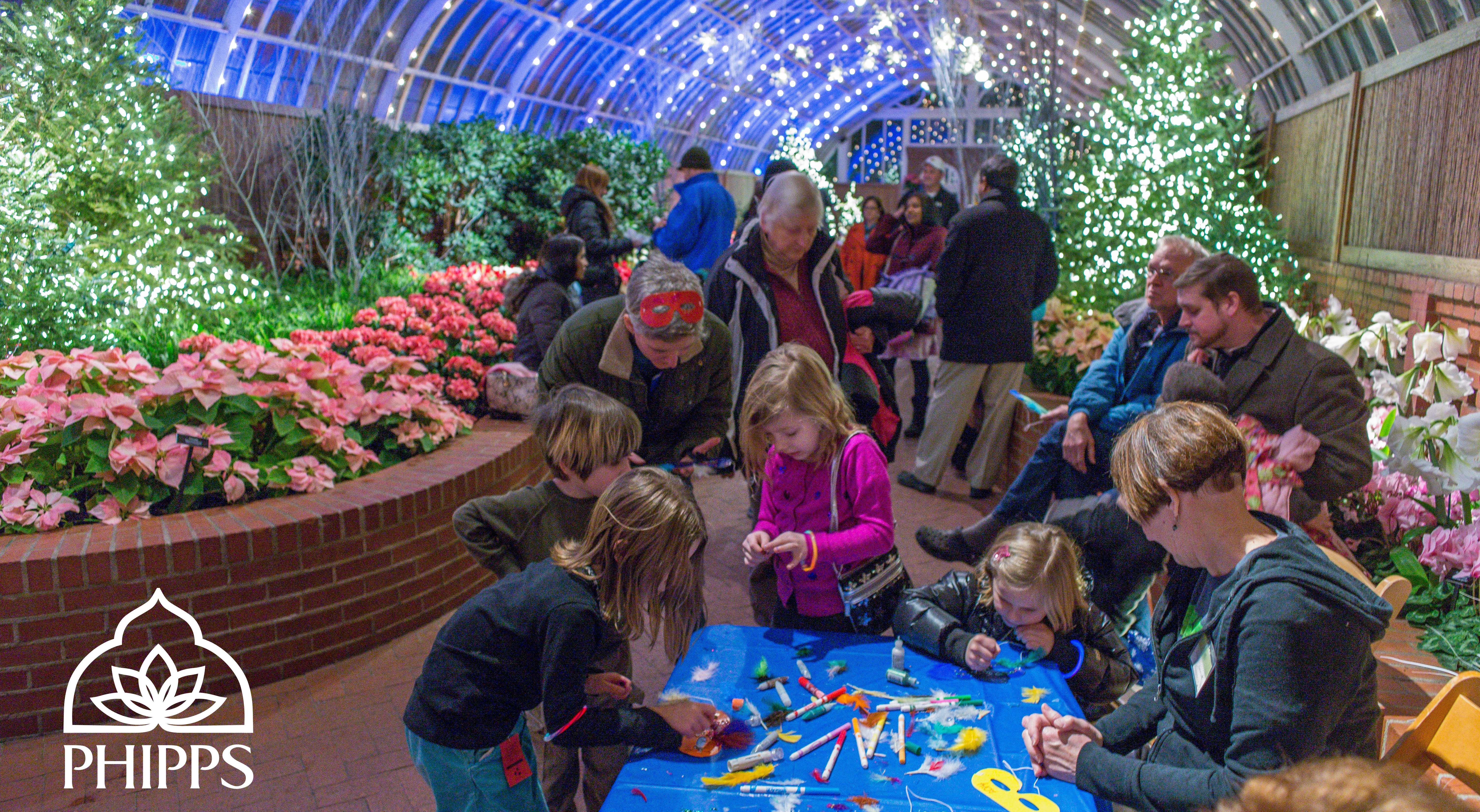 Pittsburgh, PA — Celebrate the holidays with the whole family at Phipps Conservatory and Botanical Gardens. From visits with the man in the big red suit to a family-friendly New Year's Eve countdown, Phipps offers a variety of fun, free-with-admission activities and events for younger guests, set against the backdrop of the spectacular Holiday Magic! Winter Flower Show and Light Garden.
On select dates and times through Mon., Dec. 23, guests can snap a festive photo with old Kris Kringle at Santa Visits. Visit phipps.conservatory.org/Santa to see Santa's schedule.
Guests looking for a fun outing for the kids during winter break will love Family Fun Days, running Dec. 26 – 30 from 11 a.m. – 2 p.m. daily. Engage in fun crafts, pot a plant to take home and enjoy fun, educational activities to celebrate the holiday season.
Younger guests who may not be able to stay up late on New Year's Eve can ring in 2020 at Phipps' New Year's Eve Family Celebration. Activities include live music, face painting, a fun photo booth, New Year's Eve-themed crafts, family friendly games and activities, and a pot-a-plant station, all capped off with an early countdown at 1:45 p.m.! Guests can enjoy this event from 11 a.m. – 2 p.m. on Tues., Dec. 31.
All throughout the holiday season, guests of all ages can enjoy the perennially popular miniature Garden Railroad. With a theme of Farms, Food and Family, this display features interactive push buttons that send miniature locomotives chugging through landscapes of live, miniscule plants to the delight of both the young and the young at heart.
All of these events, activities and exhibits are set against the spectacular backdrop of Holiday Magic! Winter Flower Show and Light Garden. Featuring over ten acres of gardens and lights, Phipps' Victorian glasshouse and glowing outdoor gardens provide a winter wonderland of illuminated botanical exhibits, whimsical props and unique light displays. Buy tickets at phipps.conservatory.org/Tickets to reserve your spot. Timed tickets are required for all guests, and reservations must be made in advance. Members get in free, but are still required to reserve their tickets ahead of time.
Holiday Magic! Winter Flower Show runs through Sun., Jan. 12 between 9:30 a.m. – 11 p.m. daily and 5 – 11 p.m. for Winter Light Garden. Please note that Phipps will close at 5 p.m. on Tues., Dec. 24 and remain closed all day on Mon., Dec. 25. For more information, visit phipps.conservatory.org.
###
About Phipps: Founded in 1893, Phipps Conservatory and Botanical Gardens in Pittsburgh, PA is a globally recognized green leader with a mission to inspire and educate all with the beauty and importance of plants; to advance sustainability and promote human and environmental well-being through action and research; and to celebrate its historic glasshouse. Encompassing 15 acres including a historic 14-room glasshouse, 23 distinct indoor and outdoor gardens and industry-leading sustainable architecture and operations, Phipps attracts more than half a million visitors annually from around the world. Learn more at phipps.conservatory.org.