Phipps Conservatory Announces Summer Flower Show: The Hidden Life of Trolls
For May Release
Contact: Joe Reed | Director of Marketing and Communications
412-622-6915, ext. 3801 | jreed@phipps.conservatory.org
Phipps Conservatory Announces Summer Flower Show: The Hidden Life of Trolls
Imaginative New Exhibit Brings Larger-than-Life Trolls to Pittsburgh's Glasshouse, Opening Sat., May 1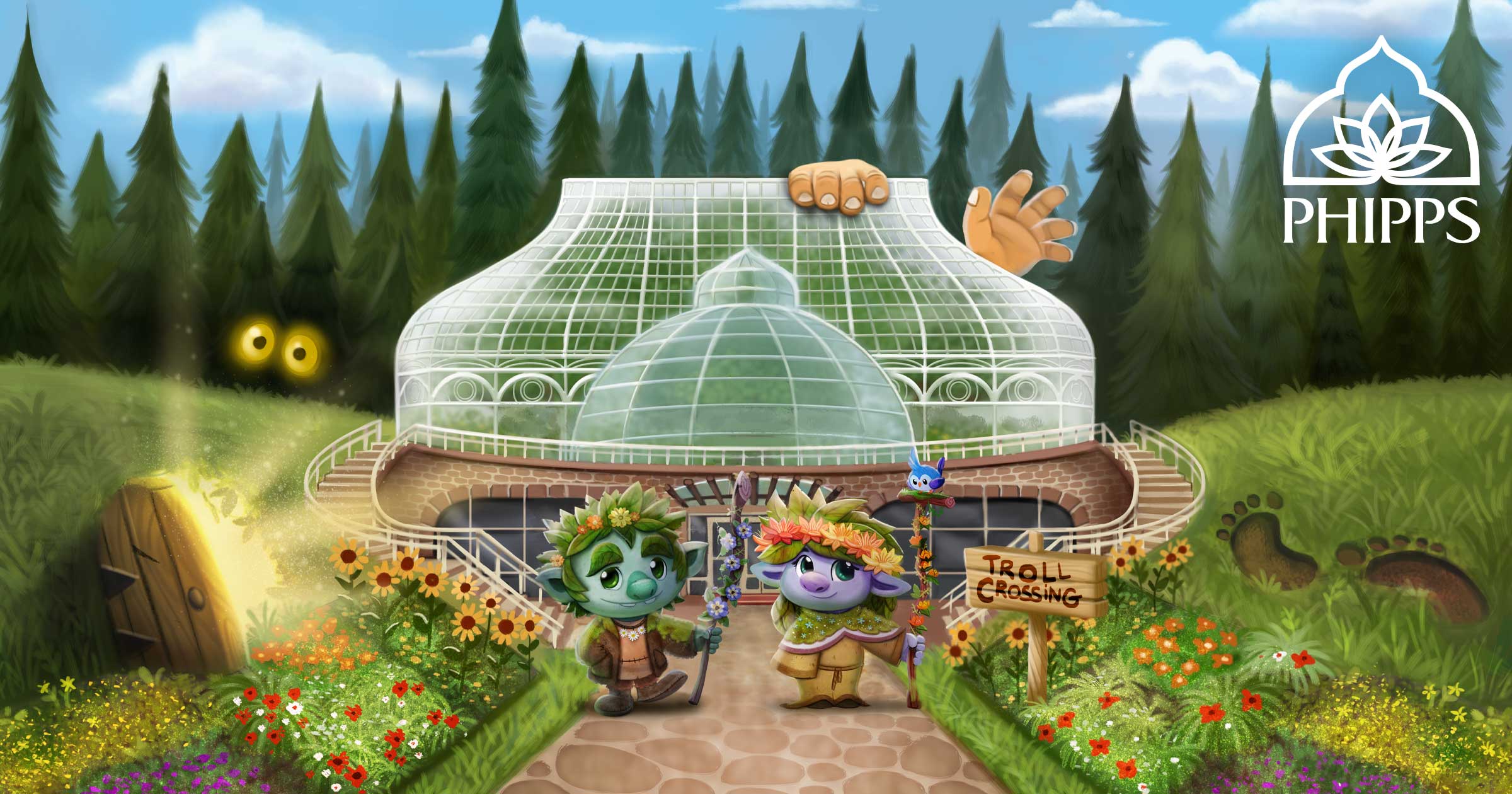 Pittsburgh, PA – Starting Sat., May 1, Phipps Conservatory and Botanical Gardens invites guests on a magical adventure at Summer Flower Show: The Hidden Life of Trolls. This immersive, interactive exhibit is unlike anything Phipps has displayed before and is sure to delight guests of all ages with massive, one-of-a-kind displays that offer a glimpse into the mysterious lives of the mythical creatures inspired by Scandinavian folklore and popular culture.
As guests enter the show, two friendly animatronic trolls will prepare them for the adventure ahead, introducing each unique troll to come and giving tips for how to handle the most mischievous, starting with a six-eyed topiary troll in Palm Court. Standing at 6 feet tall and made of grasses and dried plant materials, this garden guardian holds a flickering lantern as he emerges from his troll hut.
The adventure continues in the Serpentine Room as guests pass under a rustic, ivy-covered stone bridge where an animatronic troll crouches by a fire, asking riddles which guests must answer before allowing them to pass. This troll has stored trinkets throughout the room, and clever guests may notice that the answers to the riddles are hidden among the treasures.
The whimsical troll in the South Conservatory is taking forest bathing to a new level as he washes up in a pond in the forest. Four massive muddy footprints lead to the bank of the pond, where the troll sits at 10 feet tall, scratching his back with the broken-off branch of a nearby tree. His body is made of dried plant materials, while fluffy ferns create his hair and beard.
In the Victoria Room, an island planted with buttonwood trees, willow trees and a variety of flowers and grassy plants floats atop a pond. This seemingly calm feature will come alive upon closer inspection as it is revealed to be a troll living under the water! Guests can interact with this troll and watch him growl and shoot water in the air.
All of the trolls in this show are completely unique to Phipps — imagined and created by Phipps staff and local manufacturers, and brought to life with plant material from Phipps' own gardens. Interactive elements and massive original displays combine to create an immersive fantasy experience beyond compare that can't be found anywhere else.
Summer Flower Show: The Hidden Life of Trolls, designed by Associate Director of Exhibits Jordyn Melino, opens Sat., May 1. Hours are 9:30 a.m. – 8 p.m. daily. Timed tickets must be reserved in advance. For more information and to reserve tickets, visit phipps.conservatory.org/Tickets.
###
About Phipps: Founded in 1893, Phipps Conservatory and Botanical Gardens in Pittsburgh, PA is a globally recognized green leader with a mission to inspire and educate all with the beauty and importance of plants; to advance sustainability and promote human and environmental well-being through action and research; and to celebrate its historic glasshouse. Encompassing 15 acres including a historic 14-room glasshouse, 23 distinct indoor and outdoor gardens and industry-leading sustainable architecture and operations, Phipps attracts more than half a million visitors annually from around the world. Learn more at phipps.conservatory.org.
Watch TEDx: What We Can Learn From an Old Glasshouse: A look at the evolving way we connect people to nature at Phipps, demonstrate how human and environmental health are inextricably connected, and show that to age gracefully, we must continually reinvent ourselves to evolve with the rest of the world.