Phipps Conservatory Opens State-of-the-Art Botany Hall Demonstration Kitchen
For Immediate Release: Thurs., Aug. 9
Contact: Julie LaBar | Director of Marketing and Communications
412/622-6915, ext. 3801 ǀ jlabar@phipps.conservatory.org
Phipps Conservatory Opens State-of-the-Art Botany Hall Demonstration Kitchen
Full roster of engaging "garden to table" classes and camps invites culinary exploration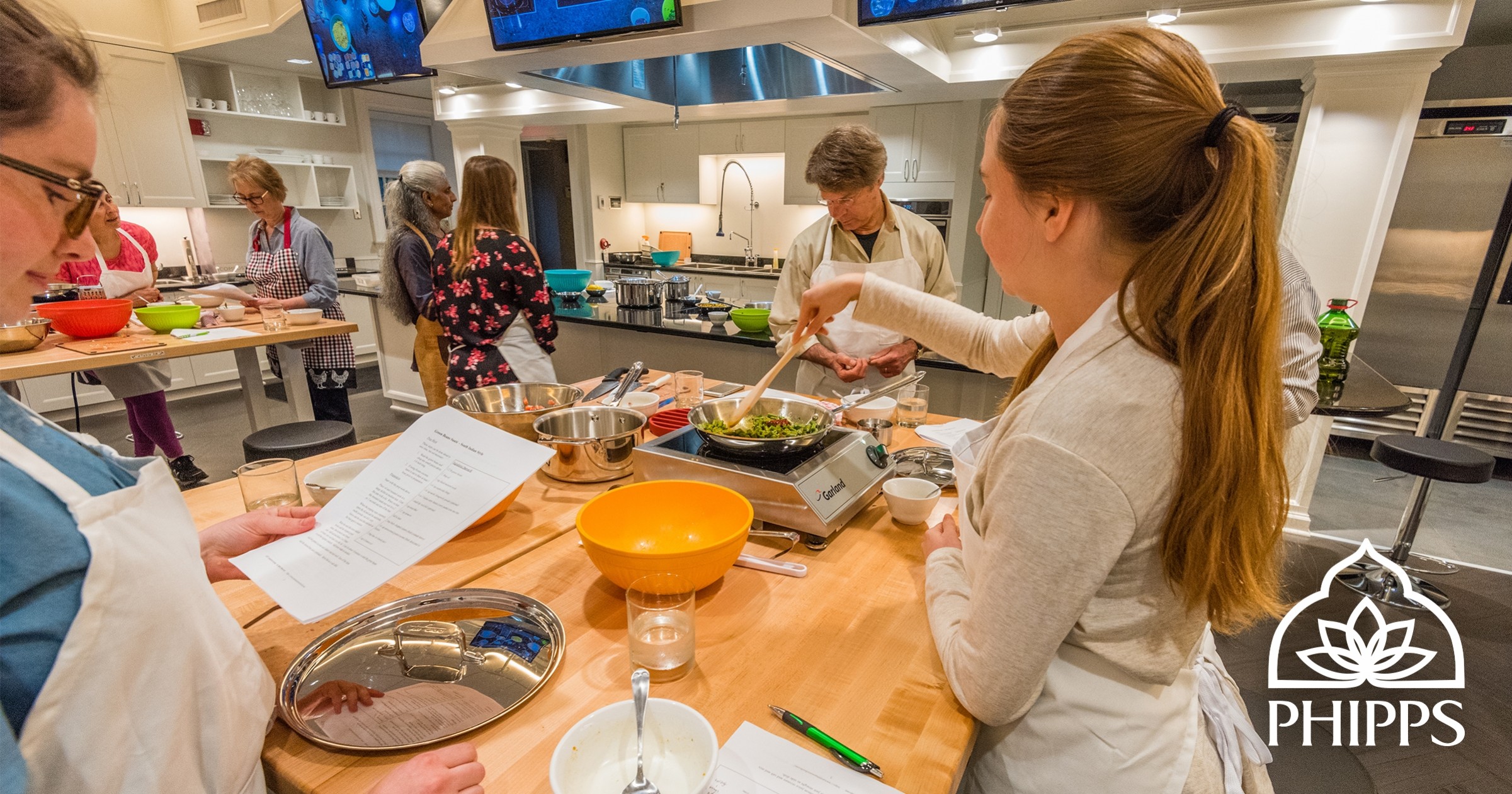 Pittsburgh, PA — Phipps Conservatory and Botanical Gardens announces the opening of Botany Hall Kitchen with a wide range of exciting, hands-on culinary programs available to community members of all ages. Through classes and camps offered year-round in this innovative space, participants will discover new ways to prepare food that is good for people and the planet, supporting Phipps' mission to advance sustainability and promote human and environmental well-being.
Botany Hall Kitchen is located on the first floor of Botany Hall at Phipps, constructed in 1901 as the campus' first education facility. The state-of-the-art space accommodates 18 students per class and an instructor's cooking station with cameras and monitors for close-up, multi-angle demonstration views. This dynamic renovation incorporates sophisticated, touchscreen-controlled LED lighting, new energy-efficient HVAC system, Energy Star appliances and nontoxic building materials that complement the high standards set within Phipps' greenest LEED® and Living Building Challenge certified structures.
To celebrate the opening, Phipps will provide special culinary course opportunities throughout the day on Tomato and Garlic Day to be held Sun., Aug. 26. Attendees can enjoy the delicious, fresh and healthy foods of the summer season at the festive annual outdoor market on Phipps' front lawn and sign up to attend one of the following cooking classes in Botany Hall Kitchen:
Dazzling Summer Spreads for adults
Fresh Salsa and Sopes for families with kids ages 6+
Tasty Tomato and Garlic Gnocchi for kids ages 8 – 12
Space is limited and advance registration is required at phipps.conservatory.org/tomato.
Expanded upcoming culinary arts courses now available for adults include Vegetarian Indian Cooking from Scratch: Fall Flavors, Make Your Own Hot Sauce, Date Nights for Foodies with Chef James Kaufmann from Café Chocolade and Risotto at Home with Chef Red from The Porch.
A full line-up of engaging kids cooking programs are also available, including these fun Kids' Night Out Cooking Classes for ages 4 – 8 and 9 – 13:
Edible Garden to Table — Fri., Aug. 10
Culinary Art — Fri., Sept. 14
Fall Harvest — Fri., Oct. 12
Nature Configurations Cooking Class – Fri., Nov. 9
As the hub for Phipps' Culinary Arts series of courses and youth programming led by Phipps' science education and Let's Move Pittsburgh teams, the Botany Hall Kitchen facility addition will empower participants with culinary and nutrition skills that will foster better, healthier lifestyles. Learn more and register for Phipps' culinary programs at phipps.conservatory.org.
###
About Phipps: Founded in 1893, Phipps Conservatory and Botanical Gardens in Pittsburgh, PA is a green leader among public gardens with a mission to inspire and educate all with the beauty and importance of plants; to advance sustainability and promote human and environmental well-being through action and research; and to celebrate its historic glasshouse. Phipps commemorates its 125th anniversary throughout 2018, celebrating its historic past, vibrant present and exciting future ahead — including inspiring seasonal flower shows, community events, public programs and groundbreaking green innovation. Learn more at phipps.conservatory.org.
Photo © Paul g. Wiegman