Phipps Conservatory's Orchid and Bonsai Show: An Ocean of Color Opens Sat., Jan. 15
For Immediate Release: Mon., Jan. 10
Contact: Joe Reed | Director of Marketing and Communications
412-622-6915, ext. 3801 | jreed@phipps.conservatory.org
Phipps Conservatory's Orchid and Bonsai Show: An Ocean of Color Opens Sat., Jan. 15
Gorgeous Displays Showcase All-Star Specimens from Two of Phipps' Finest Collections in All New Show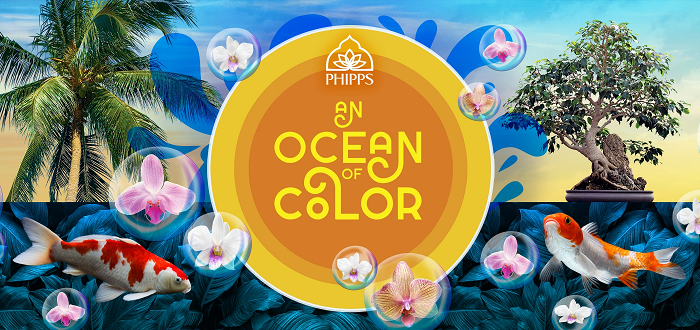 Pittsburgh, PA – Starting Sat., Jan. 15, Phipps Conservatory and Botanical Gardens' Orchid and Tropical Bonsai Show: An Ocean of Color will help guests wash away the winter blues with a journey through immersive, vibrant displays. Orchids of different shapes, sizes and fragrances, as well as the exquisitely trained specimens in our tropical bonsai collection will be sure to wow every guest that enters our glasshouse.
Exhibit features:
Step into Phipps' tropical paradise as you wander among displays of bright colored orchids backed by large, colorful foliage.
Savor the incredible fragrance of aromatic orchids such as Oncidium Sweet Sixteen 'Prepossessing.'
Enjoy whimsical fish decor as the current carries you from room to room, with displays featuring vibrant fish wind socks, fish-shaped orchid planters and sculptures, and even live fish swimming through our Sunken and Orchid Rooms!
Dive into the delicate beauty of our tropical bonsai specimens that have been in training for decades, showcasing a wide variety of species and pruning techniques.
Delight at fruiting and flowering bonsai trees and compare select specimens to their regular sized counterparts.
Unwind amidst tranquil surroundings as you enjoy a soothing soundtrack of flowing water in ponds and fountains throughout the Conservatory.
Guests will also enjoy the whimsical displays of our Garden Railroad: Bridges and Tunnels. This delightful exhibit features miniature recreations of iconic Western Pennsylvania scenes. Chugging trains, live plants and even the famous Pittsburgh sinkhole bus are touchless interactive features that are to bring joy to guests of all ages.
Plus, the fun doesn't stop there! Illuminate your visit by stopping by our amazing Winter Light Garden for Festive Nights of Winter Lights. To celebrate the success of Holiday Magic!, Phipps is extending the viewing of our amazing Winter Light Garden! On Friday and Saturday evenings, guests can experience our beautiful glowing orbs, trees, towers and fountains of light, which are sure to bring warmth and comfort in these chilly winter months.
Orchid and Tropical Bonsai Show: An Ocean of Color and Garden Railroad: Bridges and Tunnels run Jan. 15 – March 6, and Festive Nights of Winter Lights runs Fridays and Saturdays from 5 – 10 p.m. from Jan. 14 – 29. Phipps hours are 9:30 a.m. – 5 p.m. Sundays – Thursdays, and 9:30 a.m. – 10 p.m. on Fridays and Saturdays. Member and nonmember tickets must be reserved in advance and masks are required for all guests ages 2 and up. For more information and to reserve tickets, visit phipps.conservatory.org/Tickets.
###
About Phipps: Founded in 1893, Phipps Conservatory and Botanical Gardens in Pittsburgh, PA is a globally recognized green leader with a mission to inspire and educate all with the beauty and importance of plants; to advance sustainability and promote human and environmental well-being through action and research; and to celebrate its historic glasshouse. Encompassing 15 acres including a historic 14-room glasshouse, 23 distinct indoor and outdoor gardens and industry-leading sustainable architecture and operations, Phipps attracts more than half a million visitors annually from around the world. Learn more at phipps.conservatory.org.
Watch TEDx: What We Can Learn From an Old Glasshouse: A look at the evolving way we connect people to nature at Phipps, demonstrate how human and environmental health are inextricably connected, and show that to age gracefully, we must continually reinvent ourselves to evolve with the rest of the world.