Pittsburgh's Spectacular Holiday Magic: Let It Glow! is Now Open at Phipps Conservatory
For Immediate Release: Fri., Nov. 23
Contact: Julie LaBar | Director of Marketing and Communications
412/638-6008 ǀ jlabar@phipps.conservatory.org
Pittsburgh's Spectacular Holiday Magic: Let It Glow! is Now Open at Phipps Conservatory, Bigger and Brighter Than Ever
With the show's widespread popularity, timed tickets are required in advance for all guests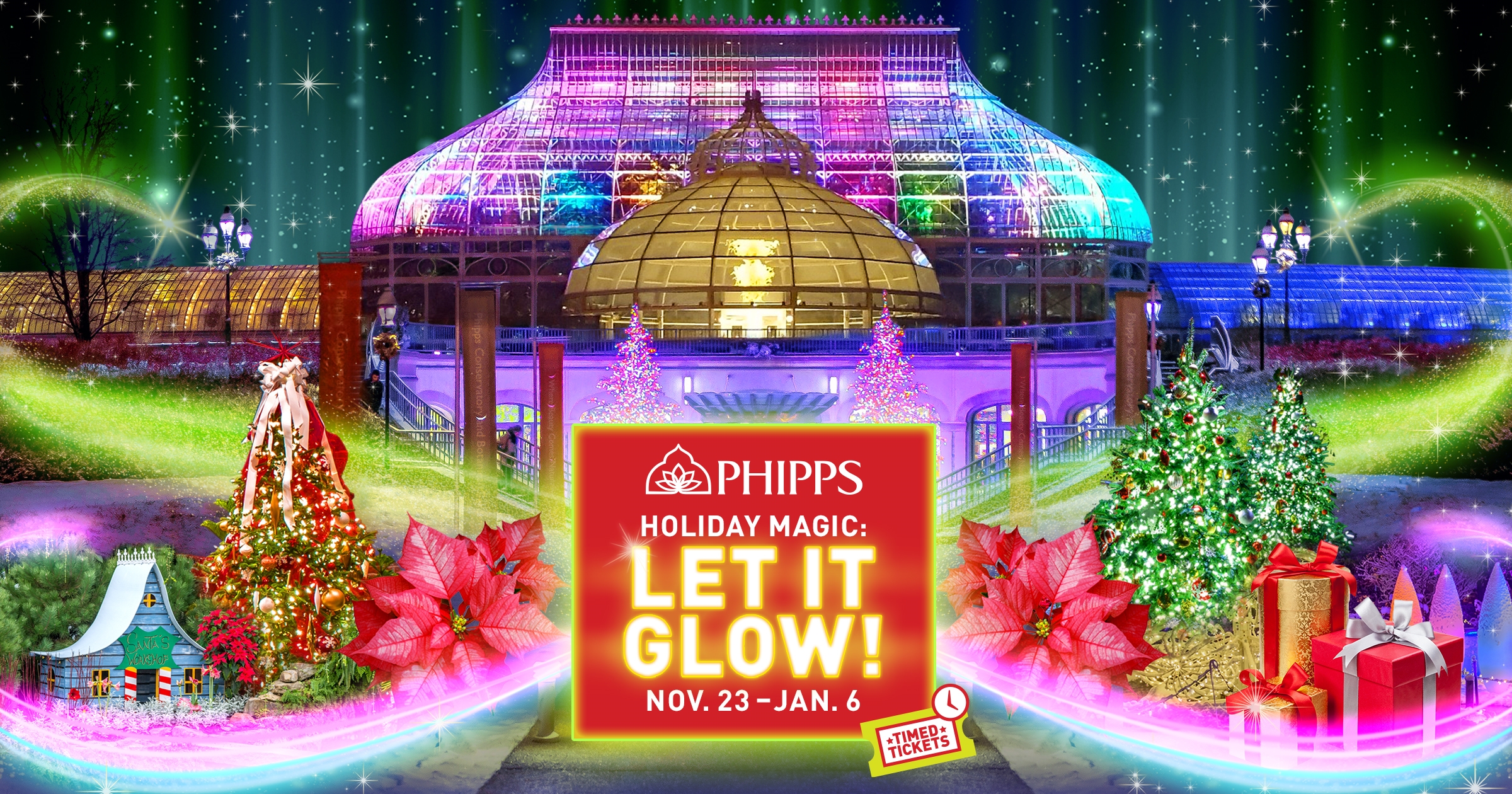 Pittsburgh, PA — Phipps Conservatory and Botanical Gardens has unveiled Holiday Magic: Let It Glow! The annual Winter Flower Show and Light Garden is one of Pittsburgh's most popular holiday traditions, attracting thousands of visitors from around the world. For the second year, guests will purchase timed tickets to confirm their visit dates and entry times at phipps.conservatory.org/tickets. Timed tickets are required in advance for all guests to experience the show.

For its 2018 return, Phipps' seasonal spectacular is bigger and brighter than ever, including stunning new floral displays, expanded LED lighting and much more. During its run through Sun., Jan. 6, the show will bring thousands of families and friends together to make memories that will last a lifetime.
Top Five Must-See Highlights:
Be immersed in a world of color in Phipps' newly renovated Palm Court complete with historic ogee crest and color-changing architectural lighting. This historic glasshouse room also features a magical oversized music box display rotating a live tree.
Bask in the glow of 14,800 LED lights on a 22-foot Fraser fir tree towering over the Victoria Room's reflecting pond, complimented by a remarkable display of holiday trees throughout the Conservatory.
In the Winter Light Garden, stroll through 10 new 6-foot-tall winter ice towers designed to resemble frosted windowpanes, along with luminous orbs, fountains and a tunnel of lights.
Imagine you have shrunk to the size of a figurine as you journey beneath a decorated holiday tree in the Serpentine Room. Tree branches and massive topiary ornaments hover above a tree skirt of red poinsettias and larger-than-life Victorian-inspired gifts.
Enjoy Phipps' signature floral delights, including amaryllis, orchids and more than 2,000 poinsettias, capturing the warmth and wonder of the holiday season
Top Five Visit Tips:
Arrive during the day to take in the dazzling indoor displays, enjoy a meal at Café Phipps and shop for holiday gifts at The Shop at Phipps. Then, head outside after 5 p.m. to experience lights aglow while sipping hot cocoa from the Holiday Hut.
Don't wait to make plans — reserve your timed tickets at phipps.conservatory.org/tickets. The most popular days and entry times often sell out, and you won't want to miss out on the magic!
See the show in a whole new light! Add limited-edition Holiday Hologram Glasses that use the amazing science of holographic diffraction to reveal festive snowflakes while looking at Phipps' sparkling LED light displays.
Don't miss all of the extra displays and activities included with admission, such as Phipps' Garden Railroad: Memories in Motion, which takes guests on a treasured locomotive journey through 125 years at Phipps with fun, interactive features at every stop. Plus, Phipps' acclaimed orchid collection, immersive Tropical Forest Cuba exhibit and fragrant Fruit and Spice Room are just a few of the additional gems to discover at Phipps. There are also free-with-admission activities, including Santa Visits, Live Performance Nights and Public Programs. Discovery Programs for kids offer crafts, story time and pot-a-plant activities. See a full listing of events and activities at phipps.conservatory.org.
Snap holiday photos with family and friends amidst beautiful backdrops and tag your pictures on Instagram, Facebook and Twitter with #PhippsHoliday to share the magic with others.
Holiday Magic: Let It Glow! is open Fri., Nov. 23 – Sun., Jan. 6, with timed tickets required in advance for all guests. Reserving timed tickets is easy! Just follow these three simple steps:
Select your visit date and entry time.
Print your confirmation email or show it on your mobile phone at Phipps' entrance — and get ready to enjoy the show!
Timed tickets can also be reserved in advance at Phipps, located at One Schenley Park, Pittsburgh, PA, or by calling 844/274-1717. Timed tickets are free for members and are required in advance to experience Holiday Magic: Let It Glow!

Admission is $17.95 for adults, $16.95 for seniors and students, and $11.95 for children (ages 2 – 18). Daily hours for Winter Flower Show are 9:30 a.m. – 11 p.m. and 5 – 11 p.m. for Winter Light Garden. Phipps closes at 5 p.m. on Mon., Dec. 24 and reopens at 9:30 a.m. on Wed., Dec. 26. Once guests enter, they may stay as long as Phipps is open to experience Holiday Magic: Let It Glow!
###
About Phipps: Founded in 1893, Phipps Conservatory and Botanical Gardens in Pittsburgh, PA is a green leader among public gardens with a mission to inspire and educate all with the beauty and importance of plants; to advance sustainability and promote human and environmental well-being through action and research; and to celebrate its historic glasshouse. Phipps commemorates its 125th anniversary throughout 2018, celebrating its historic past, vibrant present and exciting future ahead — including inspiring seasonal flower shows, community events, public programs and groundbreaking green innovation. Learn more at phipps.conservatory.org.
Photo © Paul g. Wiegman