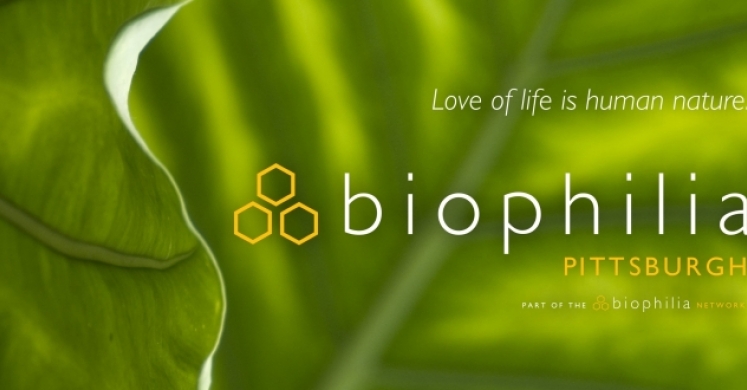 Join us for the August Biophilia Meeting with Robert S. Mulvihill of the National Aviary!
Biophilia: Pittsburgh August Meeting
The Aug. 6 Biophilia: Pittsburgh meeting will feature Robert S. Mulvihill, the National Aviary's ornithologist, who will introduce the discussion topic, "Getting Up Close and Scientific with Pittsburgh's Birds." Perhaps more than any other natural history subjects, birds help connect people with nature, and ornithology has a long history of contribution by citizen scientists. In 2013, Mulvihill brought the Smithsonian Institution's Neighborhood Nestwatch project to Pittsburgh. He and his crew study the impacts of urbanization on a selection of common songbird species — northern cardinal, American robin, song sparrow, black-capped or Carolina chickadee, gray catbird, northern mockingbird, Carolina wren, and house wren — through annual summer visits to nearly 150 backyards in the Greater Pittsburgh area, including the backyard bird habitat of Phipps' executive director, Richard V. Piacentini. Mulvihill will talk about this and the National Aviary's other research and conservation projects.
Robert S. Mulvihill is a native Pittsburgher who has been an active member of the birding and bird conservation community for more than thirty years. He received a B.S. in Education from the University of Pittsburgh and an M.S. in Biology from Indiana University of Pennsylvania. Mulvihill began his ornithological career at Powdermill Nature Reserve, the biological field station of the Carnegie Museum of Natural History, where he served as a field ornithologist at the world renowned Powdermill bird banding station. He served as a regional coordinator and species account author for the first Atlas of Breeding Birds in Pennsylvania (1983 – 1989), and recently was the statewide coordinator and co-editor of the Second Atlas of Breeding Birds in Pennsylvania. Learn more about his work at aviary.org.
Meeting Schedule
5:30 – 6 p.m. Networking and refreshments
6 – 6:30 p.m. Presentation
6:30 – 7:30 p.m. Discussion
Meetings are free to attend; however, advance registration is required. To R.S.V.P., please send us an email at market@phipps.conservatory.org or sign up on our Meetup page.

About Biophilia: Pittsburgh
Biophilia: Pittsburgh is the pilot chapter for a Biophilia Network dedicated to strengthening the bond between people and the natural world through education, discussion and action. The group will meet monthly at the Center for Sustainable Landscapes classroom at Phipps Conservatory and Botanical Gardens where, over delicious small-plates and light refreshments, a discipline or behavior will be identified — often by an expert guest speaker — and discussed among the participants in the interest of sharing ideas and identifying opportunities.
Directions and Parking
Meetings take place in the Center for Sustainable Landscapes (CSL), specifically in the classroom on the first floor. Please note that Phipps' main Conservatory entrance will be closed, as these events are held after normal business hours. To access the CSL, follow Frew Street (located between the Oakland/Schenley Park Bridge and the Christopher Columbus statue), which will take you to the lower campus. Guest parking spaces are available on your left as you approach the CSL.

Our Goals
• To welcome and inspire others with the concept and principles of biophilia
• To foster collaboration and learning between professionals from a wide variety of disciplines
• To communicate biophilic principles in action-oriented ways to a wider audience for exponential and regional impact

What Is Biophilia?
The term "biophilia," which literally means "love of life," was coined by social psychologist Erich Fromm and popularized by biologist E.O. Wilson, who defined it as "the innately emotional affiliation of human beings to other living organisms." The implications of biophilia extend across a vast array of disciplines including design and engineering, nutrition, psychology, public health, education, biology and the humanities. Biophilia is expressed all over the world every day through complex collaborations such as the design and construction of buildings and landscapes, and intimate, personal encounters, including nature hikes and home gardening.
Photos © Paul g. Wiegman