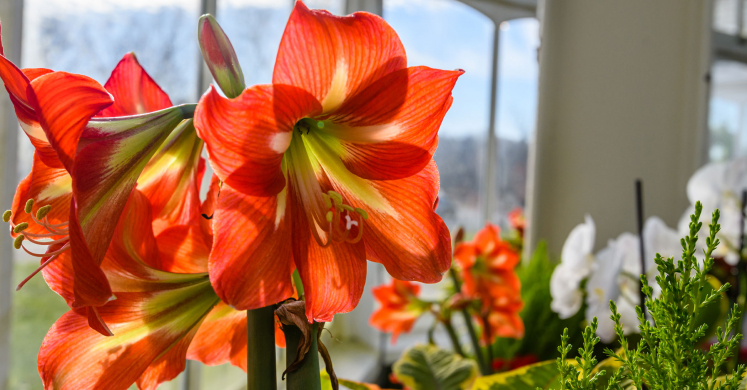 This Week at Phipps: Nov. 28 - Dec. 4
There's always something new to see and do at Phipps! This weekly blog post provides a run-down of the latest happenings so you can plan your visit. Events listed below require no advance registration unless noted otherwise.
Open Daily:
Holiday Magic! Winter Flower Show and Light Garden
Holiday Magic! Winter Flower Show and Light Garden will take you on an Arctic adventure with different topiary animals, botanical displays and dazzling lights!
Garden Railroad: Our National Parks
Garden Railroad: Our National Parks pulls into the station with miniature recreations of the beautiful National Parks of the United States, bustling with chugging trains and filled with live plants.
Tropical Forest Hawai'i: Aloha 'Aina
Tropical Forest Hawai'i: Aloha 'Aina invites guests to take an exciting, immersive journey through the rich history, nature and culture of the Hawaiian archipelago.
Planets Earth Virtual Exhibit
A dynamic exhibit at the Center for Sustainable Landscapes (and now online) addresses the pressing environmental issues of our time and proposes a new way of thinking about how to solve them.
Tues., Nov. 29:
Nature Journaling in Place | 1 p.m. – 4 p.m.
The November class works perfectly to observe and learn about the process plants, insects and birds must follow to survive and continue propagating, ushering in the next Monarch butterfly or keeping the pair of cardinals coming back to your "place".
Staple Soups and Stews: New England Staples | 6 p.m. – 7:30 p.m
Join Chef Emily in learning staple soups and stews from all over the map! First stop, New England. In this class you'll learn Chef Emily's Boston Clam Chowder and a Ski Lodge French Onion.
Wed., Nov. 30:
​In-Person Story Time | 10:30 a.m. and 1 p.m.
Kids will love visiting Phipps to listen to our storyteller weave tales about gardens, fruits, vegetables, animals and other fun topics. Attend weekly sessions with a special child in your life!
Thurs., Dec. 1:
Winter Gems in Watercolor | 6 p.m. – 9 p.m
Illustrate seasonal plants in an assortment of colors using different methods of mixing watercolor paints along with a variety of wash techniques.
Outdoor Evergreen Decor | 6:30 p.m. – 8:30 p.m
Design unique outdoor arrangements based with evergreens in a pedestal urn and decorative porch container options that can be customized to your home's style.
Photo © Paul g. Wiegman