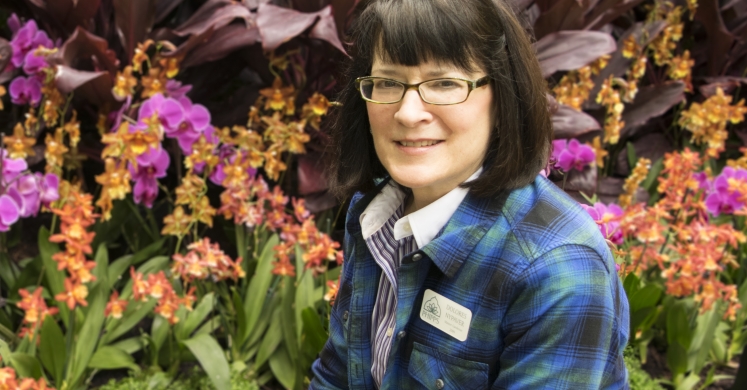 Volunteer Spotlight: Dolores Nypaver
Phipps is well-known for our beautiful gardens, seasonal flower shows, pioneering sustainability initiatives, informative educational programs and community outreach. None of our work, however, would be possible without the knowledge and dedication of our volunteers. In this series of profiles, we meet some of the people who give their time to make Phipps possible.
Dolores Nypaver first realized just how much she could learn at Phipps after she took the Master Gardener class in 2009. "Every time I come to Phipps — whether it is for planting or greeting — I learn something. It is such an easy way to learn," she said. She is truly fascinated by the knowledge of her fellow volunteers and the staff, particularly regarding native and invasive species, and appreciates how well Phipps treats its volunteers.
"The people here are so happy. They are surrounded by flowers! It is a really great environment where everyone is friendly," she said. Phipps has always been a special place for Dolores. Years ago, her husband proposed to her at Phipps on New Year's Eve. The two now live in McCandless, Pa.
A Pittsburgh native, Dolores holds degrees from Duquesne University and Carnegie Mellon University and currently works as the assistant director of the Catholic Diocese of Pittsburgh. Always one to remain active, she is also the Chair of the River City Brass Band's Board of Directors and is active in a hand bell choir. She is an avid traveler and has been to 39 of the nation's 50 states. While travelling, she enjoys visiting ornate gardens and taking photos.