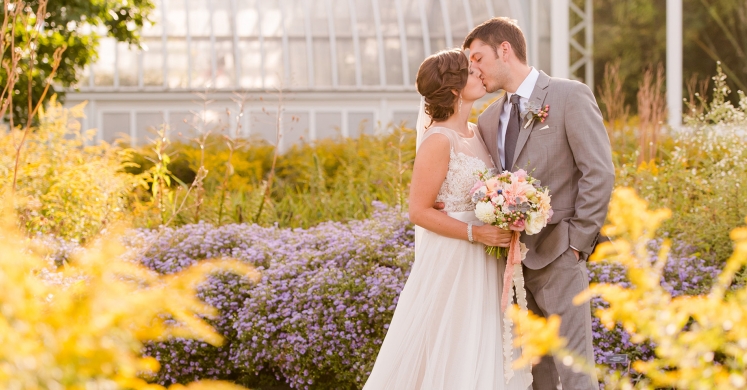 Weddings Under Glass: Kate and Ryan
Weddings Under Glass is a monthly blog series where we highlight the stories of couples who chose to begin their happily ever after in the lush backdrop of Phipps, named one of the best outdoor garden wedding venues by Elle and Harper's Bazaar.
Kate and Ryan have known each other for most of their lives. They grew up only 4 miles away from each other and attended the same school through high school. "Ryan actually signed my middle school yearbook!" Kate remembers. Before college, the two were not very close. But one summer while home from college, Kate and Ryan reconnected through mutual friends and really hit it off.
During a nature-filled vacation, Kate and Ryan decided to go hiking and camping without any technological distractions (or cell phone service). One beautiful night, the couple decided to drive up to Logan's Pass, drink a bottle of wine, play card games and watch the sun set. Right as the sun was setting, Ryan got down on one knee and popped the question. "The next day we drove an hour to get cell service so we could call our families and tell them the good news!" Kate says.
When it came to choosing venues, Phipps checked all the boxes on the couple's wish list. "We were looking for a venue that fit our love of nature and the outdoors, and Phipps was a perfect fit!" Kate says. "We were most impressed by the natural beauty of the Tropical Forest and Outdoor Garden. It was a perfect blend of nature and elegance."
Kate and Ryan decided on a September wedding, with their ceremony on the Tropical Forest Patio and reception in the Special Events Hall and Tropical Forest. They chose an elegant, romantic and intimate style for their wedding – including a light color palate with pinks, peaches and contrasting charcoal, accented with mercury glass and votive candles.
There were many personal touches weaved throughout the evening. During their ceremony, Kate and Ryan, who are avid beer drinkers, decided to forgo the traditional unity candle for a unity pouring of a "Black and Tan" – where a pale ale is mixed with a stout. Their reception featured beautiful calligraphy on place cards and signage that was done by a family friend.
Overall, though, Kate and Ryan's favorite part about getting married at Phipps was Phipps itself. "The beautiful location, the backdrop of the Tropical Forest and the uniqueness of Phipps' exterior made for perfect pictures and memories!" Kate says.
After their gorgeous fall wedding, Kate and Ryan enjoyed their honeymoon in St. Lucia at Anse Chastenet resort and hiked the Pitons. Since getting married, the couple purchased a home in their hometown, located equal distance from Kate's parents and Ryan's parents, and live there with their puppy, Boone. They continue to explore the great outdoors, most recently travelling to Peru to experience Machu Picchu.
Would you like to plan your special day at Phipps? Please contact our events team by email or by calling 412/315-0685.
Vendors
Photographer: Leeann Marie Photography
DJ: Schiemer Entertainment
Cakes: Bella Christie and Lil' Z's Sweet Boutique
Videographer: Post Script Productions
Flowers: Mocha Rose Floral and Event Design
Dresses: Bella Bridesmaids, Ann Gregory for the Bride
Suits: Joseph A. Bank (Downtown Pittsburgh)
Officiant: Dana Hardy Bingham
Hair/Makeup: Bridal Art by Marissa Julin