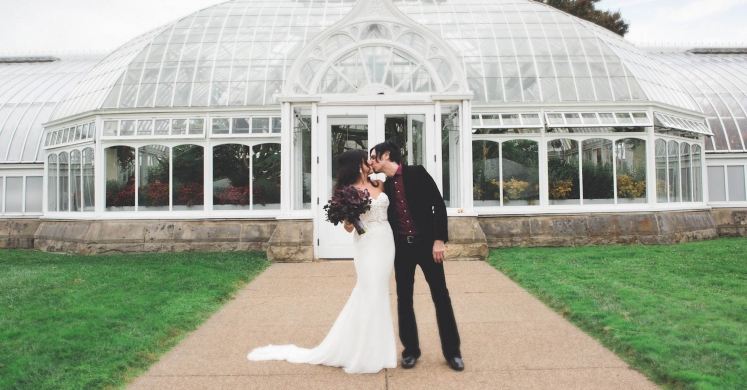 Weddings Under Glass: Nina and Freddie
Weddings Under Glass is a monthly blog series where we highlight the stories of couples who chose to begin their happily ever after in the lush backdrop of Phipps, named one of the best outdoor garden wedding venues by Elle and Harper's Bazaar.
The professional music scene in Pittsburgh is very closely knit, so it was odd that a lot of time passed before two Pittsburgh-based professional musicians, Nina and Freddie, met. But after a concert where Freddie covered Queen at a benefit and left Nina transfixed by his voice, a few mutual friends introduced the two, and they became inseparable.
Getting married wasn't a huge priority for Nina and Freddie. They were comfortable and didn't feel the need to tie the knot right away. After Freddie's mom passed away in October 2015, however, they decided to begin wedding plans so his father (and best man) could be there. In a heartbreaking turn of events, Freddie's father passed away only weeks after his mother. Nina had already lost her father at the age of 17, leaving her mother as the last living parent. "With only one parent left between us, we really became serious about planning something for the following year," Nina recalls.
Nina and Freddie picked out an antique style ring from Marlene Harris Jewelry soon after, and Freddie proposed the night before Christmas Eve on their way to the same place where Freddie won Nina over with his Queen vocals.
As soon as the newly engaged couple started talking about wedding venues, Phipps was Nina's number one pick. "When I was young, my parents used to take me to Phipps. It was one of my dad's favorite places, and [it] always has reminded me of him," Nina says. The couple also loved the energy created inside of Phipps with the abundance of beautiful plant life. "The plants create an atmosphere that can't be duplicated. We didn't even consider anywhere else!"
Nina and Freddie decided on a late September intimate ceremony of close family and friends in the Broderie Room, followed by a Tim Burton inspired reception in the Tropical Forest Room and Special Events Hall.
In the months leading up to the wedding, Freddie booked a high profile gig in Tokyo for the same week of their wedding, so the date had to be pushed back. There was still a happy ending! The wedding went on just a few weeks later and happened to include a huge super moon – which tied in seamlessly to their Tim Burton/Nightmare Before Christmas theme.
Nina felt connected with Tim Burton films, which inspired their "dark, dreamy, eerie, and enchanted" reception décor. The couple raved about floral arrangements and room design by Hens & Chicks, which included hanging globes, giant Victorian candelabras, and tons of candlelight. The bride also hand crafted a Corpse Bride centerpiece for the dessert table, which was her favorite detail of the reception.
The couple's overall favorite part about being married at Phipps? "The beauty that [Phipps] inherently provides – our photos are out of this world beautiful!" Nina says. "My guests are still talking about how magical it was!" The Tropical Forest was a perfect reception venue for the couple and their guests, providing an enchanting place for everyone to mingle and celebrate. The glass doors to the patio remained open all night and ushered in the beautiful fall air.
After their wedding, Nina and Freddie spent two weeks in one of their favorite vacation spots – Aruba. Now, the pair can be seen playing a lot of shows both here in Pittsburgh and internationally, including the WDVE Stones for Children's benefit for the Children's Hospital this past May. This summer, Freddie is releasing a solo album in both the U.S. and Japan, so the couple are busy preparing for that exciting new step in his career.
Would you like to plan your special day at Phipps? Please contact our events team by email or by calling 412/622-6915, ext. 6404.
Vendors
Photography and Videography: Tara Bennett Photography
DJ/MC and Uplighting: Joel Lindsey
Florist: Hens & Chicks
Stationary: Adrienne Rozzi of Poison Apple Printshop