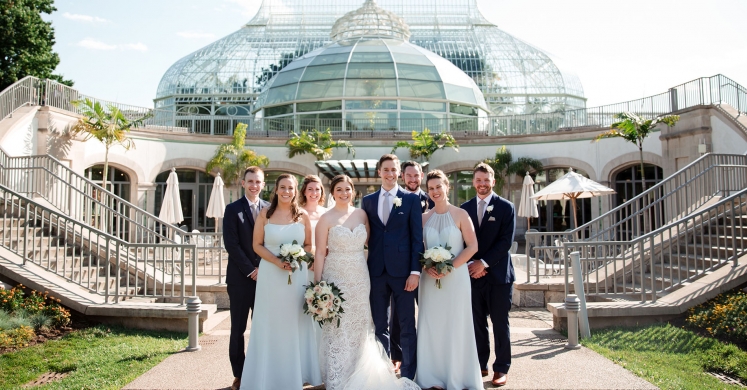 Weddings Under Glass: Rebecca and Eric
Weddings Under Glass is a monthly blog series where we highlight the stories of couples who chose to begin their happily ever after in the lush backdrop of Phipps, named one of the best outdoor garden wedding venues by Elle and Harper's Bazaar.
Rebecca and Eric met at college in Wheeling, West Virginia, where they bonded over their mutual love of traveling. After graduating in 2013, they dated for a bit and even after losing touch, reconnected in 2015 when the universe brought them back together. They enjoyed taking day trips to Pittsburgh together — Phipps' Winter Flower Show and Light Garden was even the first place they said, "I love you!" Clearly a couple that enjoys botanical gardens, Rebecca says they were, "literally smelling the roses at the United States Botanic Garden in Washington, D.C." when Eric popped the question.
The couple chose Phipps as their wedding venue because they wanted it to be held somewhere in Pittsburgh and Phipps seemed like the most sentimental backdrop for their special day. They conveniently had both their ceremony and reception at Phipps.
Rebecca and Eric were married in the Outdoor Garden on June 22, 2019. Even though it had been a very rainy week, the clouds broke and the sun came out for their special day. According to Rebecca, the theme of the wedding was "timeless with a minimal modern twist." The color palette tied in the greenery of the Outdoor Garden with icy blue and gold. They included glass accents, geometric terrariums and clean lines into the style as well. Their favorite detail of the day was having their friend play the violin during the processional and recessional.
The couple's favorite part about getting married at Phipps was the privacy and beauty of the Outdoor Garden, and that they were able to conveniently have the ceremony and the reception in the space. They also enjoyed Phipps' helpful staff, who handled many little details of their big day, and they loved the delicious, healthy food.
For their honeymoon, Rebecca and Eric flew halfway around the world to the Maldives, which they describe as "paradise." After getting married, Rebecca joined Eric in Charlotte, North Carolina, where Eric is a physician's assistant in dermatology and Rebecca is a health communication specialist for a federal agency. In their spare time, they like to spend their weekends exploring the Queen City and other parts of the south.
Would you like to plan your special day at Phipps? Please contact our events team by email or by calling 412/315-0685.
Vendors
Photographer: Alexa Frankovitch Photography
Hair and Makeup Artist: Wanderlust Beauty
Bride's Dress: Bridal Beginning
Groom's Suit: Sofyano
Flowers: Gidas Flowers
Cake: Bethel Bakery
Lighting: Gray Phoenix
DJ: Jason Kendall Productions