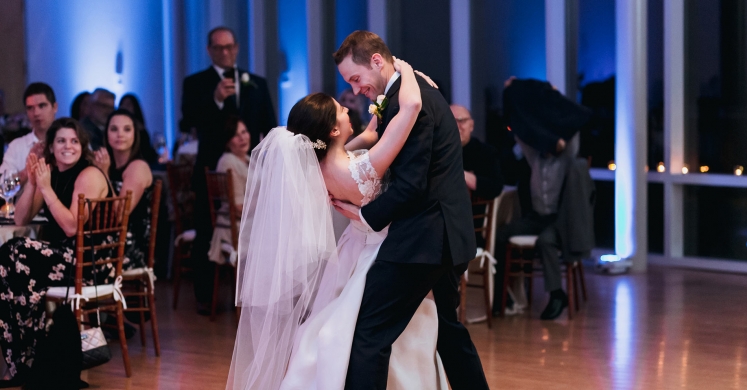 Weddings Under Glass: Valerie and Evan
Weddings Under Glass is a monthly blog series where we highlight the stories of couples who chose to begin their happily ever after in the lush backdrop of Phipps, named one of the best outdoor garden wedding venues by Elle and Harper's Bazaar.
When Valerie and Evan decided to try Match.com, they were not expecting to find their other half, but after exchanging a few emails and texting each other, they couldn't stop.
One rainy Pittsburgh evening, Evan had made plans to take Valerie to dinner at Six Penn downtown after a romantic walk through Duquesne University. He took her by the chapel, the fountain and, when the rain refused to let up, under the awning of a campus building. There, Evan pulled out a handmade book of photos and written memories. They went through the book together, laughing and reminiscing about their time together so far. At the end of the book, Evan pulled out a ring and proposed, much to Valerie's surprise. She cried, hugged him and happily accepted, and the couple continued to dinner, where both her parents and Evan's parents were eagerly waiting to celebrate.
Valerie and Evan planned for a November wedding with a ceremony at the Duquesne University Chapel and reception in Phipps' Special Events Hall. "Phipps was absolutely beautiful and made the planning process so easy," Valerie says. "We had heard great things about the food too."
Their theme for the big day? "Evan and I are huge nerds and love to read, so we went with a literary themed wedding," Valerie explains. The couple included many personal details in their wedding — a vintage card catalogue, vintage book centerpieces and matchbook favors that were made to look like some of the couple's favorite novels.
Phipps staff helped to make Valerie and Evan's special day a dream come true. "The location was absolutely beautiful and everyone that helped to work on our wedding was amazing," Valerie says. "They were all so thoughtful, friendly and professional."
After a beautiful wedding, Valerie and Evan made their way to an all-inclusive resort in Jamaica for their honeymoon. Today the couple live together in Highland Park with their cute dog Boo Radley. "We're still extremely nerdy," Valerie says.
Would you like to plan your special day at Phipps? Please contact our events team by email or by calling 412/622-6915, ext. 6404.

Vendors
Ceremony: Duquesne University Chapel
Photography: Electric Lime Studios
Flowers: Bloom Brigade
Cake: Bella Christie
Dress: Anne Gregory for the Bride