Absorbed in Color: The Art of Gemma Fletcher
Opens Fri., March 22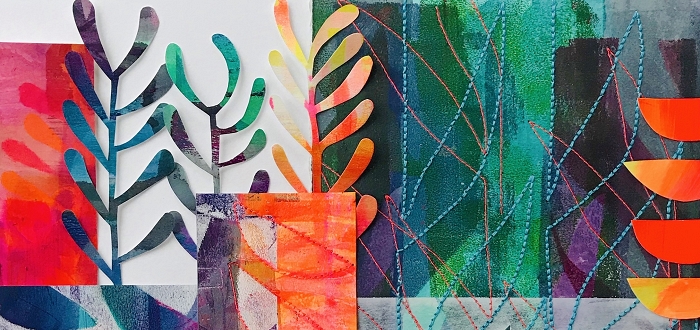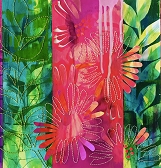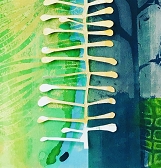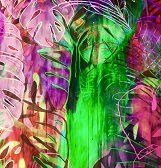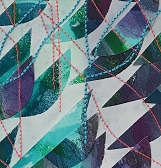 Inspired by visits to Phipps, these kaleidoscopic collages provide a colorful complement to Phipps' floral vibrance.
Now on display in our Welcome Center Gallery, Absorbed in Color: The Art of Gemma Fletcher invites you to enjoy a colorful, textural fantasia before you even set foot in the glasshouse! Inspired directly by Phipps' plant displays and even partially created on-site, these blissful clipped, stitched and stenciled tributes to nature's immersive world of color were built intuitively one layer at a time, resulting in works that express both the beauty of plants and the emotions they stir within all of us. Incorporating elements of recycled papers, maps, fabrics and ephemera, the works reveal increasing complexity and richness in an up-close view.
Mixed-media artist Gemma Fletcher's work has always been about celebrating color, pattern and texture. She is originally from a city in the middle of England with a rich multi-cultural heritage, and her earliest memories are filled with the vibrant colors and patterns of traditional clothing — Indian sari silks and West African wax prints mixed with the faded florals of her grandmother's sofa. She draws upon this love of color through exploring hues and saturation. "Phipps is a remarkable resource for the gathering of unexpected color combinations," she says of the visits that inspired this exhibition, "and I especially love the Orchid Room for giving me glimpses of how one color can have many moods."
When visiting the Conservatory, Gemma would bring a collection of pre-painted papers and a pair of scissors and spend an hour or two basking in the warmth of the Tropical Forest Conservatory. The paper cut-outs she made from observations were then taken home to collage. "The journey that the piece and I will meander on through layering, playing with positive and negative shapes and experimenting with composition is meditative. The work eventually reveals itself to me in a similar way that the environment of Phipps reveals its many layers as you walk through the glasshouses."
Gemma Fletcher's artwork will be on display from March 22 — May 5 and is available for purchase through the Shop at Phipps.To learn more, visit her website.
Images © Gemma Fletcher
More Events You'll Enjoy
Sat., April 27; 9:30 a.m. – 5 p.m.

At this one-day-only event, enjoy special activities from UPMC Health Plan and Let's Move Pittsburgh throughout the conservatory, including games, crafts, healthy lifestyle tips and more.

Opens Sat., March 23

Enter a spectacular kaleidoscope of color as tens of thousands of spring blooms burst forth in all the season's vibrant hues.

Saturdays; 11 a.m. – 3 p.m. Except as Noted

The revolutionary Nature Lab at Phipps and Observational Beehive are now open for you to discover. Drop in during our Saturday open hours and a graduate of our Learning for a Greener Future high school internship will show you around. No advance reservation is required.