Beneficial Bugs: A Youth Art Exhibition
Open Now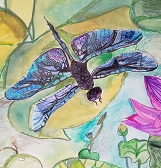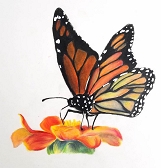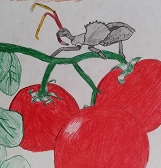 Although insects are often thought of as pests, entomologists have found that bugs can control a pest problem and reduce the need for routine pesticide application. As part of the Fairchild Challenge environmental education competition at Phipps, we tasked regional middle school students with researching insects that are beneficial to plants. Using colored pencil and paint, the students used their research to accurately depict one of these insects with a plant it benefits. The amazing images that resulted are now showcased in the Center for Sustainable Landscapes Green Gallery. The artwork displayed represents only some of the many entries Phipps received this year. The artists are currently in grades ranging from six to eight and represent diverse interests, abilities, talents and backgrounds.
Special thanks go to the teachers that promote and coordinate the challenges in their schools. The Fairchild Challenge at Phipps is made possible through the generous support of The Grable Foundation and Pennsylvania's Education Improvement Tax Credit Program. The Fairchild Challenge was designed and initiated by Fairchild Tropical Botanic Garden in Coral Gables, Florida. Phipps is proud to serve as a satellite site for conservation-themed activities that engage youth across the globe.
Image credits (top to bottom, left to right):
Tali Brobst, Trafford Middle School
Caden Ferita, Woodland Hills Academy
Katrina Li, Mackenzie Frederick, Abigail Mitchell and Francesca Diaz; David E. Williams Middle School
Bailey Wertz, Brentwood Middle School (research by Gabrielle Sedlar)
Tali Brobst, Trafford Middle School
Alexi Mascara, Franklin Regional Middle School
More Events You'll Enjoy
Open Daily Until 11 p.m. Except Where Noted

Experience the must-see show that critics are calling "breathtaking" and "out of this world," where glass sculptures mesmerize — from a striking Venus fly trap to stunning orchids up to 14 feet tall.

Open Now

Explore our all-new exhibit featuring some of Africa's lushest landscapes. See botanical specimens never before showcased at Phipps and discover how indigenous peoples use plants to sustain and enrich their lives.

Saturdays and Sundays; 1:30 p.m.

Grow your garden know-how by attending a free-with-admission class. From bouquets to birds and gardens to vermicomposting, local experts bring it all to you surrounded by the beauty of our gardens.