Sat., May 25; 11 a.m. – 4 p.m.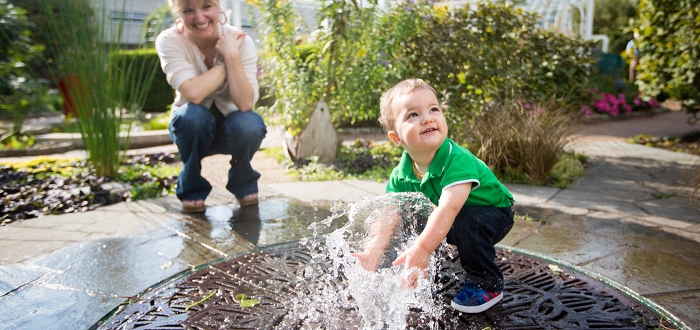 Enjoy nature-inspired games, activities, crafts and more at the summer opening celebration of Phipps' Discovery Garden.
Families are invited to a special day of fun to mark the summer opening of Discovery Garden, the interactive sensory garden that delights children and adults of all ages. Kids will enjoy special activities throughout the day held in Discovery Garden, exploring the beauty and wonders of nature as they play. All activities are free with Conservatory admission.
Phipps' Discovery Garden is bursting with fun for all ages, featuring a sensory outdoor garden, nature play areas, interactive water fountains, an Insect Inn hotel for beneficial bugs, a giant tree stump for climbing and fun percussion instruments. Special Discovery Garden Day activities include nature-based crafts, a pot-a-plant activity to take home, storytelling, guest entertainment and more.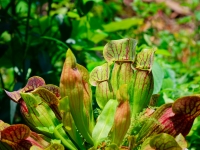 See the New Bog Garden
While you're here for Discovery Garden Day, make sure to check out the newly renovated bog garden! Bogs are unique wetland ecosystems found right here in Pennsylvania which are home to plants you won't find anywhere else. In this new installation find many different species of carnivorous pitcher plants (Sarracenia spp.), orchids native to Pennsylvania, and other cool and wild plants found in these types of environments.
Phipps offers delightful, interactive fun for our youngest visitors. In addition to engaging exhibits for kids, from Discovery Garden to the Gallery Room play market, and hands-on Discovery Stations throughout the Conservatory to discover the wonders of the natural world, Phipps provides a wide range of personalized seasonal camps to inspire and engage young explorers. Join the fun!
Photos © Paul g. Wiegman, Annie O'Neill
More Events You'll Enjoy
Saturdays; 11 a.m. – 3 p.m. Except as Noted

The revolutionary Nature Lab at Phipps is now open for you to discover. Drop in during our Saturday open hours and a graduate of our Learning for a Greener Future high school internship will show you around. No advance reservation is required.

Thurs., May 2; 6 p.m.

Biophilia: Pittsburgh meets monthly to discuss how citizens can strengthen the bond between people and nature through education and action. Registration is required but events are free to attend. Join the conversation!

Opens Sat., April 20

Watch colorful butterflies break free of their chrysalises to soar and glide among beautiful Phipps blooms. One may even land on you!