Party in the Tropics: Party on Mars?
FRI., MARCH 6; 7 – 10 P.M. (AGES 21+)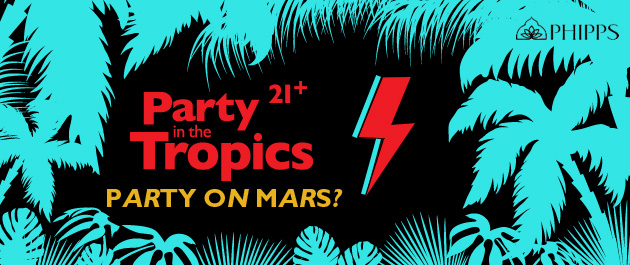 Let's dance! Put on your red shoes and dance the blues at our David Bowie-themed Party in the Tropics!
Party in the Tropics attendance is included with Phipps admission, but advance registration is strongly recommended due to limited space availability. You will receive a ticket receipt to present at the admissions desk in print or on your smartphone on the evening of the event.
Get Tickets
Gather your friends and head to Phipps Conservatory and Botanical Gardens for a healthy dose of revelry and rejuvenation as our Tropical Forest Conservatory transforms into one of the city's most unique nightspots. At this reoccurring party, you can make our paradise your own as you indulge in sweet and savory morsels, taste unique cocktails and seasonal beer selections, dance to the beats of a live DJ, and unwind amidst lush greenery and rushing waterfalls. A variety of appetizers and drinks will be offered for purchase throughout the night. You won't find a venue like this anywhere else in the 'Burgh!
March Theme: Party on Mars?
Join us for the final weekend of our space-themed Orchid and Bonsai Show: Out of This World as we pay tribute to the space oddity himself, David Bowie. Dance along to new wave and synth pop hits in our tropical paradise and enjoy food and drink as you sway through the crowd to an empty space and groove on the dance floor! Don your best Starman attire and prepare for a far-out night at Phipps!
Open only to guests 21 or older with a valid ID (passport or driver's license). Limited free parking is available in the center island on Schenley Drive and in the metered spaces along the street after 6 p.m.
More Out of This World Events
Now Open

Blast off into a galaxy of garden goodness in this stellar new show as you enjoy the colors and shapes of hundreds of otherworldly orchids and our cosmic collection of tropical bonsai.