Environmental Film Series: Science Fair
Fri., Sept. 20; 7 – 9 p.m.; Botany Hall Auditorium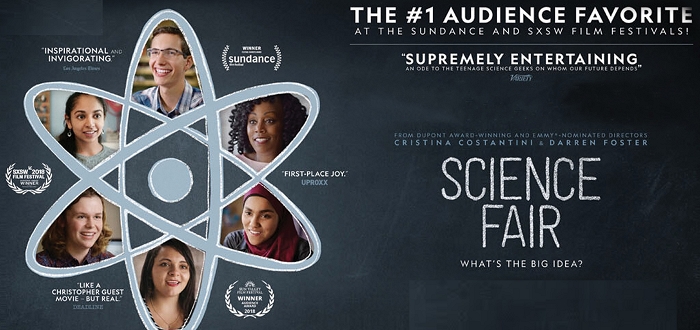 Join us monthly for an exciting environmental film screening and discussion series.
September Screening: Science Fair
On Fri., Sept. 20 from 7 - 9 p.m., join us in Botany Hall Auditorium for a screening of Science Fair. Hailed by critics as "immensely likeable," "brilliant and quirky" and an "ode to the teenage science geeks on who our future depends," and winner of the audience award at Sundance and SXSW, National Geographic Documentary Films' Science Fair follows nine high school students from around the globe as they navigate rivalries, setbacks and, of course, hormones, on their journey to compete at The International Science and Engineering Fair. As 1,700 of the smartest, quirkiest teens from 78 different countries face off, only one will be named Best in Fair. The film, from Fusion and Muck Media and directed by the DuPont Award-winning and Emmy-nominated documentary filmmaking team Cristina Costantini and Darren Foster, offers a front seat to the victories, defeats and motivations of an incredible group of young men and women who are on a path to change their lives, and the world, through science.
This film screening is part of Science Engagement Week at Phipps. Join us for other activities throughout the week to learn more about the world of science both here at Phipps and in the world!

Join us after the film for a short discussion with Chuck Vukotich, a current member of the advisory committee for the International Science and Engineering Fair (ISEF) and Judge Chair for the Pennsylvania Regional Science and Engineering Fair (PRSEF).

About the speaker: Chuck Vukotich is a current member of the judging advisory committee for the International Science and Engineering Fair (ISEF), and Judge Chair for the Pennsylvania Regional Science and Engineering Fair (PRSEF). His association with science fairs began in 1992. In addition, he chaired PRSEF in 2012, 2015, and 2018. Mr. Vukotich recently retired from 45 year career in public health, working thirty years for Allegheny County Health Department and thirteen years at the University of Pittsburgh.
Watch the Trailer
How to Attend
Advance registration is required to attend the screening and is included with purchase of admission to Phipps through the link below. You will receive a ticket receipt to present at the admissions desk in print or on your smartphone on the evening of the screening. Phipps is open until 10 p.m. every Friday. Seating is limited and tickets will be available on a first-come, first-served basis.
About the Series
Phipps' Environmental Film Series is an exciting monthly event inviting community members to come together to view environmental films and documentaries. Each viewing will be followed by a dynamic discussion with film producers, scientists and environmental advocates, enabling attendees to share thoughts, consider various viewpoints and hear the experts' perspectives. The series aims to raise awareness of our relationship with the natural environment, and to use film as a platform for conversation, education and positive change. Screenings for the Environmental Film Series take place on the third Friday of every month from 7 – 9 p.m. in the Botany Hall Auditorium at Phipps.
More Events You'll Enjoy
Saturdays; 11 a.m. – 3 p.m. Except as Noted

The revolutionary Nature Lab at Phipps is now open for you to discover. Drop in during our Saturday open hours and a graduate of our Learning for a Greener Future high school internship will show you around. No advance reservation is required.

Fri., Oct. 25; 4 – 8 p.m.

Bring costumed kids for a boo-tanical bash as we offer a host of fun family activities and healthy snacks, all free with Phipps admission!

Thurs., Nov. 7; 7:30 – 10:30 p.m.

Phipps signature fall party pairs memorable food with selected wines, extravagant floral displays with energizing live entertainment, and much more to provide the perfect glasshouse celebration!