Three Rivers Urban Soils Symposium
Oct. 4 – 5; Thursday, 8:30 a.m. – 6 p.m. and Friday, 8:30 a.m. – 4 p.m.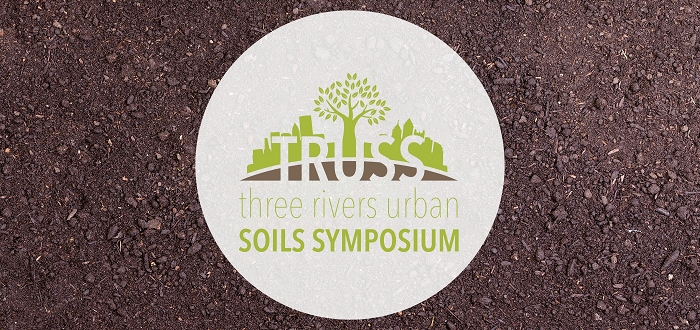 Join nationally acclaimed experts for a two-day exploration of urban soils and their relation to agriculture, stormwater management and climate.
Phipps will host the inaugural Three Rivers Urban Soils Symposium on Oct. 4 – 5, 2018 in partnership with Pittsburgh Urban Soils Working Group, bringing together community leaders, researchers, scientists, students, policy makers and anyone interested in Pittsburgh's soil conditions to discuss the state of urban soils and their interconnectedness to public health, urban agriculture, stormwater management and climate.
Symposium presenters include nationally acclaimed experts who will share new research insights and implications with attendees including Murray McBride, Professor of Soil and Crop Science at Cornell University and Richard Pouyat, Past-President of the Ecological Society of America and Emeritus Scientist of the U.S. Forest Service. The event also includes interactive workshops on top community concerns and solutions surrounding soil health.
In Pittsburgh, as in other post-industrial cities, understanding both the limitations and potential of urban soils is essential to address current and future environmental challenges. By 2050, nearly 90% of America's population will reside in urbanized areas, making this topic and area of research essential. Soils support the urban ecosystem and civil infrastructure in complex ways which are, in turn, physically, biologically and chemically altered by human activity. The Symposium will connect people across a broad range of disciplines to fully understand and evaluate these issues, fostering a new level of awareness, understanding and engagement that will benefit our region and beyond.
---
Registration
Registration for TRUSS is available in single-day ($25) and two-day ($45) options, both of which include breakfast and lunch. Make your selection below:
---
Schedule
Location: Phipps Conservatory and Botanical Gardens, One Schenley Park, Pittsburgh, PA 15213
Schedule is tentative and subject to change
Day 1 | Thurs., Oct. 4
Plenary Speaker
Murray McBride | Professor of Soil and Crop Science, Cornell University
Urban Soils: Mapping, Contamination and Remediation
Ganga M. Hettiarachchi | Professor of Soil and Environmental Chemistry, Kansas State University
Allison Harris | Eco Works, Detroit, MI
Olga Vargas | Natural Resources Conservation Service, NY
Soils and Urban Green Infrastructure
Stuart S. Schwartz | Senior Research Scientist, University of Maryland, Baltimore County
Tim Nuttle | Civil and Environmental Consultants, Pittsburgh
Monica Palta | Assistant Professor of Environmental Studies and Science, Pace University
Molly Mehling | Heinz Family Foundation, Pittsburgh
Richard Pouyat | Past-President, Ecological Society of America; Emeritus Scientist, U.S. Forest Service
Poster Session and Reception
(open to day 1 and day 2 registrants)
Plenary Speaker
Dr. Karen Hacker | Director, Allegheny County Health Department
Health Impacts of Soil Contamination
Soil Testing, Interpretation and Amendments
Jonathan Burgess | Allegheny County Conservation District
Dan Dalton | Pennsylvania Association of Sustainable Agriculture
Soil Technical Assistance Programs
Olga Vargas | Natural Resources Conservation Service, NY
George Lozefski | Lab Manager, Urban Soil Institute NY
City of Pittsburgh: Perspective on Soil Contamination
Shelly Danko+Day | Open Space, Urban Agriculture and Food Policy Adviser, Sustainable + Resilience Division, City of Pittsburgh
Compost: How Do We Scale Up?
Carla Castagnero | Co-Founder and President, Agrecycle
Jeff Newman | CEO, Steel City Soils
Restoring Degraded Urban Soils: A Case Study of Garfield Community Farms
Jon Creasy | Director, Garfield Community Farms
Healing Our Soils Together
Nance Klehm | Ecological Systems Designer, Social Ecologies
---
Presented By
---
Sponsored in Part By
If you are interested in sponsorship, contact Sarah at edu@phipps.conservatory.org or 412/441-4442, ext. 3925.