Phipps Conservatory Presents Science Engagement Week Featuring Botany in Action
For Immediate Release: Thurs., Sept. 20
Contact: Julie LaBar | Director of Marketing and Communications
412/622-6915, ext. 3801 ǀ jlabar@phipps.conservatory.org
Phipps Conservatory Presents Science Engagement Week Featuring Botany in Action
Roster of special activities includes Meet a Scientist public program, Fairchild Challenge school outreach program kickoff and members event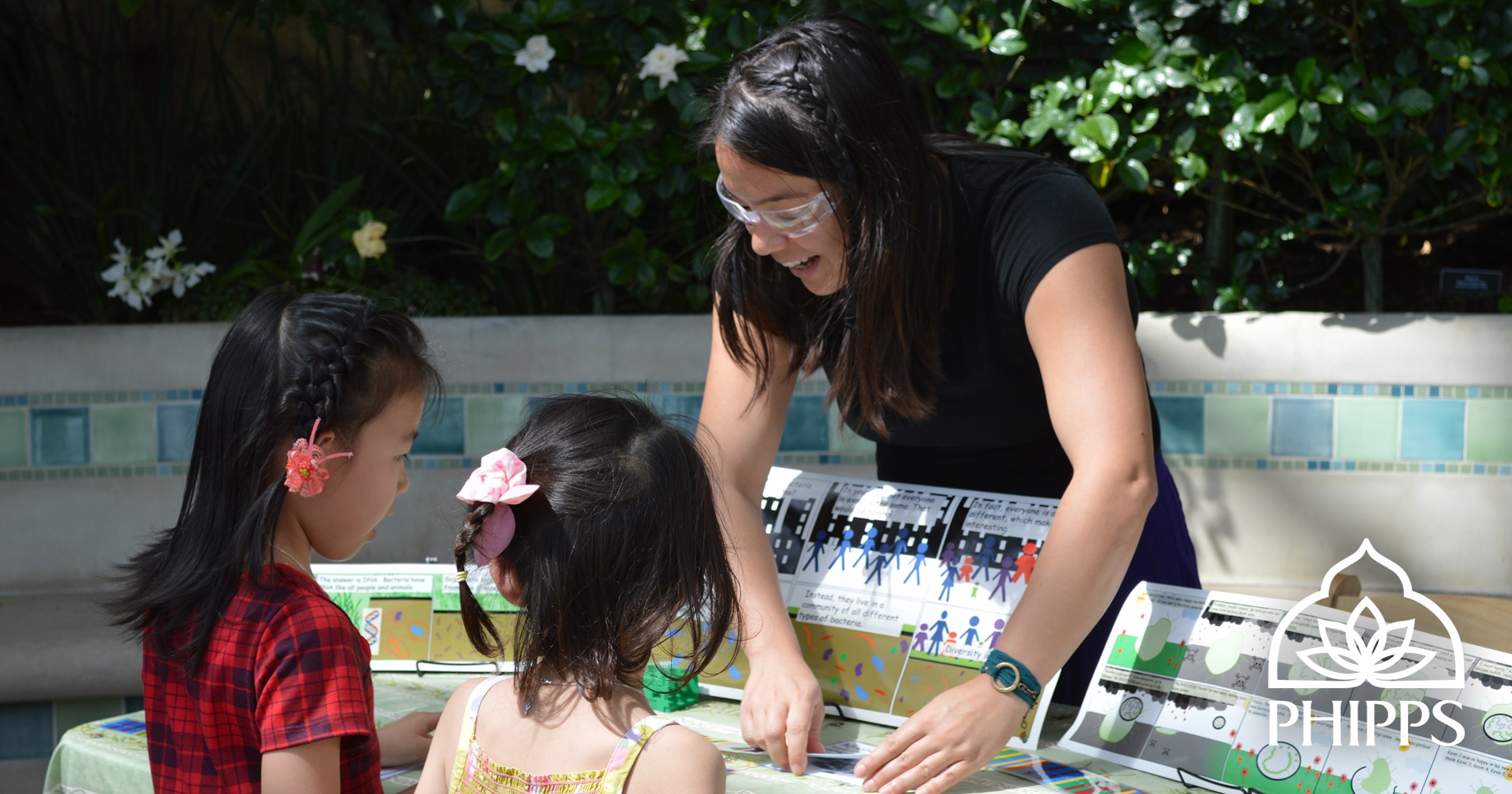 Pittsburgh, PA — Phipps Conservatory and Botanical Gardens will host a series of activities that will engage all ages in scientific discovery during Science Engagement Week held Sept. 26 – 29. Whether you are already interested in science or just curious to learn more, Science Engagement Week at Phipps provides additional opportunities to explore scientific innovation that is good for people, good for the planet and makes the world a more beautiful, sustainable place.
Joining Phipps to celebrate science are Phipps' Botany in Action Fellows, emerging plant-focused scientists who are supported by Phipps in their global research efforts through grants and science communication training. Since its inception, Botany in Action has aided 54 doctoral-level students representing 26 universities and working in 26 countries. Current fellows are stationed in locales around the world, exploring topics from the role of green roofs in urban biodiversity to the effects of soil pollution. Beyond their field work, Fellows' accomplishments include mentorship of other students; the creation of a botanical field guide, a photography website and various teaching modules; and outreach devoted to making science more accessible to the public. Visit phipps.conservatory.org/BIA for a profile of 2018 Fellows.
Featured Events:
Fairchild Challenge Kick-Off: Phipps' signature Eco-Challenge event kicks off year-long Fairchild Challenge activities for middle and high school students and will be held on Wed., Sept. 26 and Thurs., Sept. 27 from 9:30 a.m. – 12:45 p.m. each day. At the annual kick-off celebration, students will visit the conservatory, meet Phipps' Botany In Action Fellows to learn about their exciting research, participate in science-based team-building activities and attend the unveiling of this year's all-new challenges.
The Fairchild Challenge is a school outreach program that encourages middle and high school students to creatively consider important environmental issues at local, national and global levels, develop innovative solutions, and put these solutions into action through a series of unique challenges throughout the school year. Now in its tenth year at Phipps, up to 200 students will participate for the chance to win cash prizes for their school's sustainability initiatives. To learn more or to participate in the Fairchild Challenge program, school educators may contact Phipps' High School Program Coordinator Emily Johns at ejohns@phipps.conservatory.org or 412/622-6915, ext. 6936.
Peek Behind the Petals: On Sat., Sept. 29 from 9:45 – 10:30 a.m., Phipps' members can attend Peek Behind the Petals, a special presentation focused on fascinating scientific discoveries, as Phipps' Botany in Action Fellows share where their research has taken them this past year. There is no cost for members to attend. Reservations are required at phipps.conservatory.org/peek.
Tropical Forest Cuba Festival: On Sat., Sept. 29 from 11 a.m. – 3 p.m., the public is invited to celebrate the culture and plants of Cuba at the Tropical Forest Cuba Festival. Guests can meet Phipps' Botany in Action Fellows during engaging Meet a Scientist activities and learn about their groundbreaking research in Cuba and other locations worldwide. Visitors will also experience the interactive Cuban research station, enjoy live entertainment, taste delicious regionally-inspired food samples and participate in family-fun activities throughout the impressive 12,000 square foot, 60 foot high Tropical Forest Conservatory. All Festival activities are free with Conservatory admission. More information is available at phipps.conservatory.org/cubafest.
Phipps is a recognized leader in scientific research and engagement, leading One Health One Planet™ — a movement that brings people together from a wide range of fields to explore global and local environmental issues and their effects on human, animal and environmental health. The Phipps Research Institute for Biophilia and Science Engagement is the first research center of its kind, taking an integrative, multi-disciplinary approach to understanding the impact of connections between people and their environment, human and ecological health, and wellness through research, education and practice. Additional programs supporting scientific discovery include Botany in Action, BioBlitz Family Fun Festival and Science Engagement Week. Learn more at phipps.conservatory.org/science.
###
About Phipps: Founded in 1893, Phipps Conservatory and Botanical Gardens in Pittsburgh, PA is a green leader among public gardens with a mission to inspire and educate all with the beauty and importance of plants; to advance sustainability and promote human and environmental well-being through action and research; and to celebrate its historic glasshouse. Phipps commemorates its 125th anniversary throughout 2018, celebrating its historic past, vibrant present and exciting future ahead — including inspiring seasonal flower shows, community events, public programs and groundbreaking green innovation. Learn more at phipps.conservatory.org.
Select photos © Paul g. Wiegman