Phipps Conservatory Reopens to the General Public on Mon., Jan. 4
For Immediate Release: Thurs., Dec. 31
Contact: Joe Reed | Director of Marketing and Communications
412-622-6915, ext. 3801 | jreed@phipps.conservatory.org

Phipps Conservatory Reopens to the General Public on Mon., Jan. 4
Winter Flower Show: Home for the Holidays Will Be Extended to Sun., Jan. 10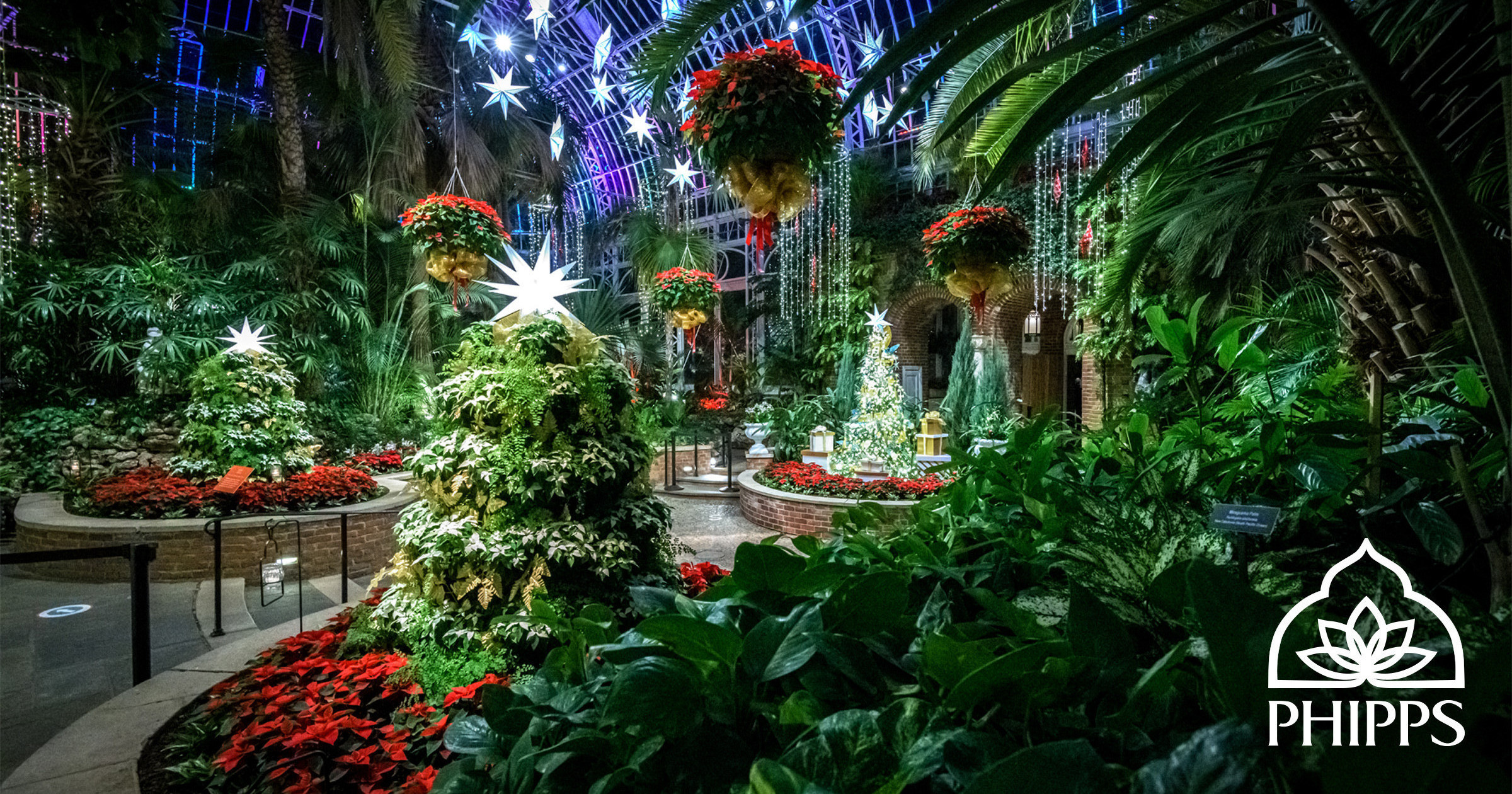 Pittsburgh, PA – Phipps Conservatory and Botanical Gardens will reopen to the public on Mon., Jan. 4 and is extending the length of Winter Flower Show: Home for the Holidays through Sun., Jan. 10. Featuring whimsical, elegant and festive displays inside the glowing glasshouse, Home for the Holidays provides a perfect and safe holiday experience for all ages.

The comforts of home are brought to life in signature Phipps fashion, with beautiful, enchanting blooms greeting guests as they wander through room after room of seasonal splendor. Guests will delight at Phipps' magical carousel floating on a glassy pond, a cozy cabin sitting snugly amidst a snowy forest of blue, purple, white and silver plants, a topiary animal display that explores winter hibernation habits, and a living room scene featuring furniture — such as armchairs, a grandfather clock, chandeliers and tree skirts — brought to life with plant materials.

Guests can still enjoy the beauty of Phipps displays all from the comfort of home with the Winter Flower Show Virtual Video Tour. This includes a 25-minute video walkthrough of every room in this year's spectacular show accompanied by festive background music. Plus, an alternate version with special commentary from CEO Richard Piacentini and Associate Director of Exhibitions and designer of Home for the Holidays Jordyn Melino describing what it took to bring the magic of Phipps displays to life. Buy or rent at phipps.conservatory.org/VirtualTour.

Winter Flower Show: Home for the Holidays will be extended to Jan. 10. Hours are 9:30 a.m. – 11 p.m. daily. Tickets must be reserved in advanced. For more information and to reserve tickets, visit phipps.conservatory.org/Tickets. Winter Flower Show: Home for the Holidays was designed by Associate Director of Exhibitions Jordyn Melino.

###

About Phipps: Founded in 1893, Phipps Conservatory and Botanical Gardens in Pittsburgh, PA is a globally recognized green leader with a mission to inspire and educate all with the beauty and importance of plants; to advance sustainability and promote human and environmental well-being through action and research; and to celebrate its historic glasshouse. Encompassing 15 acres including a historic 14-room glasshouse, 23 distinct indoor and outdoor gardens and industry-leading sustainable architecture and operations, Phipps attracts more than half a million visitors annually from around the world. Learn more at phipps.conservatory.org.

Watch TEDx: What We Can Learn From an Old Glasshouse: A look at the evolving way we connect people to nature at Phipps, demonstrate how human and environmental health are inextricably connected, and show that to age gracefully, we must continually reinvent ourselves to evolve with the rest of the world.