Poinsettias & Pointe Shoes
For Immediate Release
Contact: Joe Reed | Director of Marketing and Communications
412-622-6915, ext. 3801 ǀ jreed@phipps.conservatory.org
Nicole Sauter | Pittsburgh Ballet Theatre School Manager of School Marketing & PR
412-454-4459 | nsauter@pittsburghballet.org
Phipps Conservatory and Pittsburgh Ballet Theatre School Commence the Holidays with "Poinsettias & Pointe Shoes"
This family-friendly event features dance vignettes from "The Nutcracker" and sneak peek of Phipps' new Winter Flower Show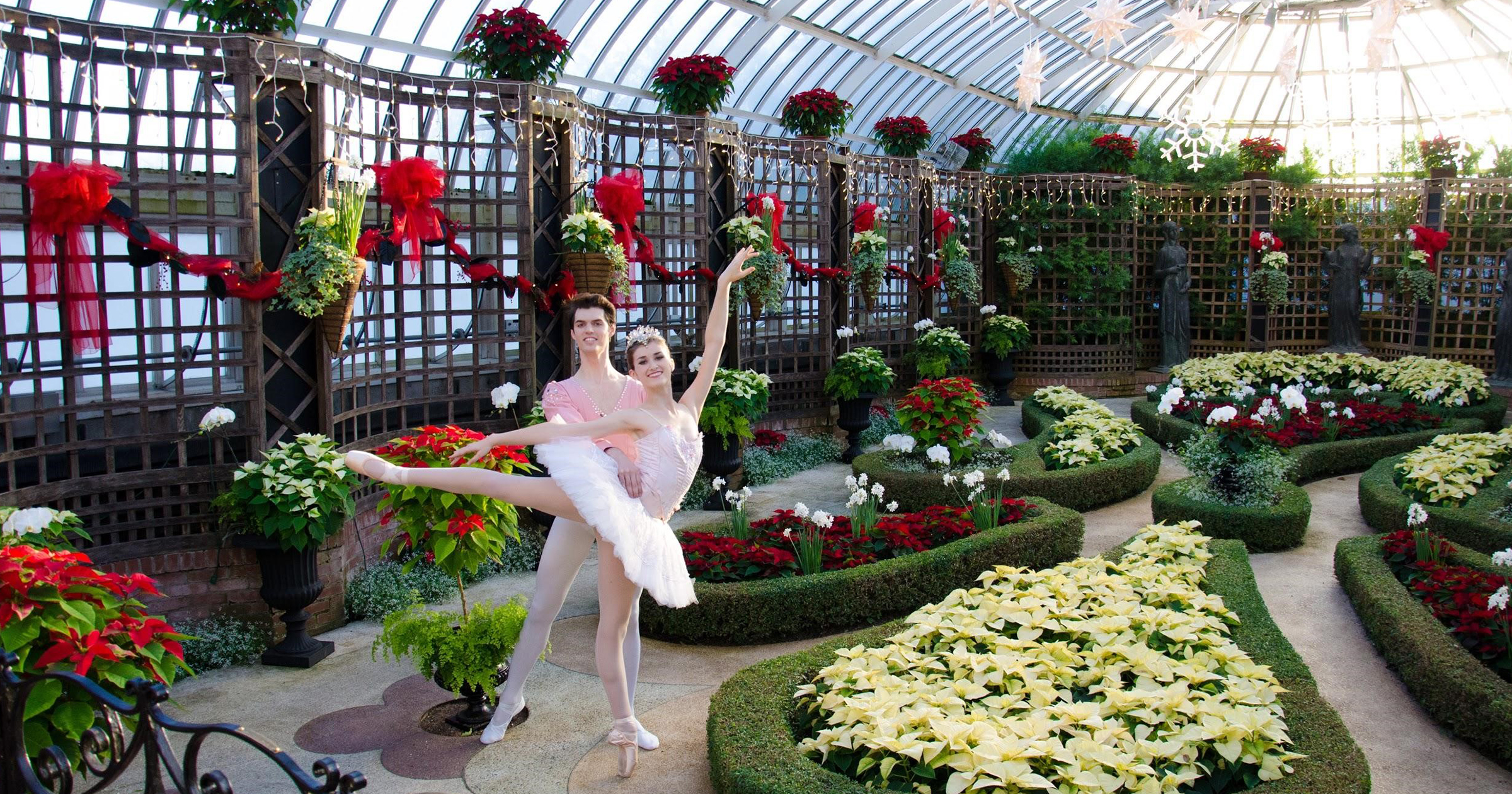 Pictured: Former PBT School Grad students; current PBT Corps de Ballet member Jack Hawn
Pittsburgh, PA (Sept. 30, 2019) — Phipps Conservatory and Botanical Gardens and Pittsburgh Ballet Theatre (PBT) will kick off the holidays with a seasonal favorite: Poinsettias and Pointe Shoes. Excerpts of PBT's "The Nutcracker" will be performed inside Phipps' historic glasshouse on Mon., Nov. 25, 2019. Three sessions will be offered with performances at 4:30, 6 and 7:15 p.m. Tickets can be purchased at https://www.pbt.org/performances/poinsettias-and-pointe-shoes/ or by calling 412-454-9107.
Guests will see classic vignettes from Terrence S. Orr's "The Nutcracker," including the beloved Dance of the Sugar Plum Fairy and Waltz of the Flowers, performed by PBT School's talented Pre-professional students. After the show, visitors can stick around for a meet-and-greet and photo opportunity with the dancers. Plus, tickets include Conservatory admission, so guests can explore the glasshouse for a sneak peek of the colorful poinsettias, glowing evergreens and festive displays of Phipps' Holiday Magic! Winter Flower Show and Light Garden. Top off the evening with wine and refreshments at Café Phipps.
Admission to the 4:30 p.m. session costs $28 for adults and $15 for children, tickets for the 6 and 7:15 p.m. sessions cost $30 for adults and $17 for students. All tickets include an exclusive 50-percent-off ticket special to attend PBT's full-length performance of The Nutcracker, onstage at the Benedum Center Dec. 6 – 29.
Phipps members and PBT subscribers receive a 10-percent discount to Poinsettias and Pointe Shoes. The discount code will be sent via email. Reservations to this event are required and spots fill up fast. Reserve tickets by visiting www.pbt.org or calling 412-454-9107.
# # #
About Phipps and Winter Flower Show
Founded in 1893, Phipps Conservatory and Botanical Gardens in Pittsburgh, PA is a green leader among public gardens with a mission to inspire and educate all with the beauty and importance of plants; to advance sustainability and promote human and environmental well-being through action and research; and to celebrate its historic glasshouse. Phipps presents Holiday Magic! Winter Flower Show and Light Garden from Nov. 29 through Jan. 12. Learn more: phipps.conservatory.org.
About Pittsburgh Ballet Theatre and The Nutcracker
One of the most exciting ballet companies in the United States, Pittsburgh Ballet Theatre has built a legacy of excellence and innovation since its founding in 1969. From Dec. 6-29, at the Benedum Center, PBT presents the classic story, iconic choreography and soaring score of The Nutcracker. Celebrating its 18th anniversary this season, the Pittsburgh-inspired production will grace the stage one last time under the direction of Artistic Director Terrence S. Orr. Tickets are available by visiting www.pbt.org, calling 412-456-6666 or visiting the Box Office at Theater Square in the Cultural District.