Poinsettias and Pointe Shoes
Fri., Nov. 17; 4:30, 6 and 7:30 p.m. – 6 p.m. performance is SOLD OUT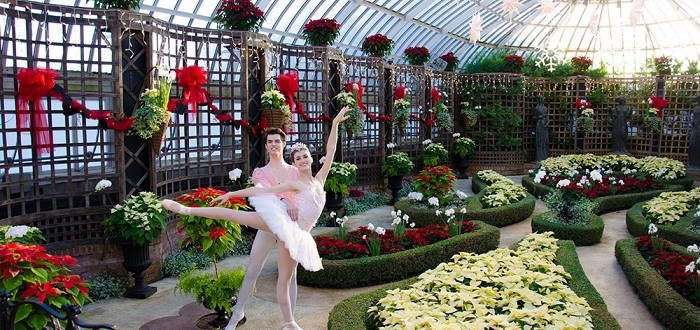 Kick off the holiday season with two of Pittsburgh's most beloved traditions.
Phipps and Pittsburgh Ballet Theatre are proud to present Poinsettias and Pointe Shoes — a special family-friendly event that will bring the magic of The Nutcracker to Phipps' historic glasshouse on Fri., Nov. 17. This one-night-only performance features a sampling of ballet vignettes from Terrence S. Orr's The Nutcracker, including the beloved "Dance of the Sugarplum Fairy," as performed by talented, pre-professional Pittsburgh Ballet Theatre students. After the show, visitors can stick around for a meet-and-greet session and photo opportunity with the dancers, explore the Conservatory for a sneak peek at some of the colorful poinsettias, glowing evergreens and festive displays of Phipps' Winter Flower Show and Light Garden, and stop by Café Phipps for wine and refreshments.
This season, three sessions of Poinsettias and Pointe Shoes will be offered, with performances at 4:30, 6 and 7:30 p.m. The 6 p.m. performance is SOLD OUT and tickets to the 4:30 and 7:30 p.m. performances are required and limited, so purchase yours today! All tickets must be purchased through Pittsburgh Ballet Theatre by visiting www.pbt.org or calling 412/454-9107. Seating is not assigned and is available on a first-come, first-served basis. When you purchase tickets to this event, you receive an exclusive 50-percent-off ticket special to attend Pittsburgh Ballet Theatre's full-length performance of The Nutcracker at the Benedum Center.
Phipps and Pittsburgh Ballet Theatre members can receive a 10 percent discount on tickets to Poinsettias and Pointe Shoes. Phipps members should email members@phipps.conservatory.org to receive the discount code.
Photos © Aimee DiAndrea and Phipps Staff
More Holiday Fun
Fri., Nov. 24 – Sun., Jan. 7
Winter Light Garden open evenings 5 – 11 p.m.*

The most magical show of the year is here! Join us to celebrate the spirit of the season with glowing evergreens, festive poinsettias, whimsical props and our stunning outdoor Winter Light Garden.