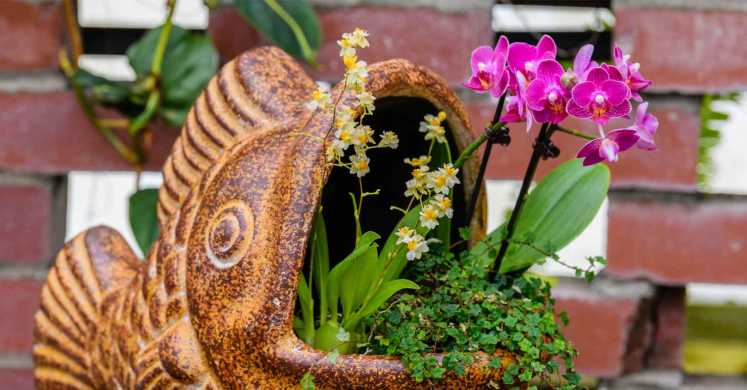 This Week at Phipps: Jan. 24 – 30
There's always something new to see and do at Phipps! This weekly blog post provides a run-down of the latest happenings so you can plan your visit. Events listed below require no advance registration unless noted otherwise.
Open Daily:
Orchid and Tropical Bonsai: An Ocean of Color
Immerse yourself in stunning displays that burst with color and fragrance as you admire orchids in a vast array of shapes, sizes and colors, as well as the exquisitely trained specimens in our tropical bonsai collection.
Ikebana International Exhibit
Explore these delicate arrangements as they adorn our gorgeous Welcome Center with beauty, grace and tranquility.
Planets Earth Virtual Exhibit
A dynamic exhibit at the Center for Sustainable Landscapes (and now online) addresses the pressing environmental issues of our time and proposes a new way of thinking about how to solve them.
Festive Nights of Winter Lights
Only on Friday and Saturday evenings on from 5 – 10 p.m., drop in for a serene stroll among the luminous orbs, trees, towers and fountains of light in our Outdoor and Children's Discovery Gardens.
Garden Railroad: Bridges and Tunnels
Join us on a locomotive journey through a delightful miniature display of the bridges, tunnels and inclines of western Pennsylvania and beyond at this all-new Garden Railroad exhibit!
Mon., Jan. 24:
Gardening for Four Seasons of Interest | 6:30 p.m. – 8:30 p.m.
Join us for an exciting look at what your landscape can be throughout the seasons! From bulbs to annuals, perennials, shrubs and trees, they'll all be covered, along with site evaluation, problem solving, and ideas for hardscape.
Tues., Jan. 25:
Perpetual Nature Journaling | 1 p.m. – 4 p.m.
This afternoon workshop will outline the basics for creating a perpetual nature journal of plants, animals and so much more!
Virtual Native Plant and Sustainability Conference | 1 p.m. – 4 p.m.
Phipps Conservatory and Botanical Gardens' annual Native Plant and Sustainability Conference brings together local and national experts for a forum on plants, landscapes and our roles as environmental stewards.
Photo © Paul g. Wiegman