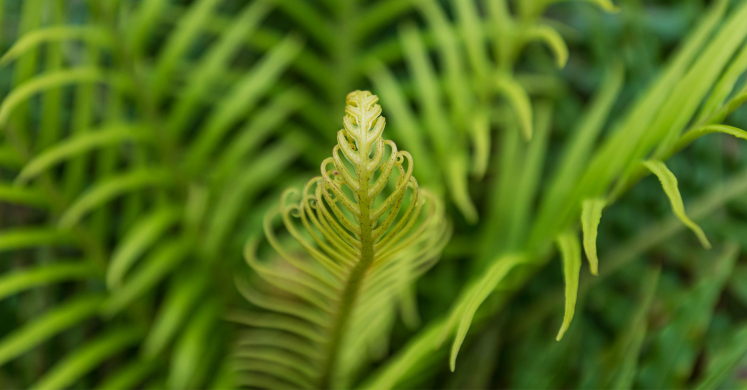 This Week at Phipps: May 15 – 21
There's always something new to see and do at Phipps! This weekly blog post provides a run-down of the latest happenings so you can plan your visit. Events listed below require no advance registration unless noted otherwise.
Open Daily:
NOW OPEN: Flowers Meet Fashion: Inspired by Billy Porter
This spectacular new show will feature brilliant horticultural displays and breathtaking fashion designs inspired by Billy Porter's local roots and iconic array of accomplishments as an award-winning actor, singer, director, composer and playwright.
Top it Off: Area Schools Create Sustainable Fashions
Area middle and high school students were challenged to create their own fabulous, wearable hats made from repurposed materials as part of the Fairchild Challenge. They were encouraged to let their interests and aesthetics inspire them to create a hat that makes a statement.
Pittsburgh Botanic Garden's Native Plants
Currently on display at Phipps Garden Center in Mellon Park, plant lovers of all ages can enjoy stunning illustrations of plants growing at the Pittsburgh Botanic Garden. Pittsburgh Botanic Garden's Native Plants is part of the Flora Project, a collaboration between Phipps Conservatory and Botanical Garden's Botanical Art and Illustration Program and the Allegheny Highlands Botanical Art Society.
Tropical Forest Hawai'i: Aloha 'Aina
Tropical Forest Hawai'i: Aloha 'Aina invites guests to take an exciting, immersive journey through the rich history, nature and culture of the Hawaiian archipelago.
Planets Earth Virtual Exhibit
A dynamic exhibit at the Center for Sustainable Landscapes (and now online) addresses the pressing environmental issues of our time and proposes a new way of thinking about how to solve them.
Mon., May 15:
Go Public Gardens Discount Day: 50% Off Admission | 9:30 a.m. – 5 p.m.
For one special day, enjoy half-priced admission to Phipps as part of an annual celebration of the nation's public gardens.

Introduction to Herb Gardening | 6:30 – 8 p.m.
Demystify the process of starting an herb garden, learn about site selection and preparation, and discover how to select herbs that will suit your needs. Find the best uses and benefits of herbs and how to distinguish them.
Tues., May 16:
Pan Asian Tour: Personalized Pad Thai | 6 - 8 p.m.
Join Chef Rachel Homan on a culinary tour through Asia! We'll start the season with Personalized Pad Thai with your choice of protein, a Thai Peanut Salad and Thai Green Beans in May.

Colors of Spring and Summer Series: Colors of Spring | 6 – 8:30 p.m.
In this class we will experiment with using different color combinations to invoke the different feelings and different portrayals of spring and summer and base the palette of subtle hues of nature for the time of year.
Wed., May 17:
​In-Person Story Time | 10:30 a.m. and 1 p.m.
Kids will love visiting Phipps to listen to our storyteller weave tales about gardens, fruits, vegetables, animals and other fun topics. Attend weekly sessions with a special child in your life!
Thurs., May 18:
Cupboard Cuisine: Cooking without Recipes | 6 - 7:30 p.m.
Ever find yourself staring at a pantry full of food but seeing nothing to eat? Join Beth Taylor and Erika Bruce as they dive into cooking with what you have on hand.

Woodland Botanical Nature Design | 6:30 – 8 p.m.
Create a gathering of nature's materials, plants and floral in this unique design, capturing the reflection of a woodland garden.

Grass to Garden | 6:30 – 8 p.m.
This class teaches you how to transform your lawn into a thriving garden. Learn various ways to remove your lawn without disrupting the existing soil structure or losing valuable nutrients.
Sat., May 20:
Bird Watching Walk in Schenley Park | 8 – 9:30 a.m.
Join us for a morning of exploring the ecology and biology of our native Pennsylvania birds! We will start with an introduction to bird life and then seek out some feathered neighbors in Schenley Park.

Catalan Tray | 9 a.m. – 3:30 p.m.
Pennsylvania native artist Dan Brocket from Foggy Blossom Farm is bringing his homegrown willow to Phipps for a one-of-a-kind craft experience. Employing traditional weaving techniques, this one-day workshop will have you taking home a decorative tray made from sustainably grown plants native to the Pennsylvania ecosystem.

Plant ID Walk: Trees and Shrubs for Urban Yards | 10 a.m. – 12 p.m.
On each Saturday walk, landscape architecture instructor and plantsman Joshua Beblo will introduce you to dozens of plants in the landscape. Walks will focus on different themes, and any plants you pass are fair game for identification and discussion.
Sun., May 21:
Photo © Phil Johnson ll