Select Sundays; 1:30 – 3:30 p.m.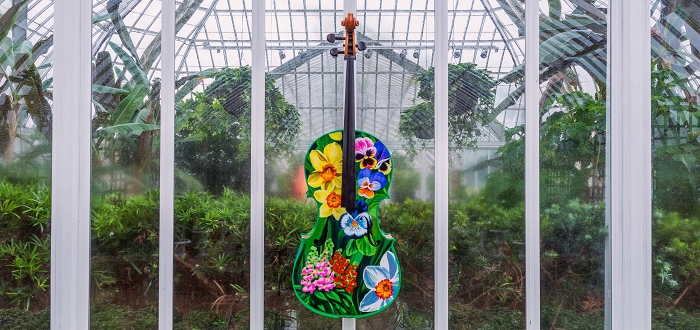 Enjoy a tuneful stroll through the gardens of Phipps with live music performances on select Sundays.
Phipps is proud to present live musicians on select Sundays from 1:30 – 3:30 p.m., giving you a unique opportunity to experience the visual beauty of the gardens enhanced by the magic of melody. Enjoy a relaxing meal at Café Phipps, stroll through the glasshouse rooms, and make your way to Palm Court to enjoy the enchanting live performances, featuring the following artists:
Sam Stuckey and John Stuart
Sun., April 8
Carnegie Mellon University | Student Music Group
Sun., April 8
Oakland Catholic High School | High School Chamber Singers
Sun., April 22
Fox Chapel Area School Orchestra
Sun., April 29
Carolyn Keller and Ellen Carlins | Duo from the Pittsburgh Philharmonic
Sun., May 6
Joanne Bassilios | Pittsburgh Recorder Society
Sun., May 20
Tara Yaney | Johnstown and Westmoreland Symphonies
Sun., June 3
Jennifer Sopko | Penn Trafford Community Flute Choir
Sun., July 29
More Events You'll Enjoy
Saturdays; 11 a.m. – 3 p.m. Except as Noted

The revolutionary Nature Lab at Phipps and observational beehive are now open for you to discover. Drop in during our Saturday open hours and a graduate of our Learning for a Greener Future high school internship will show you around. No advance reservation is required.

Fri., May 4; 6 p.m.

Eat, drink and bid on unique plants and accessories at our 34th annual auction to benefit Phipps education programs.