Celebrate Summer's Bounty at Phipps Conservatory's Tomato and Garlic Day
For Immediate Release: Thurs., Aug. 22
Contact:Julie LaBar | Director of Marketing and Communications
412/622-6915, ext. 3801 ǀ jlabar@phipps.conservatory.org
Celebrate Summer's Bounty at Phipps Conservatory's Tomato and Garlic Day
Annual event brings community together to benefit the Greater Pittsburgh Community Food Bank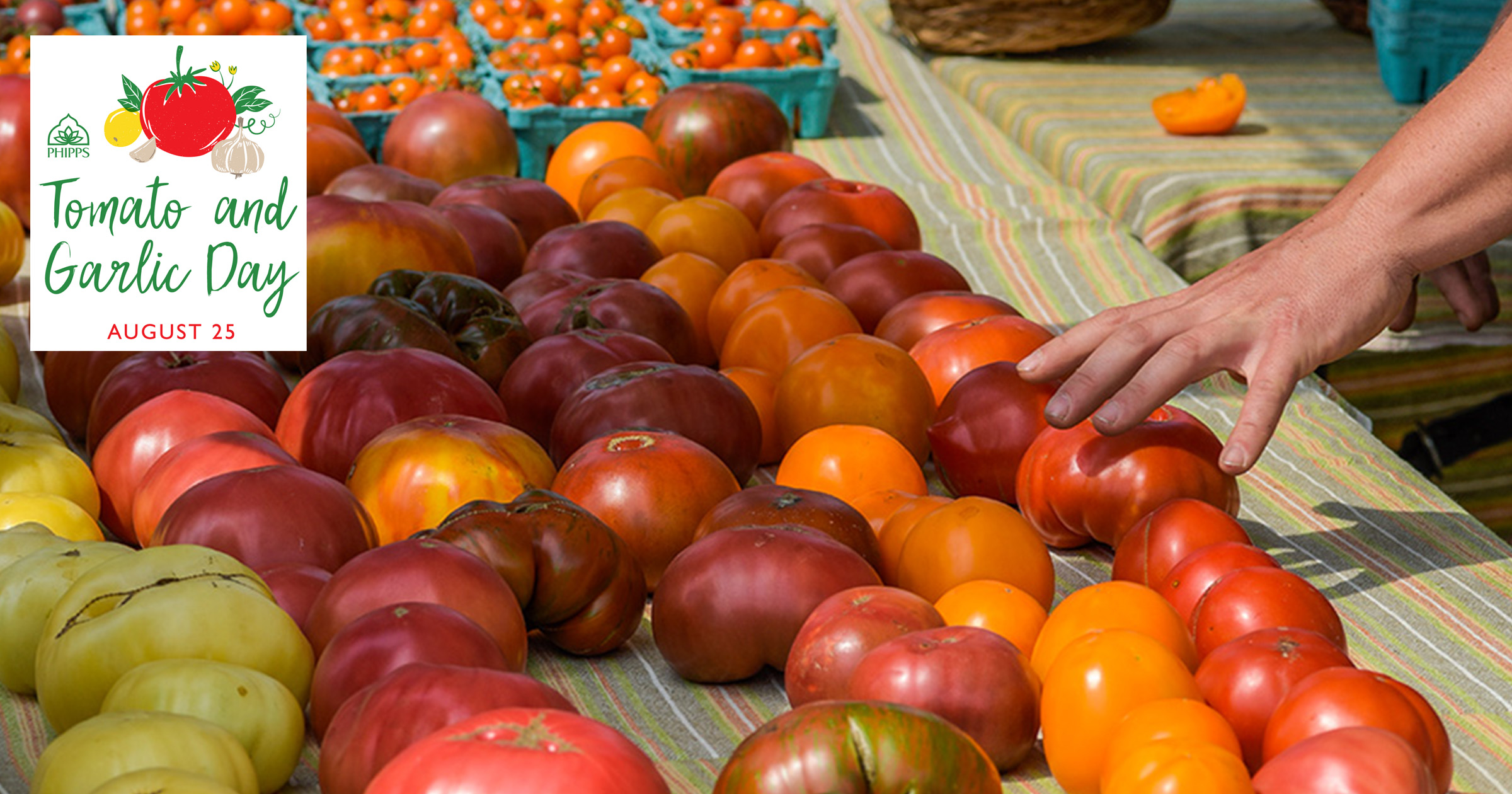 Pittsburgh, PA — Pittsburgh will celebrate the delicious, fresh foods of the summer season for an important cause at Phipps Conservatory and Botanical Gardens' 15th annual Tomato and Garlic Day on Sun., Aug. 25 from 11 a.m. – 4 p.m.
Held on Phipps' front lawn, the public is invited to shop the festive outdoor market filled with fruits and vegetables, olive oils, specialty goods and additional offerings for sale from area vendors. Participating vendors include Apoidea Apiary, Café Chocolade, Cherry Valley Organics, Conover Organic Farm, Edible Earth Farm, Olive & Marlowe, Pastamore and Hucklebee Farm.
Plus, enjoy family-friendly pot-a-plant activities, sample Doug Oster of Everybody Gardens' Ultimate Garlic Lovers' Soup, meet the tomato mascot and more. Tomato and Garlic Day's outdoor market and activities are free to attend.
At the event, donate fresh produce to the Greater Pittsburgh Community Food Bank and receive free admission to Phipps on Sun., Aug. 25 during event hours to experience the spectacular Summer Flower Show: Van Gogh in Bloom. Produce donations can be brought from guests' gardens, purchased from a local farm stand or bought from a Tomato and Garlic Day vendor to provide fresh, healthy foods to local families in need. Last year's event collected almost 1,500 pounds of food, making a big difference in the lives of local families. Donations of fresh produce that are hardy and travel well, including carrots, peppers, zucchini and celery, are especially helpful.
Adding to this summer celebration of delicious, healthy foods, specially-themed culinary classes are available throughout the day on Sun., Aug. 25 in Phipps' state-of-the-art Botany Hall Kitchen:
From Garden to Café with Chef Amy from Café Phipps – 11:30 a.m.-12.30 p.m. – Join Chef Amy for an exclusive behind the scenes look on the journey from garden to table at Phipps filled with interactive cooking demos, sustainable practices and helpful at-home tips.
Fresh Sauce with Chef James Kaufmann – 1-2 p.m. – Join Chef Kaufmann for a made-from-scratch sauce demo, learning how to make your own tomato and garlic sauce with fresh basil pesto.
Salsa Demo with Salsa Sam – 2:30 – 3:30 p.m. - Take salsa to the next level with Salsa Sam's Eatery, as this Pittsburgh favorite shares the secrets to making the perfect salsa using fresh, local ingredients.
Classes are $15 each with discounts available for Phipps' members. Advance registration for cooking classes is required at phipps.conservatory.org.
Don't miss the opportunity to savor the flavors of summer at Phipps' 2019 Tomato and Garlic Day! For more information, visit phipps.conservatory.org.
###
About Phipps: Founded in 1893, Phipps Conservatory and Botanical Gardens in Pittsburgh, PA is a globally recognized green leader with a mission to inspire and educate all with the beauty and importance of plants; to advance sustainability and promote human and environmental well-being through action and research; and to celebrate its historic glasshouse. Encompassing 15 acres including a historic 14-room glasshouse, 23 distinct indoor and outdoor gardens and industry-leading sustainable architecture and operations, Phipps attracts nearly half a million visitors annually from around the world. Learn more at phipps.conservatory.org.