Phipps Garden Center Renovation
Refreshing and enhancing Mellon Park's community center for cultivating botanical knowledge, inspiring creative minds and spreading the joy of gardening
​Located inside a historic former carriage house in Mellon Park, the Garden Center was established in 1948 as a site for groups to meet and to cultivate botanical knowledge, inspire creative minds and spread the joy of gardening. In 2016, Phipps and its partners began the process of reimagining this historic community asset to maximize its potential for education and enrichment while honoring the original architecture, its position within the public space of Mellon Park and its important relationship to neighboring landmarks and institutions including the Mellon Park Walled Garden and Pittsburgh Center for the Arts.
Note: The primary project scope includes the Garden Center, Scaife Garage and the landscape immediately adjacent to the building. The maintenance of other areas of the park and activities that take place in those areas, such as weddings in the Walled Garden, Terrace Garden or Herb Garden, belong to and are run by the City, and cannot be included in the plan.
Phipps will be hosting community meetings as the project progresses, and you can also send us your feedback online. Stay tuned to this page for updates, and take a sneak peek at some of the exciting new features of this project below.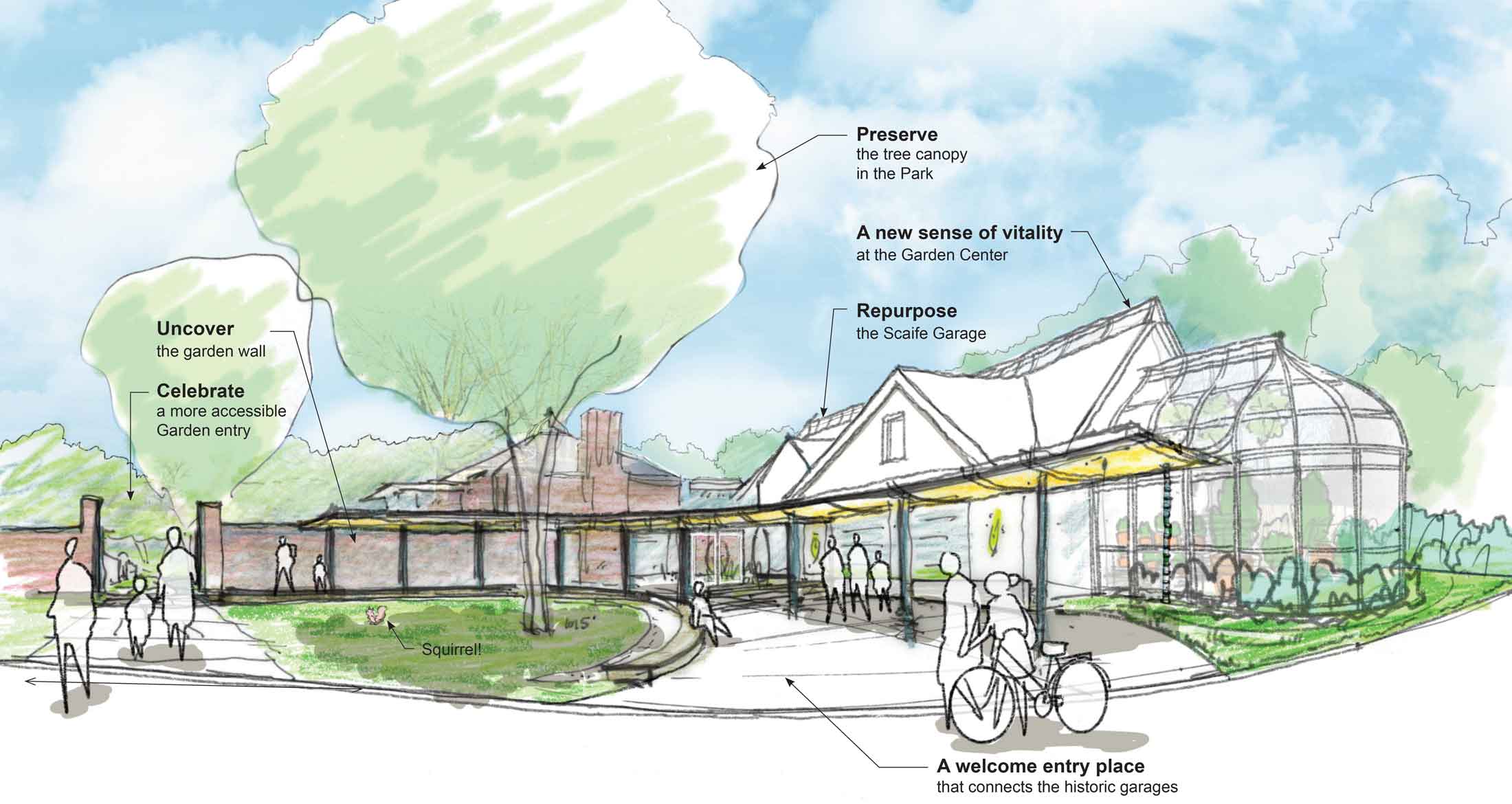 ---
Preserving History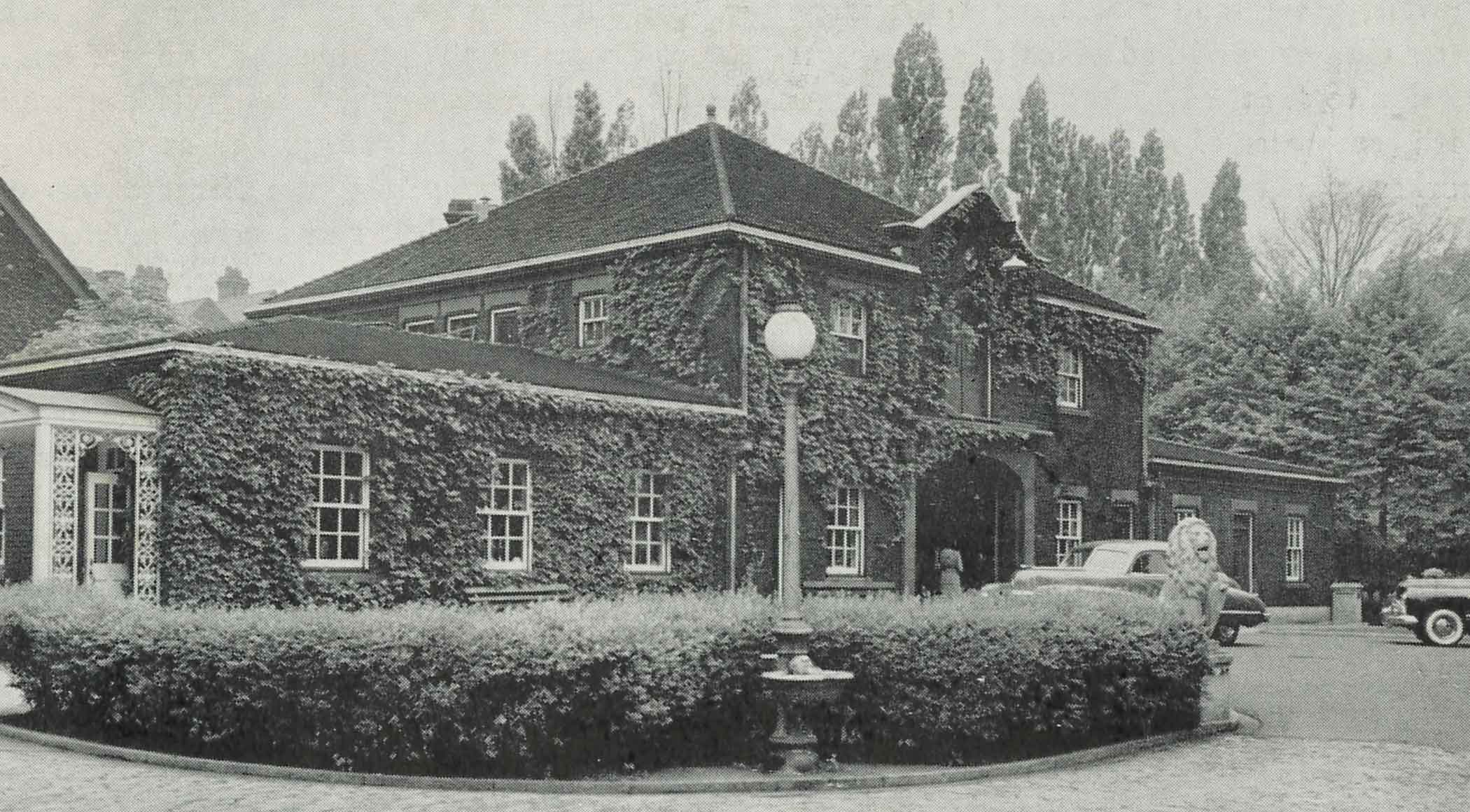 In this image, from the May 1954 issue of Carnegie Magazine, the original carriage house of the Mellon Estate is seen. The carriage house is one of two historic facilities constructed in the 1910s on this site which will be preserved and renovated as part of the Garden Center project.
---
Phipps Conservatory and Botanical Gardens

Phipps' mission statement and history remain foremost in the minds of the project team during the design phase.
Mission Statement
To inspire and educate all with the beauty and importance of plants; to advance sustainability and promote human and environmental well-being through action and research; and to celebrate its historic glasshouse.
History
Phipps Conservatory and Botanical Gardens, a great steel and glass Victorian greenhouse, has been inviting visitors to explore the beauty and mysteries of plants since 1893. Set amidst one of Pittsburgh's largest green spaces, Schenley Park, Phipps Conservatory stands as a cultural and architectural centerpiece of the city's Oakland neighborhood. In 1993, Phipps became an independent not-for-profit organization and has evolved into one of the region's most vibrant, thriving cultural services institution, bringing fresh perspectives and artists into the historic glasshouse environment. Phipps has also become a strong advocate for advanced green-building practices, sustainable gardening and a new environmental awareness.
---
Building Leadership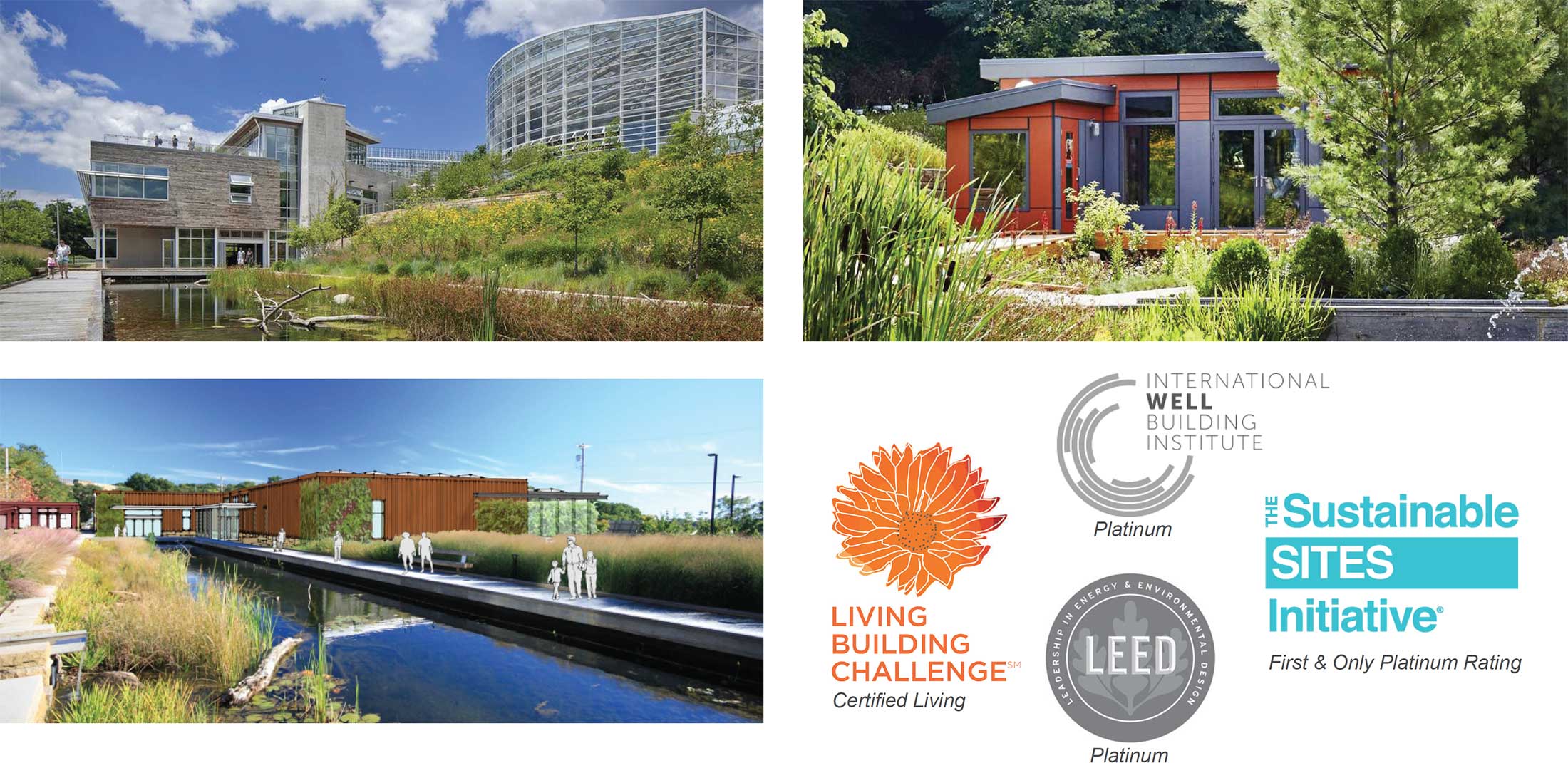 Phipps has led the sustainable building movement in recent years by erecting several of the world's greenest structures on its campus, including its Center for Sustainable Landscapes, Nature Lab and Exhibit Staging Center. Through all these efforts, Phipps prioritizes environmental stewardship, building performance and human wellness.
---
Rothschild Doyno Collaborative

Rothschild Doyno Collaborative, the Garden Center renovation's architect, is an architecture and urban design firm committed to a collaborative process with our clients that increases the value of the built environment through meaningful design solutions.
Commitment to Collaboration
Rothschild Doyno Collaborative encourages openness and innovation by exploring design issues in order to create better solutions. Their unique Design Sketchbook Process communicates alternatives, increases the exchange of ideas, enhances understanding and builds consensus.
Meaningful Solutions
Meaningful solutions elevate architectural design by linking human emotion to aesthetics. Rothschild Doyno Collaborative projects achieve this by celebrating the historical, environmental, social and spiritual assets of places and communities.
Increasing Value
Successful projects are a balance of economic, social, and physical attributes. Rothschild Doyno Collaborative uses their ESP (Economic, Physical, and Social) framework to increase understanding in order to develop shared visions.
Social Responsibility
Rothschild Doyno are dedicated to effecting change to make the world a better place, socially and environmentally, for their clients, community and future generations. They do this by focusing on social leadership, community service and environmental stewardship.
Workplace Excellence
Rothschild Doyno Collaborative are committed to a collaborative work environment that values respectful and open exchanges, cooperative learning, high aspirations, continued improvement and personal development.
---
Mellon Park: A Hidden Sanctuary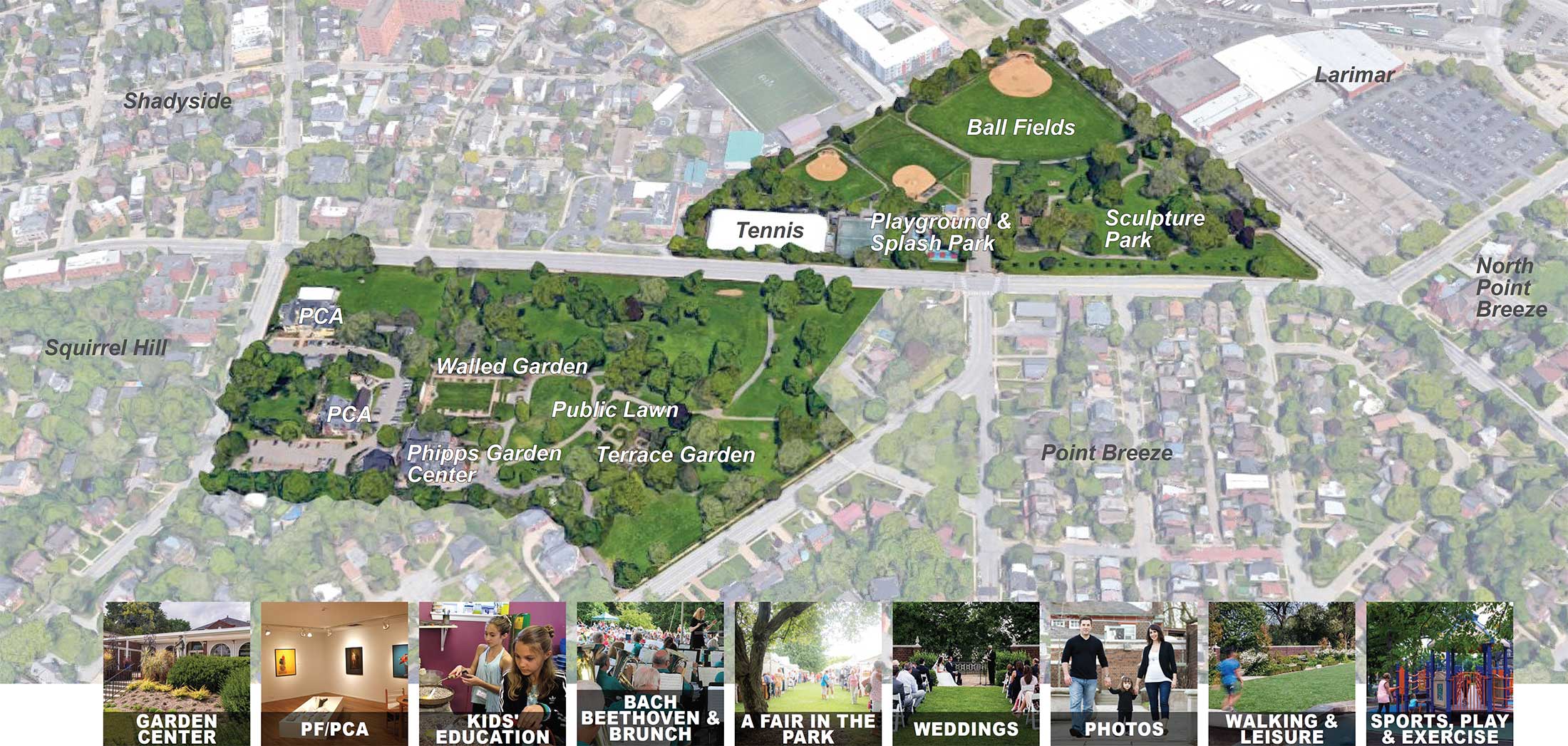 The evolution of Mellon Park is the story of a transformation from a private estate to a public park. Today the space is employed by organizations and community members for a variety of purposes, from events and education courses to sports and leisure.
---
Garden Center Community Partnerships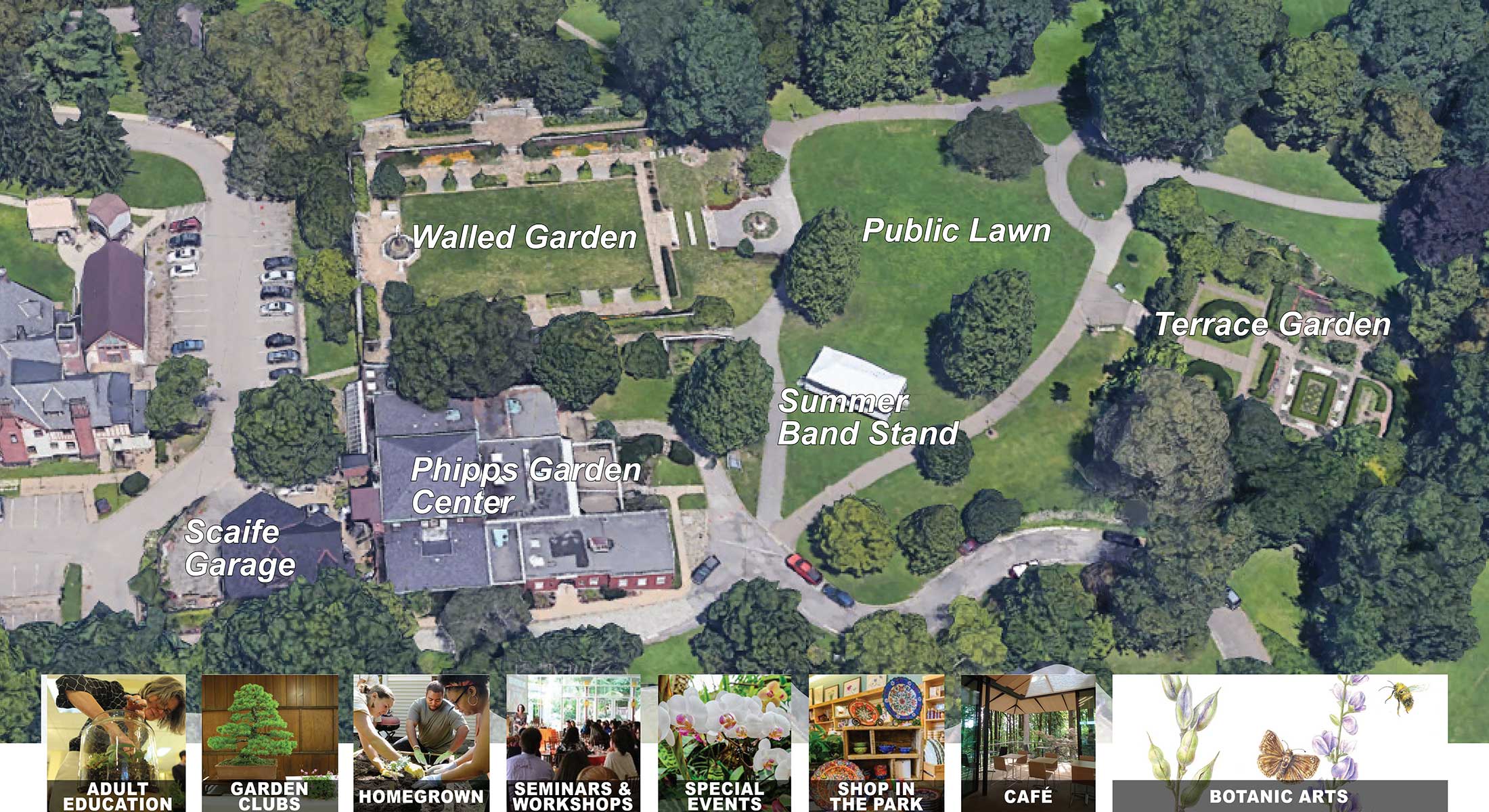 Phipps Garden Center actively supports numerous organizations and nonprofits by providing facilities for regular meetings, conferences, and exhibitions. The new space will continue to support these relationships and Phipps hopes to expand the offerings and opportunities with local partners.
Ongoing Activities
Pittsburgh Bonsai Society meetings and exhibitions
Orchid Society of Western PA meetings and exhibitions
Three Rivers Birding Society
Western PA Herb Society
Greater Pittsburgh Aquarium Society
Hosta and Daylily Society
Executive Committee of the Garden Club of Allegheny County
Native Plant and Sustainability Conference
Summer Short Course
Three Rivers Urban Soils Symposium
Sustainable Landcare Accreditation Training
Potential Future Activities
---
Gifts from the Past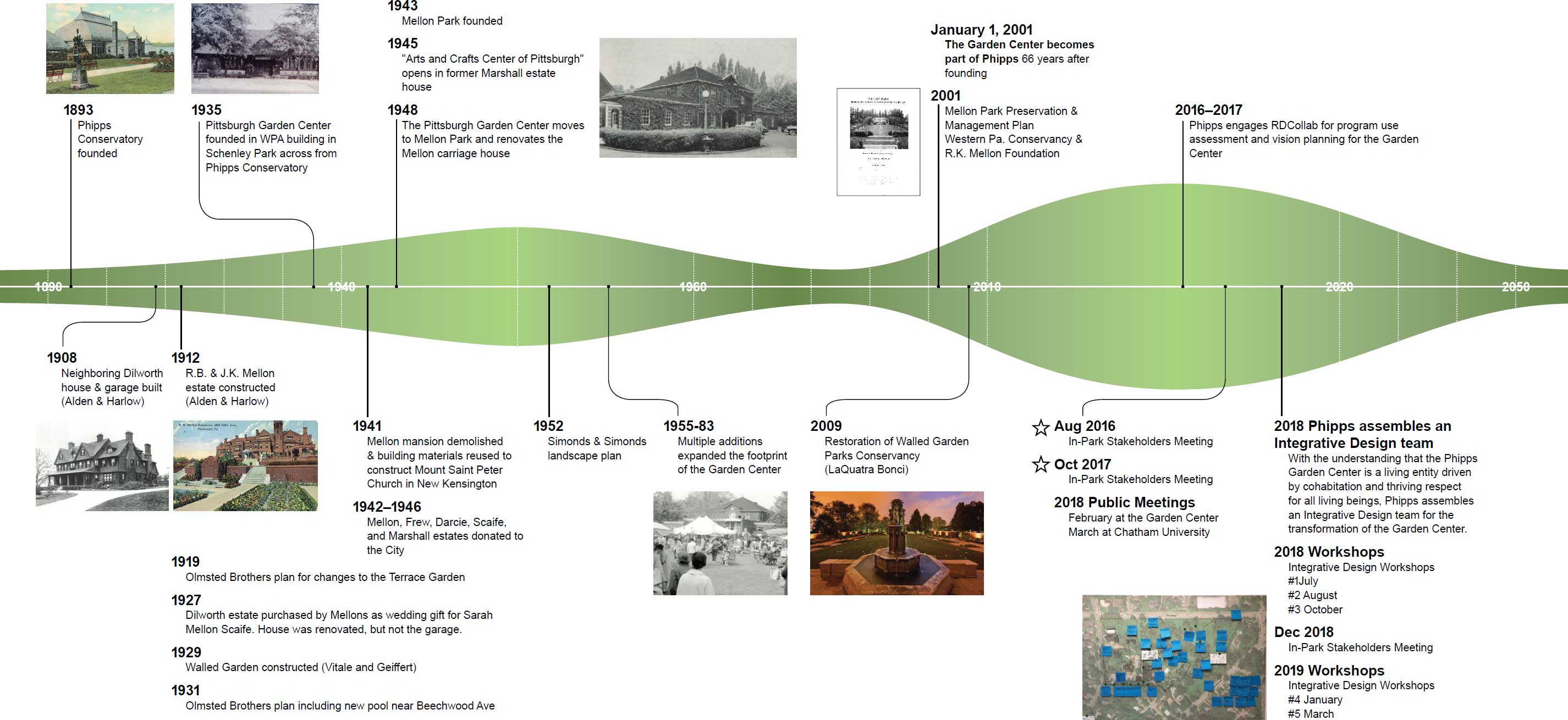 The history of the Phipps Garden Center site is a history of stewardship and legacy. Click the image above for an enlarged view.
---
Existing Conditions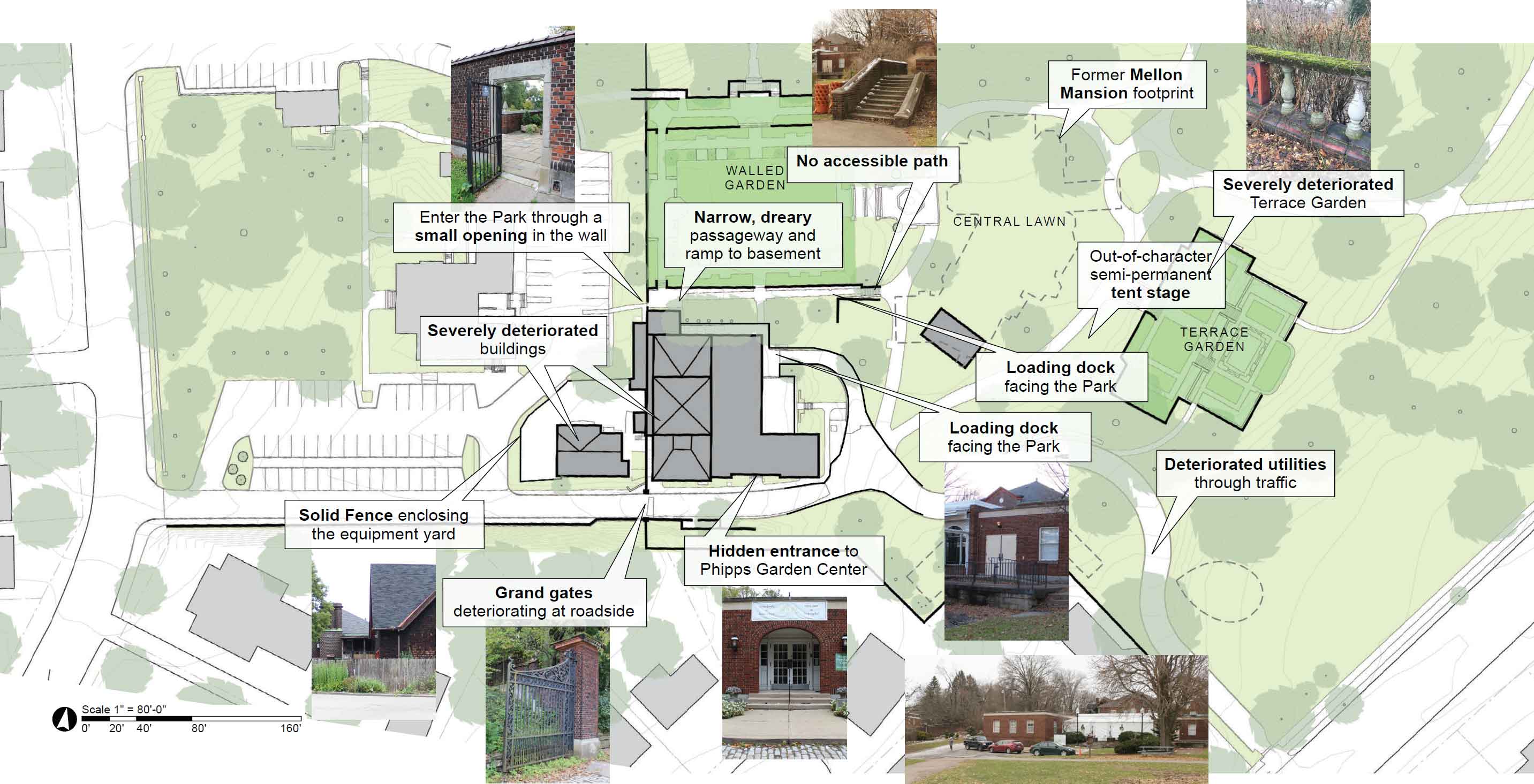 The current conditions at Phipps Garden Center leave plenty of room for significant improvement, from increased accessibility and wayfinding to modernized amenities.
---
Site Forces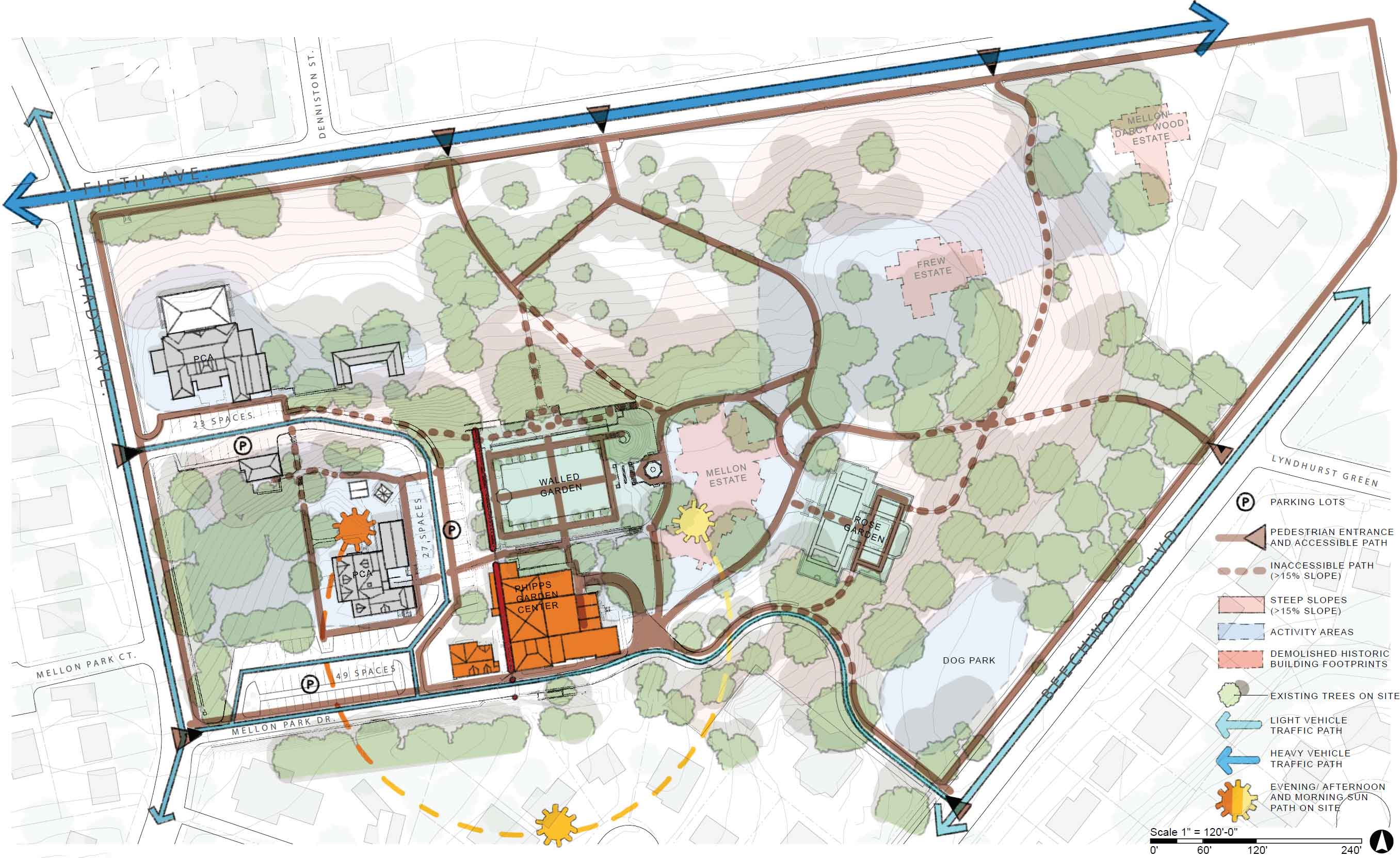 A study of site forces in Mellon Park uncovers the rich layers that comprise this rich site.
---
Building History of Additions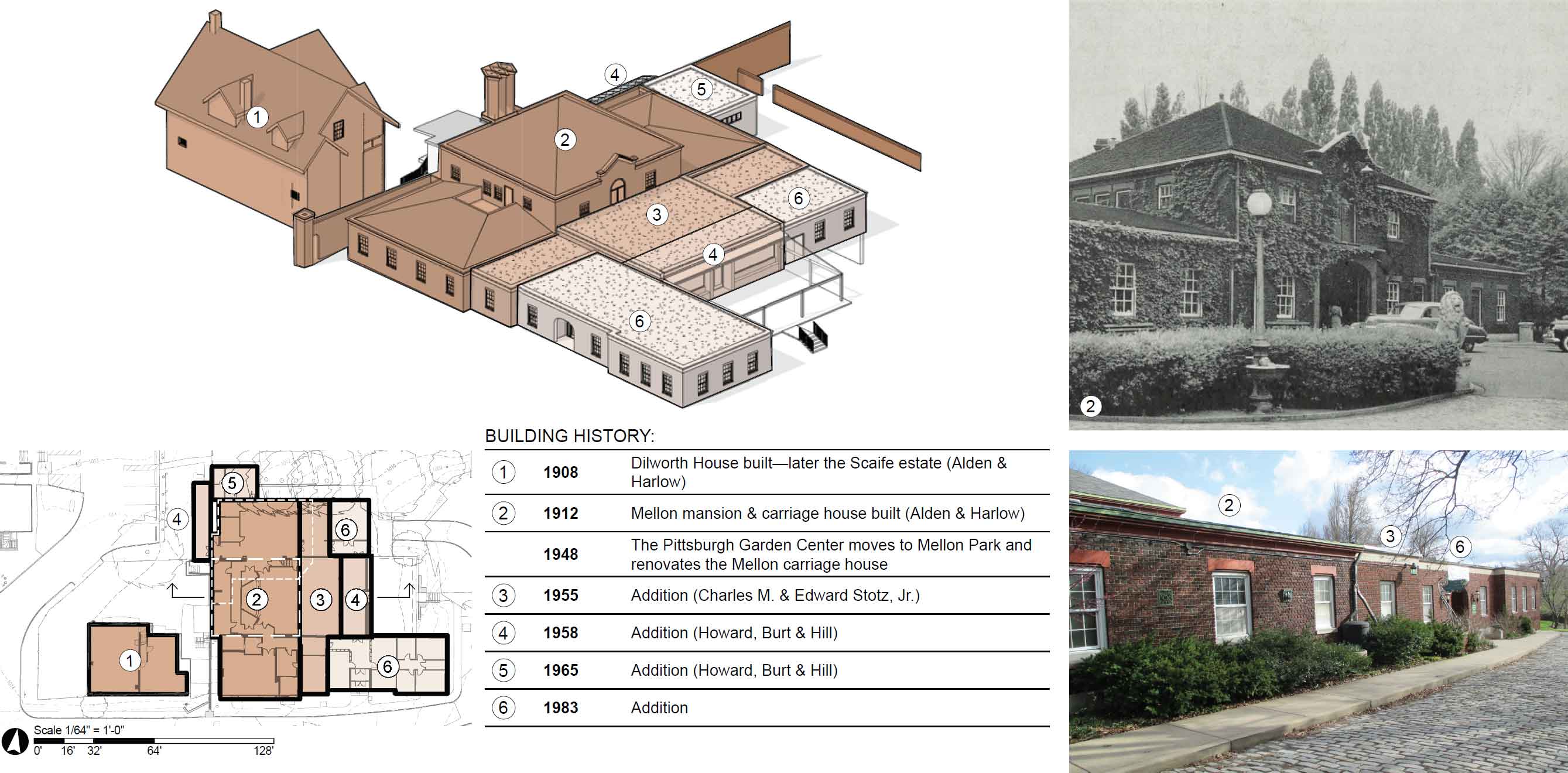 As the purpose and use of the original carriage house transformed over time, various additions were made to the original construction, resulting in the building footprint we see today.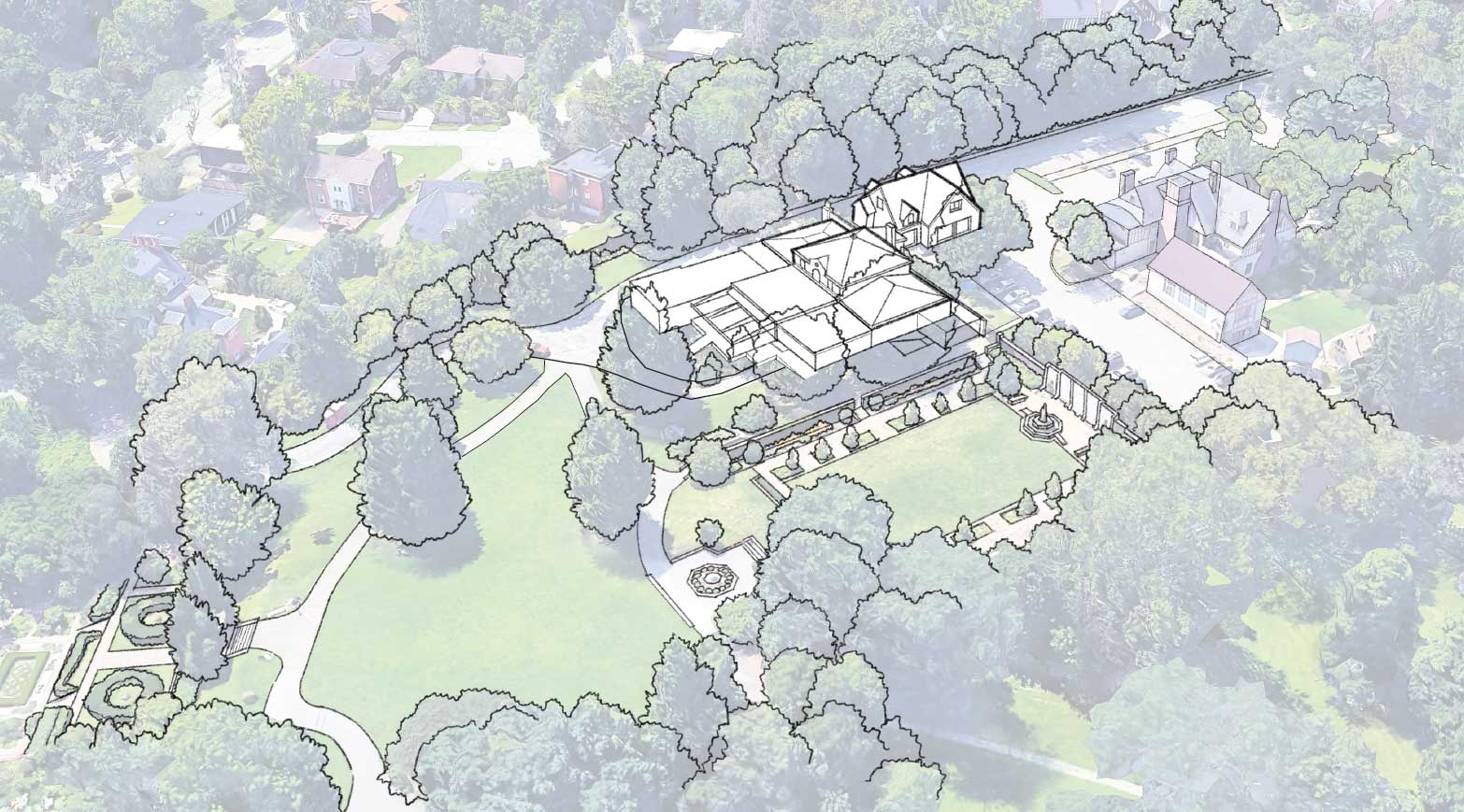 ---
Integrative Workshops

To unite the project team, community stakeholders and Phipps staff around the project goal, maximize synchronicities and ensure that key information was shared among all participants, a series of facilitated integrative design workshops was held in the fall and winter of 2018 – 2019.
---
Latest Conceptual Design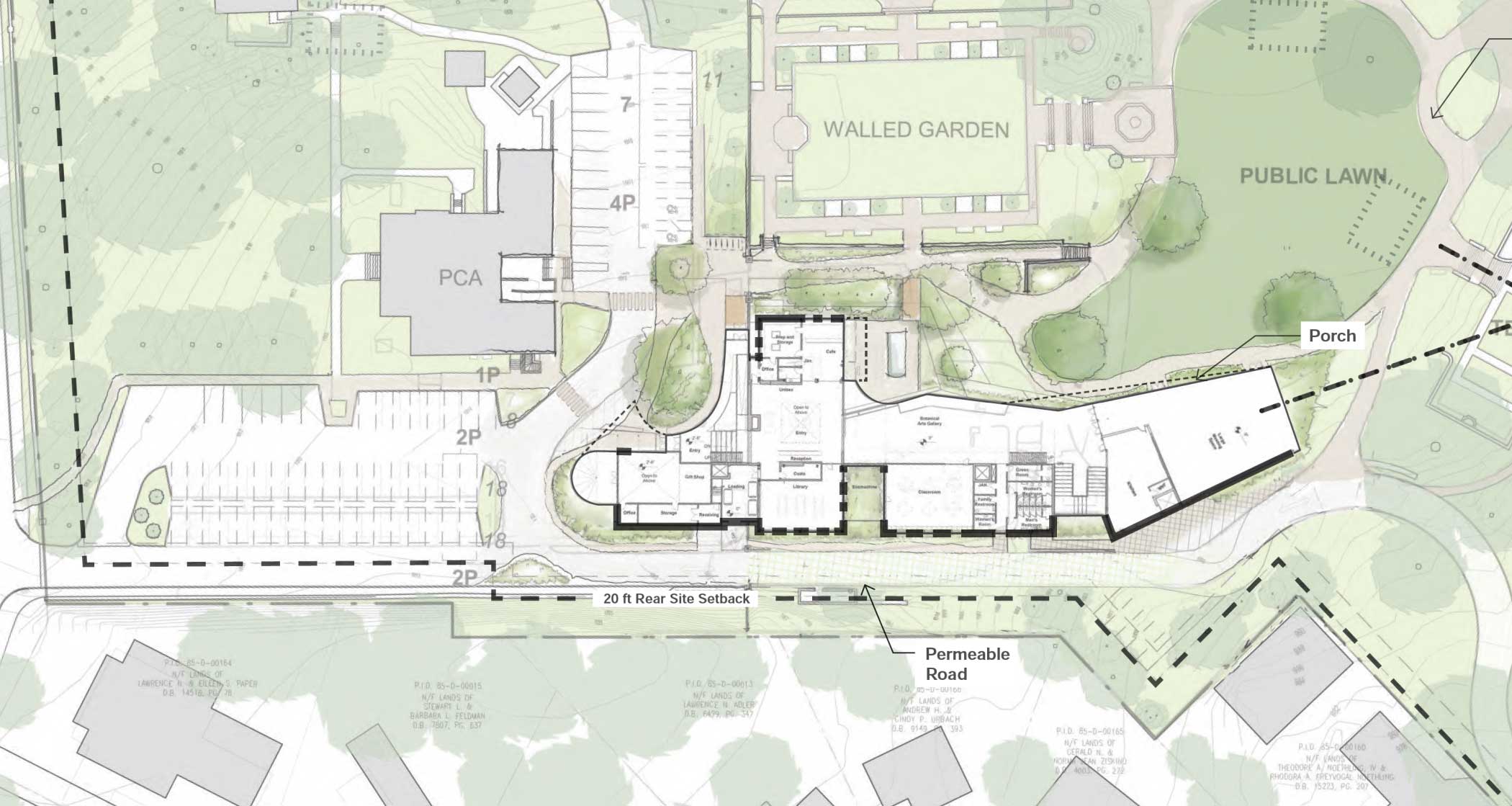 What We Heard from Community Meetings
1. Maintain open green space – particular at the central lawn
2. Maintain mature trees
3. Balance vehicular traffic through the park
4. Universal accessibility in the park for all
5. Address coordination, activity and noise in the park
6. Serve as an impetus to revitalize the Terrace Garden
7. Address mobility, parking and transportation within and to the park
---
Walled Garden
The proposed renovation honors the rich history of the existing walled garden by assuming a building footprint that sits low and maintains the tree canopy. Below, see the existing view and proposed renovation.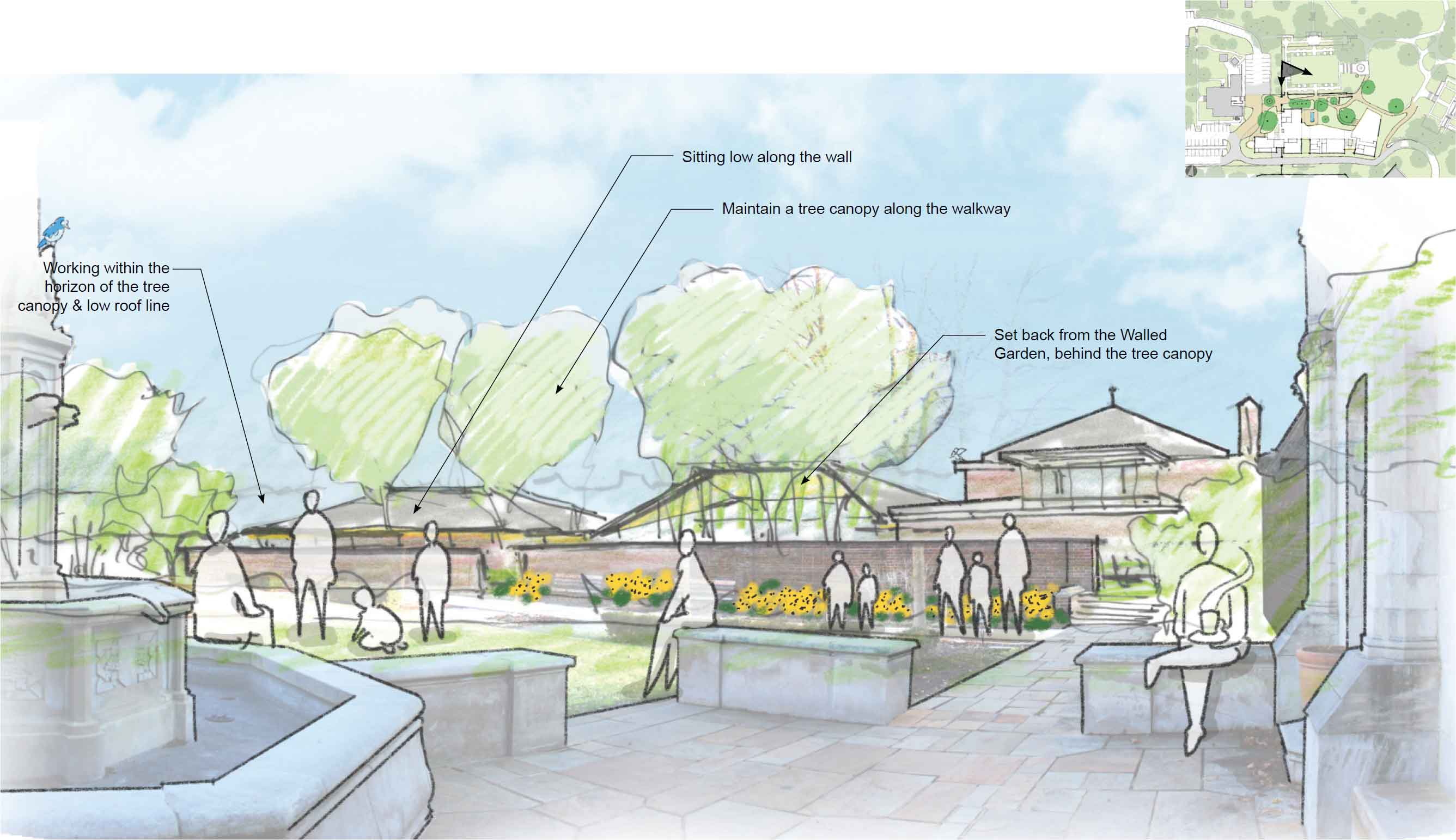 ---
East Passage
The proposed renovation entails the uncovering of the original structure's beauty alongside a new state-of-the-art pavilion and inviting walkway. Below, see the existing walled garden area and proposed renovation.
---
Mellon Lawn
The images below show the restoration as seen from the historic Mellon Lawn, which hosts many community events throughout the year.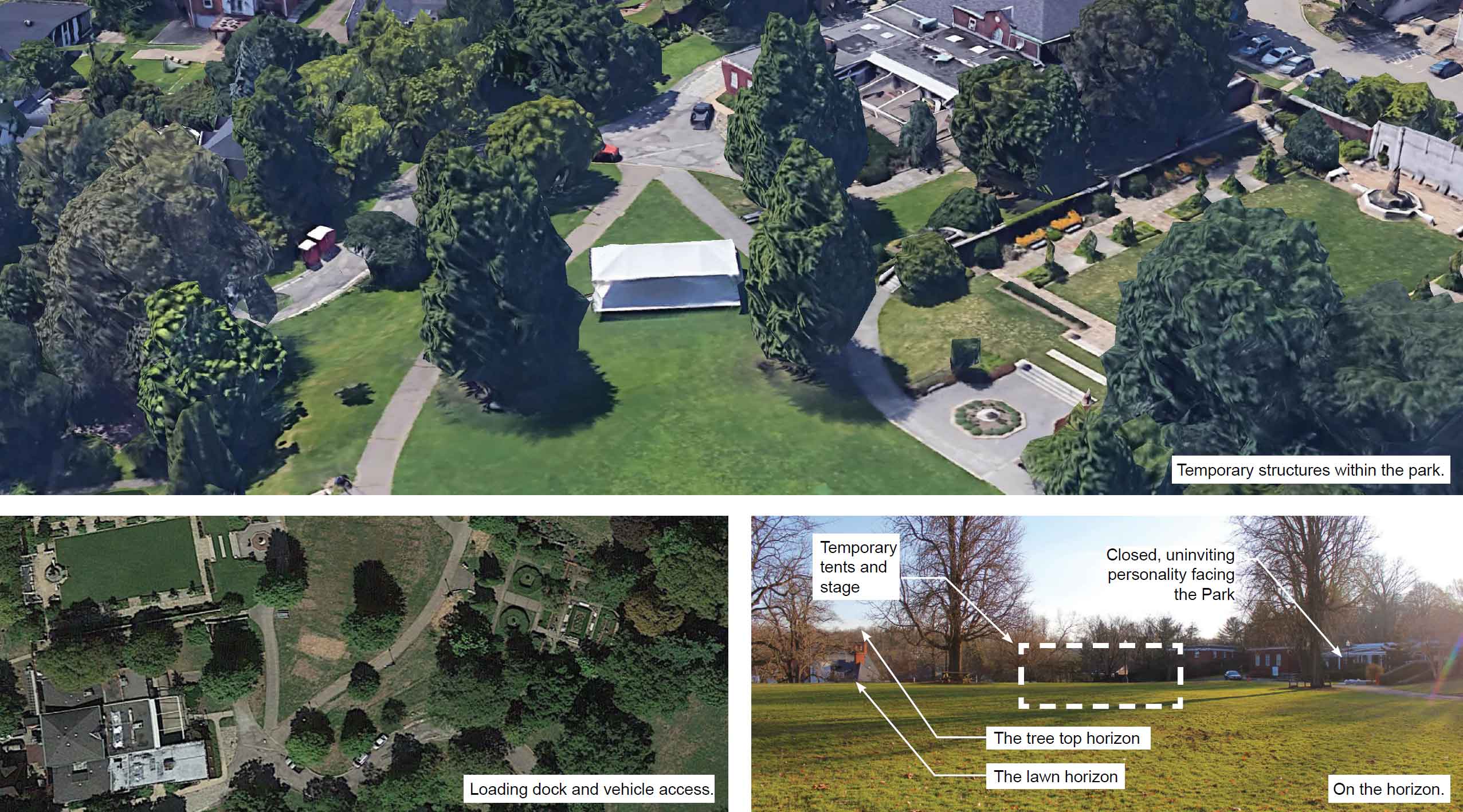 ---
Together Again
The renovated Garden Center will create new unity with the park gardens and a transparent relationship between interior and exterior environments.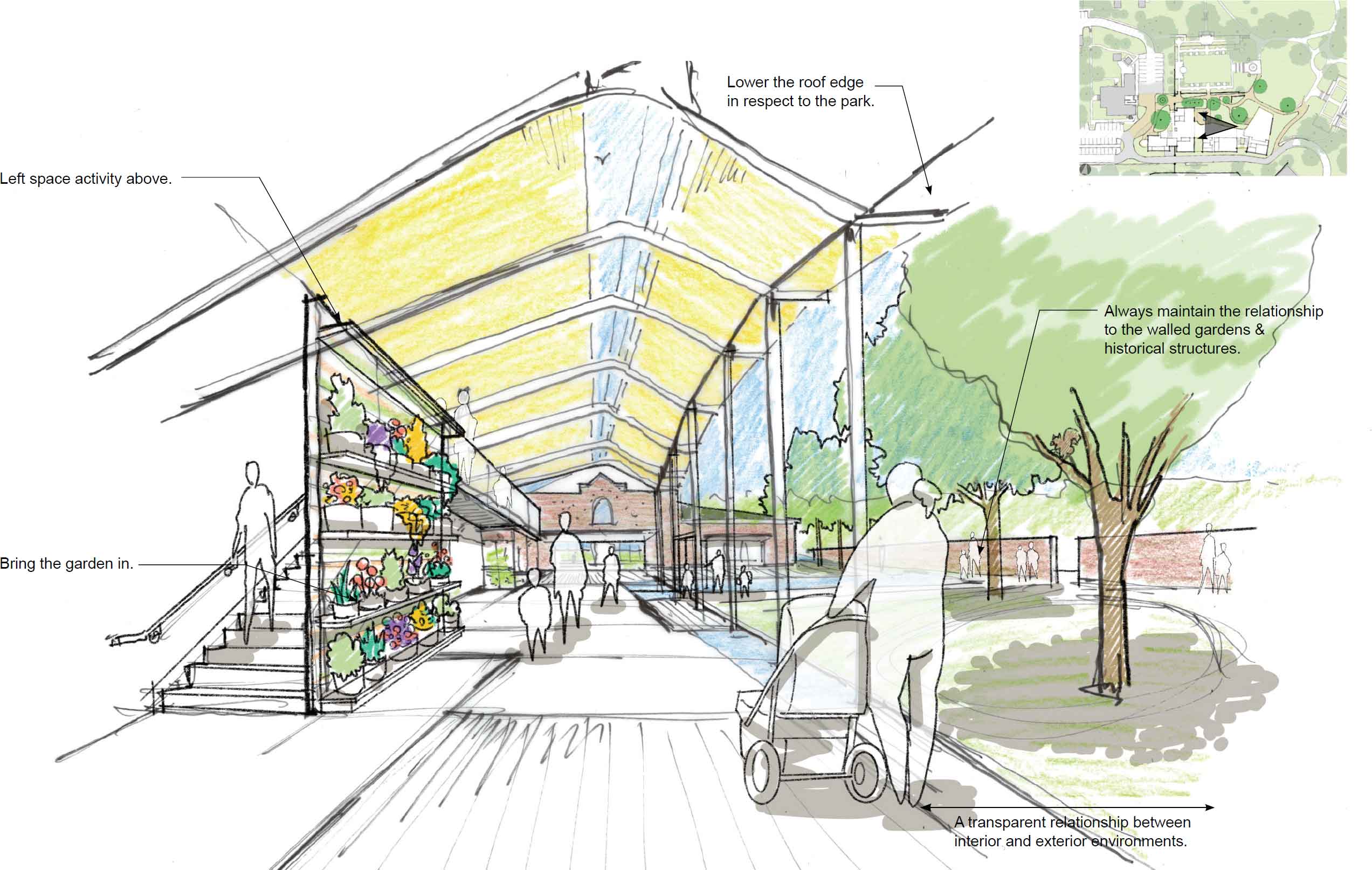 ---
Tree Preservation
The Garden Center project seeks to preserve and protect the trees that have been a part of the park's history and identity.
---
Your Feedback
We want to hear from you! Our feedback form is currently down for maintenance and will be back up and running soon. In the meantime, we are accepting comments via email at execdir@phipps.conservatory.org.
---
Project Partners
Atlantic Engineering Services; Structural Engineering Consultants, Pittsburgh
Andy Verrengia, P.E., LEED AP, Senior Project Manager
Biohabitats; Water Systems Engineering and Urban Ecology, Santa Fe, NM
Erin English, PE LEED AP, Senior Engineer
Bohler Engineering; Civil Engineering, Pittsburgh
Michael Takacs, RLA, ASLA
BuroHappold Engineering; MEP and Energy Engineering, Pittsburgh
Jeremy Snyder, PE, Principal
CJL Engineering; Commissioning Agent, Pittsburgh
Alan Traugott, LEED Fellow, LEED AP BD+C, Partner
Jendoco Construction Corporation; Construction, Pittsburgh
Michael Kuhn, President
Christian Klehm, LEED Fellow, Vice President of Sustainability and Director of Business Development
Lam Partners; Lighting Design and Daylighting Analysis, Pittsburgh
Steve Iski, Principal
McLennan Design: Sustainable Design Consulting, Bainbridge Island, WA
Jason F. McLennan, CEO
Rothschild Doyno Collaborative; Architecture, Pittsburgh
Ken Doyno, President
Mike Gwin, Principal and Director of Design
Brenna Shaffer, AIA, WELL AP, LEED AP BD+C, Associate
Nick Rebeck, AIA, Architect
LENS; Biophilic Design Consultation, Phoenix, AZ
Sonja Bochart, IIDA, LEED AP BD&C, WELL AP, Principal, Shepley Bulfinch
7group, LLC; Integrative Design Facilitation, Energy Modeling and Materials Consulting, Sinking Spring, PA
John A. Boecker, AIA, LEED® Fellow, Architect
Marcus Sheffer, Enviroenergist
---

Community Representatives
City of Pittsburgh Department of Public Works
Pittsburgh Center for the Arts
Pittsburgh Parks Conservancy
Shadyside Action Coalition
Squirrel Hill Urban Coalition

---
Phipps Conservatory Staff
Richard V. Piacentini, President and CEO
Gregory R. DuFour, Director, Development Campaign
Jan Kortz, Director of Human Resources and Operations
Allyson Koteski, Director of Guest Services
Katie Lynch, Chief Financial Officer
Christine Nalitz, Director of Annual Giving
Margie Radebaugh, Director of Horticulture and Education
Sarah L. States, Ph.D., Director of Research and Science Education
Jason Wirick, Director of Facilities and Sustainability Management
Michelle Allworth, Facilities Project Manager
Mark D'Amico, Studio Phipps Manager
Ashley Dean, Human Resources Manager
Michael Findley, Facilities Project Coordinator
Katelyn Larsen, Event Sales Manager
Mallory Locante, Retail Manager
Joe Reed, Associate Director of Marketing
Meghan Scanlon, Wellness and Sustainability Specialist
Susan Smith, Executive Assistant
Gabriel Tilove, Associate Director of Adult Education and Community Outreach